My twins love to act out scenes. Recently at lunch, they each had a couple strawberries that magically morphed into Superman and Batman in their imaginations. It was a red, bloody battle. Despite the fact that Batman and Superman turned into a mushy juicy mess, I think it was mommy was the big loser who had to clean up the sticky strawberry mess!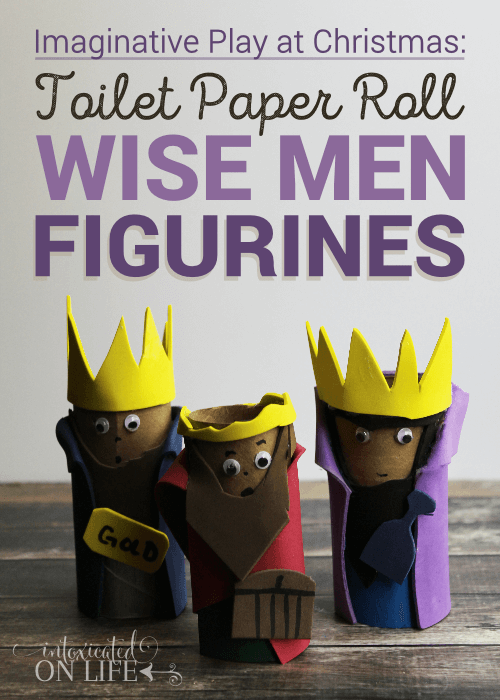 Teaching our Kids Truth at Christmas
There are many modalities we can use to help teach our kids at Christmas (and all times of the year). It's helpful to understand what kind of kids you have, so you can be sure to implement learning activities that help your kids internalize what you're teaching them.
Some kids are kinesthetic learners. They learn by touching and doing.
Some kids are auditory learners. They learn best through hearing and speaking.
Still other kids are visual learners. They learn best through reading and writing tasks.
Using This Craft as a Springboard for Learning
Below you'll find a simple craft to make wise men out of toilet paper rolls.
While this craft will certainly appeal to kinesthetic learners, you you can use this craft as a springboard to teach all learning styles.
Completing the craft together and use the wise men for imaginative play or in a sensory bin. This appeal to your kinesthetic learners.
While you're completing the craft, have one of your visual learners read Matthew 2:1-12—the story of the wise-men following the star and traveled from the East to worship Jesus.
For your auditory learners, discuss the story aloud. Ask questions and see if they can summarize the story.
Make Christmas and the stories of Jesus memorable by appealing to all of your children's senses this year!
Toilet Paper Roll Wise Men Figurines
Empty toilet paper rolls have long been a favorite craft item for many reasons. They are free, easily accessible, and make a wonderful blank canvas for creating just about anything you can imagine. Turn some of yours into three wise men. You could even adapt these to create an entire Nativity scene if your children enjoy making crafts.
Supplies
Empty toilet paper rolls
Craft paint, assorted colors
6″ x 9″ craft foam, assorted colors
Googly eyes
Markers
Glue gun & glue sticks

Directions
Make a very light line, about 1 1/2″ to 2″ from the top of your roll. Show your child how to paint the cardboard roll right up to the line, leaving the face unpainted. Allow paint to dry thoroughly.
To make capes for your magi, cut craft foam in half so the piece is approximately 6″ x 4.5″. Fold back two corners and secure with glue. Wrap the cape around the paper roll and tack in place with a generous amount of glue.
Add hair, beards, crowns, and gifts to carry using craft foam. Let your child explore and create by making unique characters.
Finally, give the magi simple faces with markers.
The Stories Behind the Music: Christmas Carol Devotions and Activities for Your Family
If you are looking for more crafts to help your family for on Christ this Christmas season, check out The Stories behind the Music.
This devotional uses the Bible, classic Christmas carols, and hands-on activities to speak to your family's minds and hearts the truths of the gospel.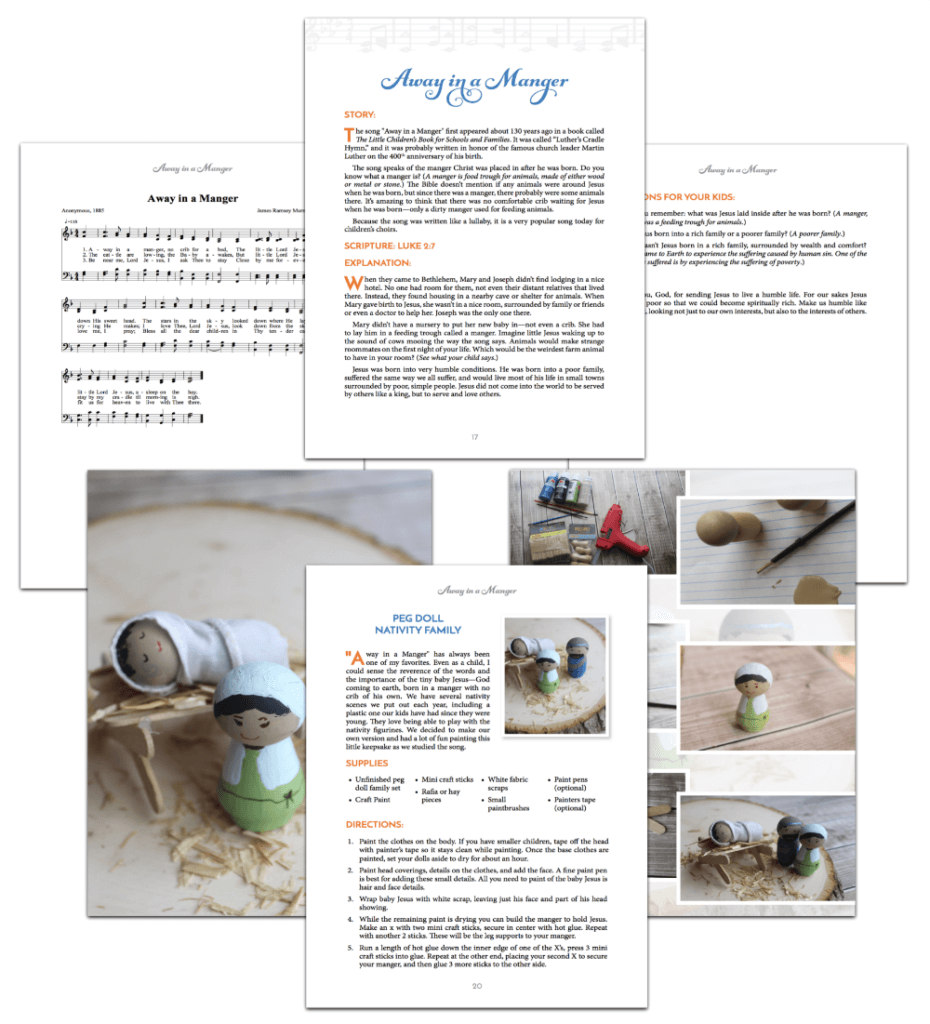 Each lesson includes:
A story about how the carol was written
Lyrics to the carol
A scripture reading
An explanation of the Bible passage
Discussion questions for the family
A short prayer
Sheet music for each carol
A craft that can be completed together as a family
You can buy a softcover, full-color edition, or if you want to save some money, just purchase a digital, full-color copy of the book.