I created an Immune Supporting Essential Oil blend. I love me some OnGuard® oil.  If you're new to essential oils and haven't heard about OnGuard this is what one company says about their blend:
OnGuard essential oil blend was inspired by the legend of four 15th-century French thieves who formulated a special aromatic combination composed of clove, rosemary, and other botanicals they used while robbing the dead and dying . . .  crafted in the spirit of that legendary combination. When taken internally, it supports healthy immune function*, and it includes Eucalyptus radiata essential oil, which may help maintain a healthy respiratory system.* When taken as a dietary supplement, it is an ideal complement to a daily wellness regimen.*
Personally I do not take oils internally, I'd rather put them (diluted) on the soles of my feet or diffuse them in the air. But I can tell you first hand that this oil is excellent and most definitely "supports healthy immune function."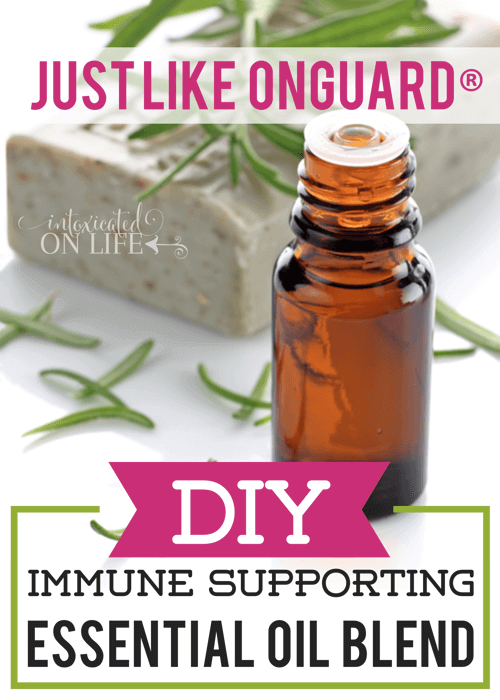 But here's the thing, OnGuard oil is pricey—I mean super pricey. $32 for a 15mL bottle (wholesale) . And while I occasionally get the oil when on sale, most of the time I'd rather make my own and save money. So I made this immune supporting essential oil blend.
Learn more about my favorite essential oils in this post.
DIY Immune Supporting Oil
Instead of using a pre-mixed oil blend, I created my own immune boosting oil. I consulted a few online recipes and used personal experimentation and the sniff test (did my blend smell the same as the pre-mixed blend?). I'm really pleased with this immune supporting essential oil blend. Quite frankly, I can't tell much of a difference between this and the pre-blended oil.
The cost break down for this oil really depends on what brand of essential oils you choose. The final cost when I made this oil blend was a little under $26 for 15 ml compared to $32 if you bought it. Quite a savings, right?
So without further ado, my immune supporting essential oil blend: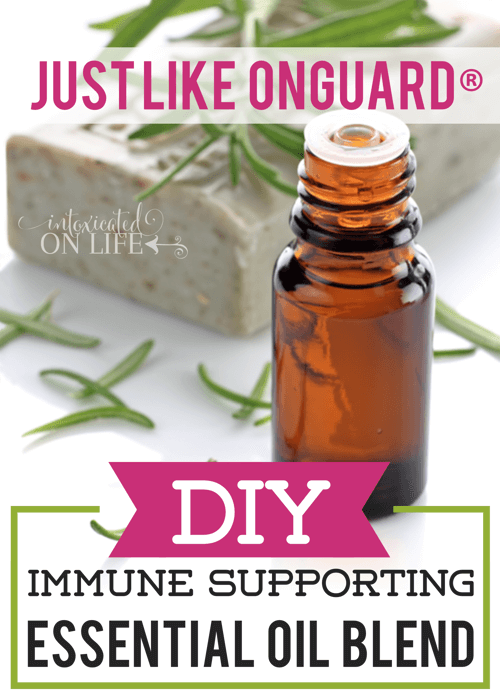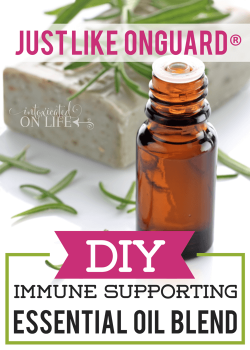 Print
Immune Supporting Essential Oil Blend
If you love Thieves or OnGuard essential oil blend, try this DIY version! It's cheaper and uses the same ingredients.
Ingredients
20

Drops

Clove Oil

18

Drops

Lemon Essential Oil

or sweet orange oil

10

Drops

Cinnamon Essential Oil

12

Drops

Eucalyptus Essential Oil

5

Drops

Rosemary Essential Oil
Instructions
It's tedious but counting drops really is the best way to combine oils.

Store in a dark glass bottle. Mix as much or as little as you like.

Do not apply directly to the skin without carrier oil.

Use extreme caution before taking internally.

Oil is also excellent when diffused.
Interested in essential oils? Let's talk! Click here to learn more about essential oils and how to find good-quality oils for your family.
Use Essential Oils Safely and Confidently with Your Family
Would you like a resource to help you learn to use essential oils with your family? Download this free 3-page printable:
Basic guidelines for using essential oils around kids
A list of safe, kid-friendly oils essential oils
Helpful essential oil recipes
Click the link or image below to download the 3-page Mom's Essential Oil Cheat Sheet. I'll follow it up with more resources and free printables to help you on your essential oil journey. Grab your copy now!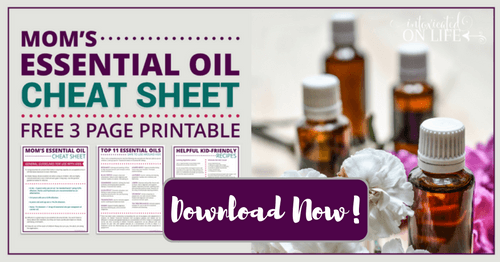 *FDA disclaimer: "These statements have not been evaluated by the Food and Drug Administration. This product is not intended to diagnose, treat, cure, or prevent disease."
More Essential Oil Articles: