I've found the longer (and more consistently) I keep my carbs low, the less of a sweet tooth I have. But sometimes, it's nice to sit down with a cup of coffee (or hot tea in my case) and a tasty little treat and feel…normal. And these low-carb lemon blueberry scones really fill that void.
Looking for gluten-free recipes and resources? This Everything Gluten Free page is a library of everything gluten free we've worked on.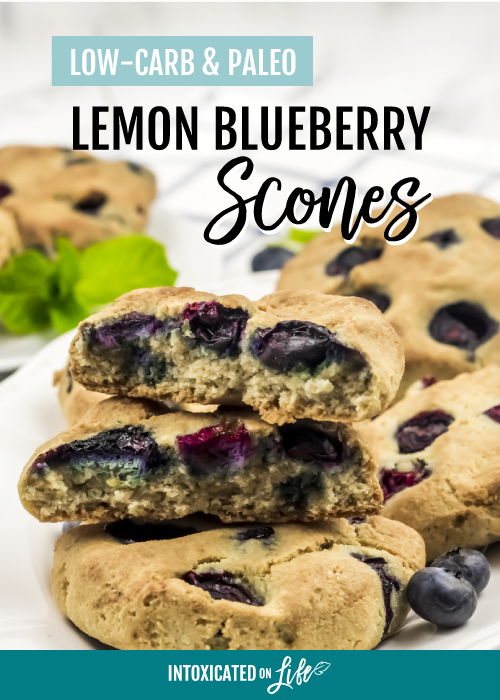 The scones aren't too sweet. Along with the blueberries, I use just a touch of a monk-fruit based sweetener—just enough to make these slightly-sweet, but oh-so delicious.
Not familiar with monk fruit? This is one of my new favorite natural sweetener.
Monk fruit has been used in Southeast Asia for many many years. The seeds and skin are removed, and the fruit is crushed to extract the juice. It's the juice that's extracted that's used as the sweetener. This juice is 100-250 times as sweet as sugar, but has 0 calories and won't raise your blood sugar!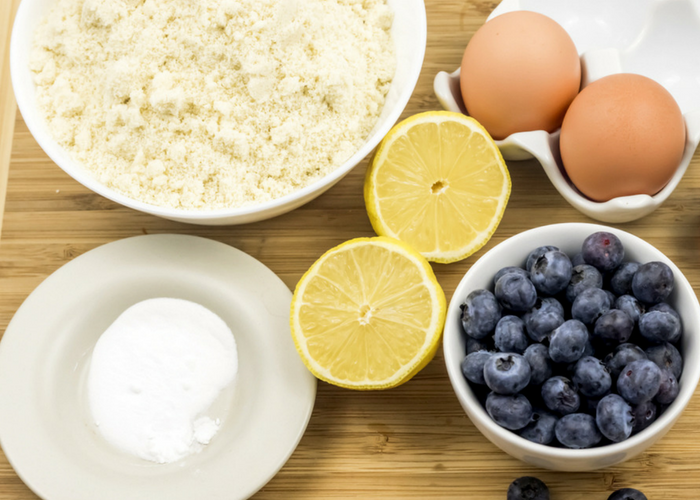 If you were to use a straight monk-fruit extract you'd use just a teeny tiny bit because it's so sweet. The monk fruit syrup I use is paired with another one of my favorite sweeteners (erythritol) and vegetable fiber. This allows you to use it similarly to how you'd use maple syrup.
Except this syrup has just 1 gram of net carbs per 2 Tablespoon serving. Compare that to maple syrup's 26 grams of carbs per 2 Tablespoons. Yikes.
Low-Carb Lemon Blueberry Scones for the Busy Mom…
While I love making treats like this for my family, especially since I've had my baby I've been making as many short-cuts in the kitchen as I can. Busy moms need easy! Can I get an amen?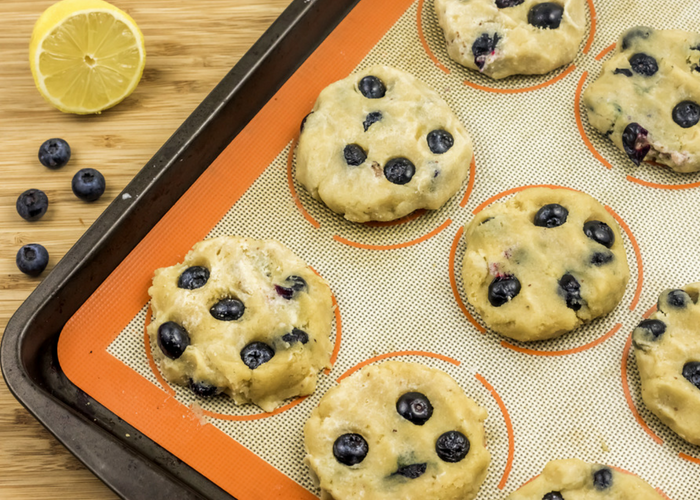 You'll be delightfully surprised at how easy this recipe is to have on the table. And don't worry, you won't have to spend all day cleaning up either. Your kitchen sink won't be filled to the brim when you're done. You need just one bowl (and all the moms breathe a sigh of relief).
Can I give you another tip? If you have a big family like mine, you might want to double, triple, or even quadruple the recipe so you can make them last more than a day. They re-heat beautifully in the microwave oven or toaster-oven. They'll taste like they are fresh out of the oven with no fuss at all!
Are you ready? Let's get baking!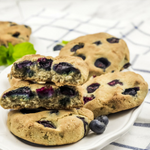 Print
Low-Carb Lemon Blueberry Scones (paleo option)
Low-carb lemon blueberry scones are a delicious morning treat that pairs perfectly with a cup of coffee or hot tea!
Instructions
Preheat oven to 325 F and line a baking sheet with parchment paper or a silicone liner.

In a large bowl sift together the almond flour, baking soda and a pinch of salt.

Add the lemon zest and mix well.

Make a well in the center of the flour mixture and crack in 2 eggs.

Add the monk fruit (or maple syrup) and the lemon juice. Mix well until it forms a sticky dough.

Fold in the blueberries.

Using an ice-cream scoop, drop 9 scoops of the batter onto the prepared baking sheet.  Slightly flatten the top of the mounds to form a circle.

Bake for 20 minutes, or until the tops are golden.

Cool on a wire rack and store the leftovers in an air tight container in the refrigerator.

Serve with tea or coffee.
Notes
Fresh blueberries works best for this recipe, but frozen can be used in a pinch.
To refresh the scones, wrap in a damp paper towel and microwave it for 20 to 45 seconds, depending on the power of the microwave.