Every once in a while you need a decadent dessert. Not all the time. Not for every day affairs. But for a holiday. A special event. A party. This is that dessert: decadent, low-carb turtle cheesecake bars.
Looking for gluten-free recipes and resources? This Everything Gluten Free page is a library of everything gluten free we've worked on.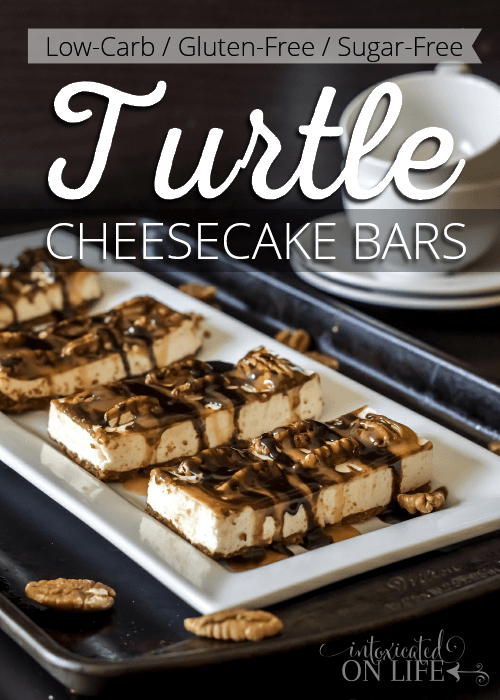 My mom called and asked if I'd make a really yummy gluten-free, sugar-free dessert for a family gathering. What a silly question, of course I would! I love making and creating desserts. Dessert makes people happy, and I like to make people happy. 🙂
I sort of have a love-affair with anything turtle. Carmel. Fudge. Pecans. You really can't go wrong!
Making Your Turtle Cheesecake Bars
This is just a fair warning. These turtle cheesecake bars take some time to make. There are lots of steps. So be sure you have a lazy day set aside to spend some time in the kitchen. Send the kiddos outside to play and open the windows. Enjoy a day of fresh air and baking in the kitchen!
Another thing we need to chat about regarding this recipe is the caramel. Try as I might, I've not been able to figure out a way to get my caramel to be the rich beautiful color you see in caramel made with real sugar.
Xylitol doesn't caramelize the same way sugar does. There isn't any way to get around that. You have to spend quite a bit of time at the stove to get even just a hint of browning from the xylitol. Even if your caramel doesn't turn out beautiful golden brown, don't worry, it will still taste delicious!
 Let's get started making some low-carb turtle cheesecake bars!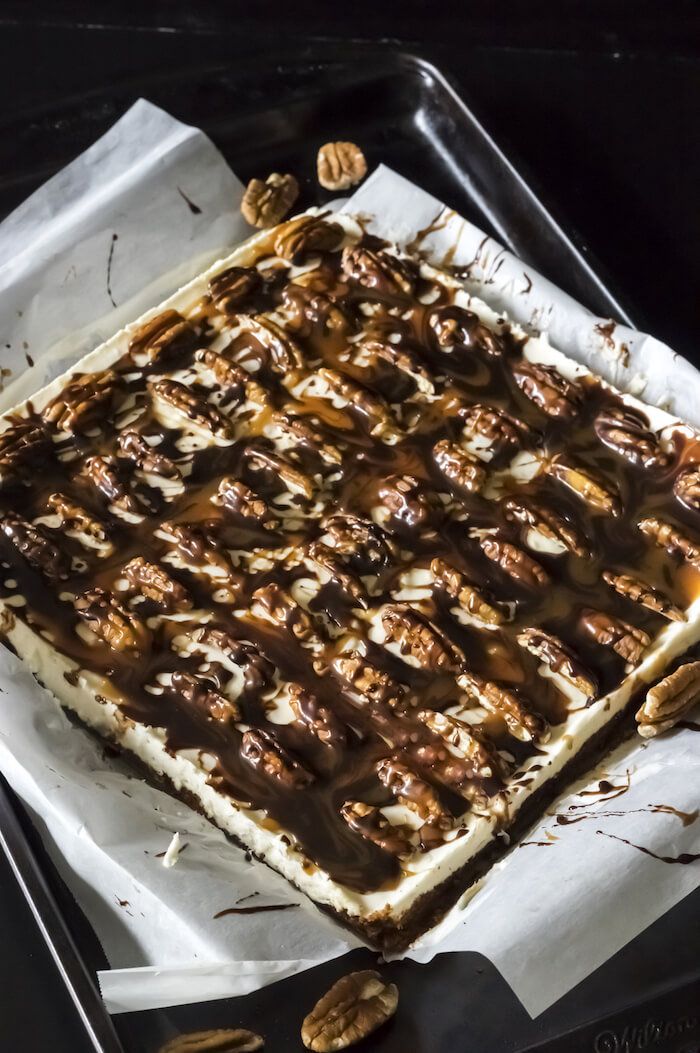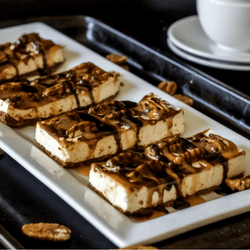 Print
Low-Carb Turtle Cheesecake Bars
Ingredients
Instructions
Crust
Preheat oven to 350.

Grease 9x13 glass dish well.

Coarsely grind pecans and combine all ingredients.

Bake at 350 degrees for 15-20 min.
Cheesecake
Cube softened cream cheese in a large mixing bowl. Beat well until smooth.

Add sour cream and xylitol. Beat well.

Add remaining ingredients and beat until smooth. Be sure to scrape down the sides and bottom of the bowl and mix together.

Pour mixture over the crust. Bake at 350 degrees for 40-45 minutes.

Make salted caramel sauce, fudge sauce, and toast pecans.

After cheesecake has cooled, top with toasted pecans (I use approximately 1 cup) and drizzle with fudge sauce and caramel. Refrigerate several hours before serving.
Salted Caramel Sauce
Add xylitol to a medium heavy-bottomed sauce pan and heat over medium heat. Stir until the xylitol is dissolved.

Stop stirring and let the mixture come to a boil. Allow to boil for 8-10 minutes or until the mixture begins to slightly brown.

Remove from heat and carefully add 1 T. butter. The butter will cause the mixture to boil up.

Then slowly add the cream and add the salt. Allow to cool slightly before drizzling over cheesecake.
Fudge Sauce
If using granulated xylitol use a coffee grinder or magic bullet and grind until powdered.

Melt butter over medium heat and add the cocoa. Stir until mixed together.

Add the cream and stir over medium-low heat until well combined.

Remove from heat and add xylitol and stevia.

Allow to cool slightly before drizzling over cheesecake.
Notes
* Please be aware that I use a pure stevia extract. This is different than a lot of "stevia" that is found in stores as it does not have any fillers. It is very concentrated. If using a different type/brand of stevia, you will need to use it to taste.
If you try this recipe, I'd love to hear how you liked it. Better yet, share this page with a friend you think would enjoy it too!