A few months ago I shared my beginning protocol for Lyme disease. And you may have noticed, no antibiotics were mentioned.
Along this path, I've received numerous questions. One question I've heard quite frequently is, "Why aren't you using antibiotics?"
I want to answer that question today.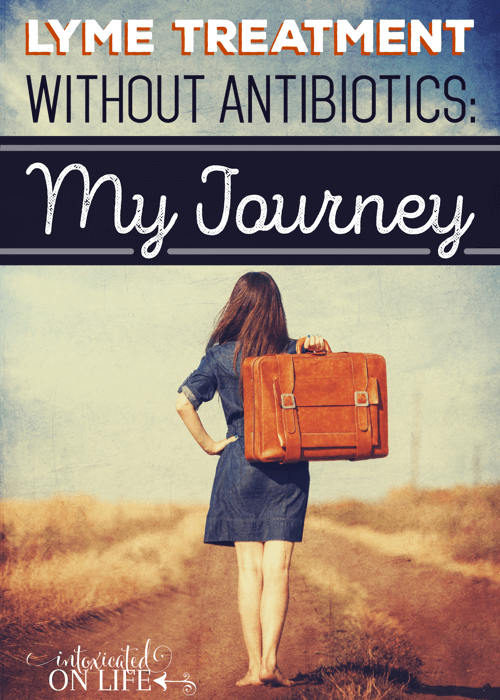 I want to note, that I don't believe antibiotics are evil. I believe there are certainly times when using antibiotics is the best option. Specifically, if someone has just caught a brand new case of Lyme (and it doesn't take years to diagnose like my case), antibiotics can be a great way to take care of Lyme immediately.
In my case, for now, I'm not using antibiotics. But, if my doctor and I decide that it's something that would benefit me in the future, I'm certainly keeping an open mind to the possibility.
In the end, whether or not antibiotics will be part of your treatment protocol, is a decision you will have to make with your doctor. Lyme treatment is not a one-size-fits-all protocol. 
3 Reasons I'm Not Using Antibiotics (currently)
There are actually several reasons I decided not to use antibiotics.
1. I didn't want to undo my previous health improvements.
Quite frankly, when I found out I had Lyme disease, I thought the only option was going to be antibiotics. I was deeply upset, because I knew going on antibiotics would essentially undo a lot of the hard work that I had already done.
Prior to beginning my Lyme treatment I had worked very hard to heal my gut. I changed my diet dramatically. I worked with a health coach who helped guide to specific supplements that would help heal my gut. I added things into my diet like bone broth, gelatin, and hydrolyzed collagen that work to heal the gut. I made sure I was eating naturally fermented foods and supplementing with probiotics in order to populate my gut with good bacteria.
I did a lot of work. And the proof was in the pudding. My labs showed a dramatic improvement in my gut health.
Below is an image of my before and after results. This is an intestinal permeability test from Genova Diagnostics. I had two different issues going on:
The low mannitol recovery indicates that my body was not absorbing nutrients. In essence, I was malnourished.
On top of that, the out of range lactulose/mannitol ratio was indicative of leaky gut.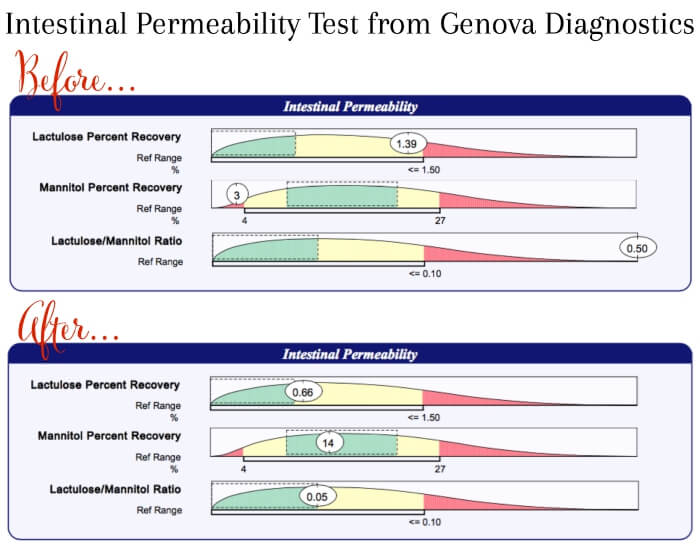 As you can see though, the "after" results look much nicer. In fact, everything is almost in the normal range. Not too shabby!
2. Antibiotics for chronic lyme didn't have the best reputation.
I talked to a lot of people before starting Lyme treatment, and the results people were seeing with antibiotics weren't very encouraging. There were some people that I heard (through the grapevine) who got better and saw lasting results from antibiotics, but these people seemed to be the exception, not the rule.
Many people who used antibiotics were telling me stories of how they had been on antibiotics for years at a time. Years, people. Years. Can you imagine the damage that is done to your gut in that time frame?
Not only was the length of time that people were on antibiotics disconcerting to me, the fact that many were moved from oral antibiotics to IV antibiotics after a time was also troubling.
When I talked to my doctor and we discussed the use of antibiotics, she also confirmed that her patients who were using antibiotics were improving more slowly and were having more difficulty with relapse. Many of them relapsing within months after antibiotics were discontinued.
3. My DNA tests indicated antibiotics weren't a good idea.
One of the first things my doctor had me do, even before we had my Lyme results back, was get a genetic test from 23andMe completed. After receiving these results, one of the (many) things my doctor noted is that one of the SNPs (single-nucleotide polymorphism…in case you really wanted to know what it stands for) in my DNA causes my body not to respond as favorably to antibiotics as some people.
(Side note for biology geeks: A SNP is just a variation of a nucleotide.)
While, I'm still deep in the learning process of what our genes can tell us about treatment, I'm convinced this is key to more successful treatment. There are several other observations my doctor has been able to make that have impacted my treatment—particularly in the realm of detox.
Having a doctor who is working hard to create an individualized treatment plan—a plan that works with my biology, not against it—has been such a blessing.
Interested in learning more about my Lyme protocol?
The posts below outline what my treatment has looked like thus far…
What about you? Did you choose antibiotics or not? What went into your decision?