Dear Mama in the trenches,
I wish I could give you a hug right now, and just maybe have a chat over coffee.
Because although I've been doing this mom thing for fifteen years, I still face so much uncertainty. So much insecurity. And sometimes I'm convinced that I'm failing at this great big task called motherhood.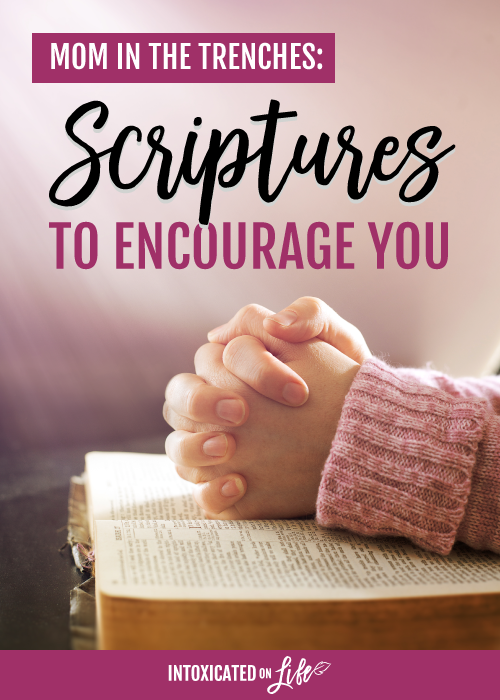 And I'm not sure, but I kind of think those feelings aren't going away anytime soon.
Because our calling is that important.
Do you feel it, too?
I haven't yet met a mom who doesn't at some point experience seasons of struggle in her role. Don't get me wrong, motherhood is at times fulfilling, delightful, and exhilarating. But at other times, it's frustrating, demanding, and exhausting.
And I don't know about you, but those times can lead me to question my calling altogether.
I'm grateful that there are many good places we can find reassurance at times like these. It hasn't always been so.
These days, we can turn to our husbands. Our friends. Our extended family members. Local homeschool organizations. Good books. Even online forums, blogs, and communities.
But there's one Person to whom we can turn who is leaps and bounds better than the rest:
the One who called us to this task in the first place.
Can I just whisper to you some words of reassurance that have been spoken over me so gently by our Father?
You see, God has a lot to say about the work we do and the way we do it. Here are a few verses that have brought me particular comfort, strength, and grace to press on.
Scriptures for the Mom in the Trenches
Whatever you do, work heartily, as for the Lord and not for men, knowing that from the Lord you will receive the inheritance as your reward. You are serving the Lord Christ. (Colossians 3:23-24)
Mom, the countless tasks that you do aren't done primarily for your children, but for your Savior, and you can be sure He will reward you for the work you do for Him, if not in this life then surely in the one to come.
[F]or it is God who works in you, both to will and to work for His good pleasure. (Philippians 2:13)
It's a great comfort to realize that the same God who calls us to this high and lofty role of "mom" also equips us with both the desire and the ability to fulfill it.
[F]ear not, for I am with you; be not dismayed, for I am your God; I will strengthen you, I will help you, I will uphold you with My righteous right hand. (Isaiah 41:10)
Here are five of my favorite promises: God is with me; God is for me; God will strengthen me; God will help me; and God will hold me in His hand, a hand that is utterly trustworthy and good.
Now may the God of peace who brought again from the dead our Lord Jesus, the great shepherd of the sheep, by the blood of the eternal covenant, equip you with everything good that you may do His will, working in us that which is pleasing in His sight, through Jesus Christ, to whom be glory forever and ever. Amen. (Hebrews 13:20-21)
Do you ever doubt the power of God on your behalf? The power of God that was strong enough to raise Christ from the dead is surely strong enough to equip us to do His will.
But He said to me, "My grace is sufficient for you, for my power is made perfect in weakness." Therefore I will boast all the more gladly of my weaknesses, so that the power of Christ may rest upon me. For the sake of Christ, then, I am content with weaknesses, insults, hardships, persecutions, and calamities. For when I am weak, then I am strong. (2 Corinthians 12:9-10)
God promises that His grace is enough. It's a regular amount of "enough" for regular days, and for our hardest days, it's an "enough" that far surpasses what we can even conceive.
[D]o not be anxious about anything, but in everything by prayer and supplication with thanksgiving let your requests be made known to God. And the peace of God, which surpasses all understanding, will guard your hearts and your minds in Christ Jesus. (Philippians 4:6-7)
Too often, I'm content to not be anxious about most things. But it's God's will that we wouldn't be anxious about anything, a feat which is only possible when we yield everything to God in prayer, believing that He is strong enough to handle every single circumstance, and that He's kind enough to intervene on our behalf.
You make known to me the path of life; in Your presence there is fullness of joy; at Your right hand are pleasures forevermore. (Psalm 16:11)
Even on our hardest days, God promises fullness of joy in His presence.
He will tend his flock like a shepherd; He will gather the lambs in His arms; He will carry them in his bosom, and gently lead those that are with young. (Isaiah 40:11)
Our loving Shepherd cares for all of His flock, but He nurtures with particular tenderness those of us with children.
Her children rise up and call her blessed; her husband also, and he praises her: "Many women have done excellently, but you surpass them all." Charm is deceitful, and beauty is vain, but a woman who fears the Lord is to be praised. (Proverbs 31:28-30)
There are many good mamas in this world, and even many excellent ones; but when it comes to your family, God called you in particular, and by His grace, there's no one better for that role than you.
Therefore, my beloved brothers, be steadfast, immovable, always abounding in the work of the Lord, knowing that in the Lord your labor is not in vain. (1 Corinthians 15:58)
Fellow mom, our calling is a noble one, and our work is the Lord's work. Don't lose heart! Your labor is not in vain.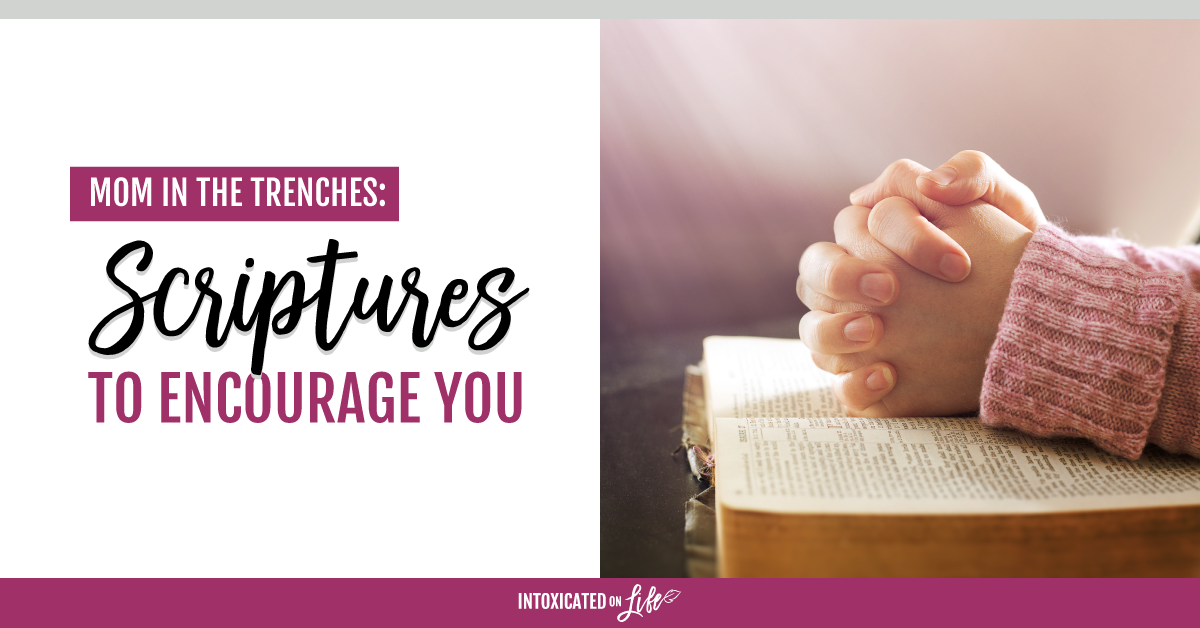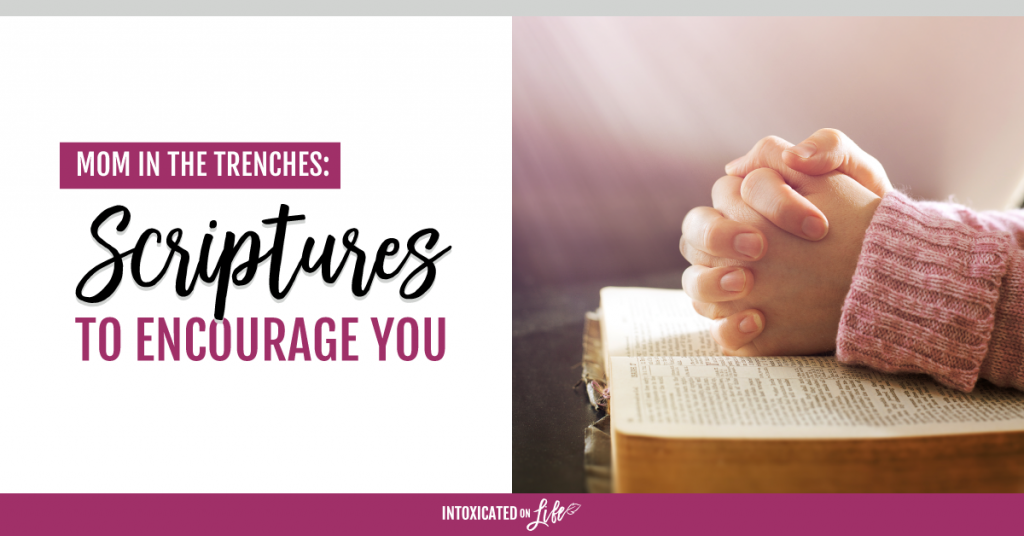 Dear Heavenly Father, thank You for making us Your own, and for calling us to the weighty task of motherhood, a calling full of significance both for now and for eternity. I pray a special blessing for the mama reading this article, that You would allow her heart to receive the truths of Your Word, and that these truths would remind her to look to You for the strength, wisdom, grace, and perseverance that only You can provide. On her hard days, be the Lifter of her head. On her tired days, be the Renewer of her strength. On her depleted days, be the Restorer of her soul. And on the days when it fees like she's alone and that no one notices, reassure her heart that You'll never leave her nor forsake her, and that not a single one of her sacrifices escapes Your notice. In the name of my Savior, Jesus Christ, I pray. Amen.