Did you know that there are natural ways to wash hair? There are many natural alternatives to shampoo for you to try.
What's the purpose of washing your hair? Most people would answer with something along the lines of getting your hair clean. What you need to wash out depends on what you put in throughout the day.
In part 1 of this series, we talked about why harsh shampoos and silicone based products are bad for your hair. Go back and read the first post if you missed it! This week, we're discussing shampoo alternatives and some awesome natural ways to wash hair.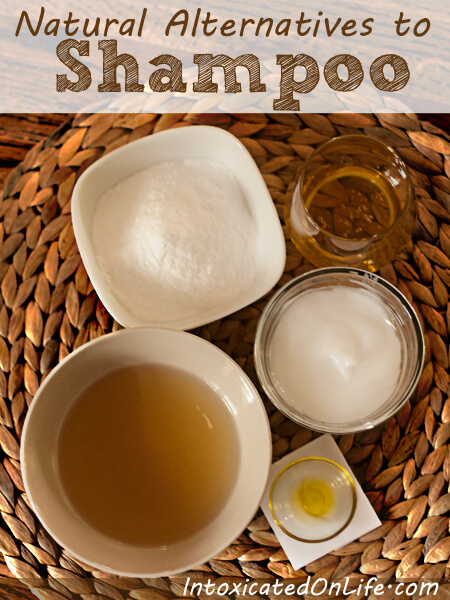 For most people, a daily shower is needed to remove the product(s) you put in the day before so your hair is ready for the next round of chemical products. Except for product buildup, you will rarely have stuff in your hair that needs a harsh chemical detergent to clean it out. Even when my boys dump dirt and mud on each other while playing outside, they usually wash clean with just water or small amount of conditioner.
Once you break the sulfate and silicone cycle, you can wash most things out of your hair with just water. If you need a bit more, there are several commercially available and homemade shampoo recipes you can try.
If you are at the beginning of the transition to natural hair care, I would recommend using a high quality sulfate-free shampoo for a few weeks to lessen the negative side effects of a shampoo detox (more on this in Part 4).
Commercially Available Sulfate-free Shampoo
The market for sulfate-free shampoo has really exploded in the last few years. I personally have tried Deva Curl No-Poo Cleanser and found it worked very well. The trial pack has a reasonable price and provides enough product for a thorough evaluation. The small bottle of No-Poo lasted for almost a month of washing my hair every other day. There are several other commercial shampoos that I also tried, but the manufacturer just swapped out a sulfate based cleaner for another sulfate-free but still fairly harsh chemical detergent.
Natural Ways to Wash Hair: Washing With Baking Soda
When people stop using commercial shampoo the most common substitute is baking soda. The idea is that it's a great, all natural cleaner.
However, baking soda can also be harsh on your scalp and hair. Kanelstrand has a post on how the extreme pH of baking soda and the usual accompanying vinegar can be very damaging over time.  This is similar to the experience I had the first time I tried a no-poo routine.
I have read stories of great success and failures using baking soda. Each person will react differently, so this may or may not work for you. I do use baking soda about once a month to wash my scalp, usually when I get dirt or other gunk in my hair. If I use baking soda more often, my hair quickly becomes very dry and brittle.
Natural Ways to Wash Hair: Homemade Shampoo Recipes
While preparing for this article on natural ways to wash hair, I found several homemade shampoo recipes. I have not tried all of these yet, but I plan to soon. As I come across more ideas I will be pinning them to my natural hair care board.
Co-Wash: Washing with Conditioner
When washing your hair is just a routine removal of dead skin and dirt, a silicone-free conditioner can easily function as cleanser. After my initial transition away from sulfate shampoo, I switched to using an inexpensive conditioner to wash my hair. I use either TRESemme Naturals silicone free conditioner or Suave depending on sale prices.  (I linked to Amazon to show you the products I use, but the prices are much higher that I normally find at the store.  Don't buy the Suave at that price, it is usually $1.50 for the large bottle.)
How to Wash Your Hair Without Shampoo
Shampoo creates a nice, bubbly lather that most people use to wash their scalp and hair together. This is necessary when you are trying to remove product buildup from your hair.
Once you eliminate undesirable products, it is usually unnecessary to wash your actual hair. Natural hair care involves washing just your scalp to remove dead skin cells and dirt.
It takes a bit to get used to the lack of lather and the idea of washing just your scalp. Focus on gently massaging a cleanser on your scalp and ignore your hair initially. In the conditioning phase, you will be adding a condition agent to the ends of your hair.
For creamy cleaners, place a small amount on your fingertips. Apply the cream as evenly as possible to just your scalp. It helps to lift up sections of hair and apply the cream from underneath. Using your soft fingertips and not your nails, massage your scalp. Rinse thoroughly with water.
For baking soda or watery cleaners, I've found a small squeeze bottle with a fine tip is very helpful. You can buy one in the hair care section (they often come in hair dye kits). I use an old bottle left over from a tie dye kit. Use about a teaspoon of baking soda and a small amount of warm water. Shake to mix and immediately squeeze it onto your scalp, rubbing gently with your fingertips. Then rinse. Although I have not tried it yet, this method will probably work well for the rye flour shampoo linked above.
Natural Ways to Wash Hair: Conclusion
I hope this information on natural ways to wash hair helped cover any concerns and questions you had about natural hair care. Do you use natural ways to wash your hair? If so, what do you do? If not, will you give it a try now? I'd love to hear from you in the comments below!
More Natural Hair Care Articles: