6 months later, here's my journey into treating Lyme disease holistically…
"So, how are you feeling overall?" my doctor inquired.
"Depends on the day." I smirked, "Maybe about 15-20% better overall though."
"Good. That's exactly where I'd expect you to be."
15-20% better is where I should be? That was both encouraging and discouraging news all at the same time. I was encouraged that my body was responding appropriately to treatment. But I was discouraged because I was ready to 100% better yesterday.
If you have Lyme, I'm sure you can relate.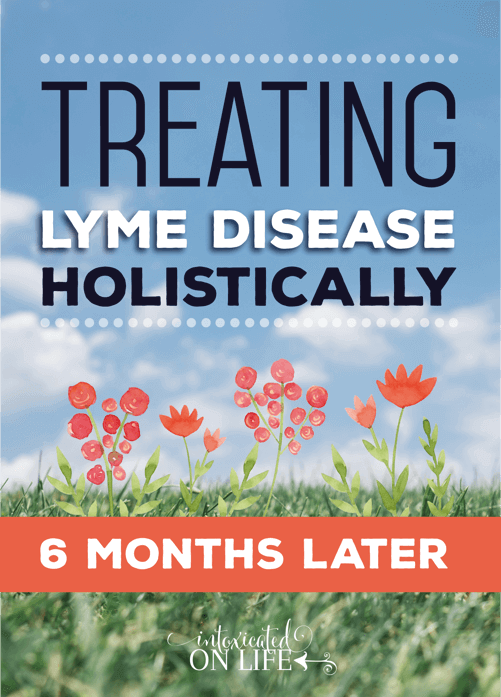 I've actually had two appointments since I last wrote a treatment update (You can read my first update on Beginning Lyme Treatment here.) Naughty me. I was planning to write an update much more frequently.
There simply aren't enough people writing about their Lyme protocols and what's working and what's not. And there's simply not enough hours in my day to do everything I want to do…especially when I sleep half of those hours away. 😉
Treating Lyme Disease Holistically: Improvements
Before we get into the protocol, I'd like to focus on the positive. Just talking about everything I'm spending way too much money on is depressing. There are some good things that are coming because of all this money spent.
I've not been having much calf pain. It's 90% better.
I've not had any chest pains for the last 2 months and my heart hasn't been racing either.
My general fatigue and stamina has gotten better by probably 10-15%. I still have some really bad days where I feel like I've been drugged, but they are much fewer and farther between.
Muscle and joint aches and pains—probably 30-40% better overall.
I stopped gaining weight about a month into treatment. Over the past 2 months I've lost about 5 pounds. That's not much, considering I gained about 75 pounds over a 9 month period, and not enough that I can fit into any of my clothes. But it's better than gaining, so I'll take it.
6 Months Later: Continuing Fatigue
I still have good days. I still have bad days. My good days seem to be even better, and my bad days not quite so bad. The most irksome symptom is the fatigue and lack of stamina. I really can't do anything that uses much physical energy without it completely knocking me out.
One Saturday I was having a really good day. I thought it would be a great idea to get outside and work in my yard. I worked outside the better part of the day. Of course, I had to sit down a lot and take breaks, but I'd get up and keep going. Even with the breaks, I paid for it the next day.
I didn't make it to church and spent the better part of Sunday in bed. I felt like I could hardly function. My body had exactly zero energy. It's frustrating when you can't even do things that seem like such normal activities.
I'm ready for my energy to come back. But I know it will likely be one of the last things to improve because my body is using it's energy to get better. Despite my urgings, my body really doesn't care if I want to spend a day making freezer meals or pulling weeds.
Treating Lyme Disease Holistically: 6 Month Protocol Update
After My June Appointment
1. We added a detox protocol due to severe reactions to Coartem. You might recall, from my first protocol update that I talked about how awful each round of coartem made me feel. It was so bad that I had to make sure someone was around to help the kids. It pretty much kicked my butt.
My doctor believed (and rightly so) that while the coartem was working to kill the babesia, my body wasn't detoxing quickly enough. So, I took the next round of coartem off, while I began a detox protocol to get my body ready for the next round.
The detox protocol consisted of taking the following daily:
This detox protocol made all the difference with my continued rounds of coartem. While I was a bit more fatigued than a typical day with each round, I didn't have any severe reactions to the medication.
2. Periodic accupuncture was added to my protocol. I was a little leary of this one. While I'm all for alternative treatments that work, becoming a human pin cushion didn't really sound like a fun time.
My doctor highly recommended trying out accupuncture if I could find someone within a reasonable distance as it could help with detox. Despite my hesitation, I was actually able to find someone to work with me who comes to our town a few days each month.
The verdict is still out. I'm not sure exactly how or what this particular treatment modality is doing. When I have so many different things going on, it's sometimes difficult for me to figure out which thing is actually working.
3. I also purchased a fairly inexpensive infrared sauna to incorporate into my detox protocol. Are you seeing a pattern here?
Detox is a big deal with Lyme. A lot of my protocol revolves around detox. It's just as important to get rid of the biotoxins left behind from Lyme (and Lyme's friends) as it is to kill off the little suckers.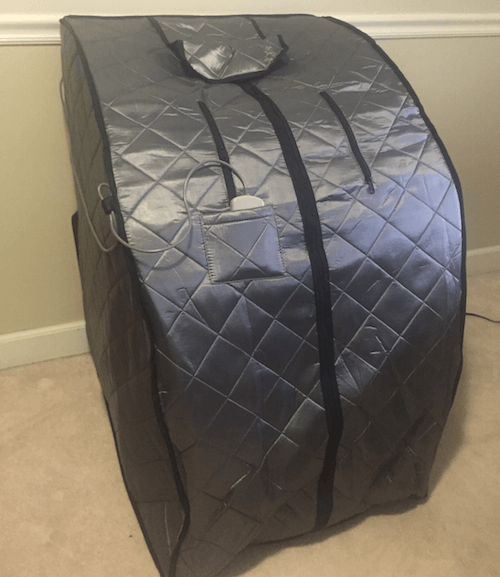 4. Since it had been 8 weeks since my first LDI shot, I received my 2nd LDI shot and we also added an LDI shots for strep as well. I was very disappointed. Unlike the first shot where I felt great afterwards for a few days, I didn't notice anything different.
5.  Des Bio Bartonella series therapy (after finishing the Borrelia/Babesia series therapy) and Des Bio Lyme plus (10 drops daily) were both added to my regime. This is a homeopathic treatment I'm working through for Lyme (borrelia) and the other co-infections I tested positive for. (You can read more about it in my first post)
6. After talking to a number of different people and my doctor recommending it on multiple occasions, I finally bit the bullet and purchased a frequency generator (a.k.a. Rife machine). My doctor can't officially prescribe or recommend using frequency generator because it's not FDA approved, but "off the record" she said that her patients who are using these are getting better faster and aren't relapsing.
Sounds good to me. But I don't completely understand how they work, and I don't like that. The information online is very limited because people can't make health claims about the machines. Seems people are pretty tight-lipped about Rife machines due to fears of the FDA shutting them down.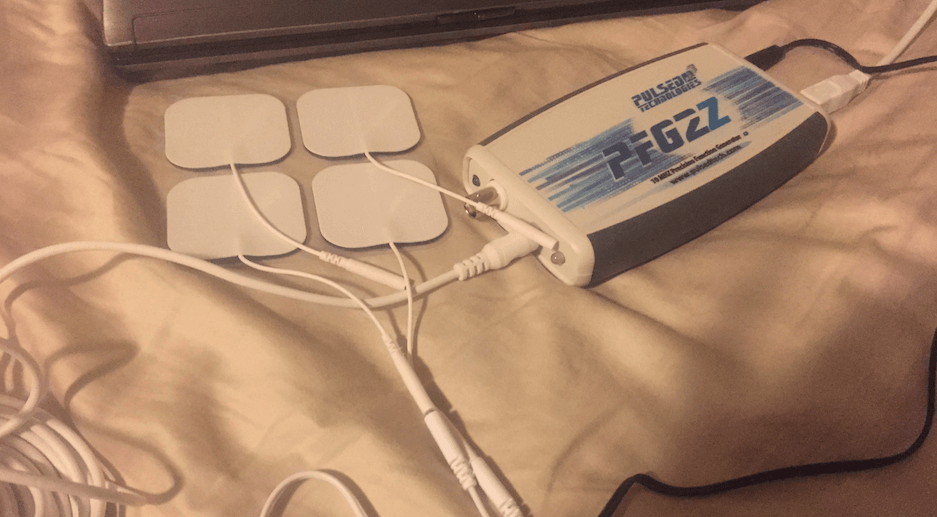 I did have the opportunity to personally talk to a number of different people who are using them, and nobody has had anything other than positive to say about them. Some people are using these for their treatment exclusively.
I decided between the recommendations of my doctor and other individuals who are using them, it would be a good idea to add this to my protocol. I'm still reserving judgement on how this is working for me. Again, it's a bit difficult to tell since I'm doing so much.
Treating Lyme Disease Holistically: After My August Appointment
1. Because it was clear I was now tolerating the coartem better, we changed the dosing schedule. Prior to this, I had been taking 4 pills in the AM and PM for 3 days in a row twice a month. I'm now taking 2 pills in the morning 2 in the evening every Tuesday, Thursday, Friday and Saturday.
2. On the days I'm not taking coartem (Monday, Wednesday, and Friday) I'm taking Artemis Plus. These are herbs that are apparently good for targeting parasites (babesia).
3. I received my third LDI shot in August for Lyme and my second for strep. Can I just say OWE! These suckers left some seriously nasty, painful red bumps (see image below)
This LDI shot seems to have helped energy some, but it still wasn't the huge burst of energy I received from the first shot. Maybe it will be lucky #4? 🙂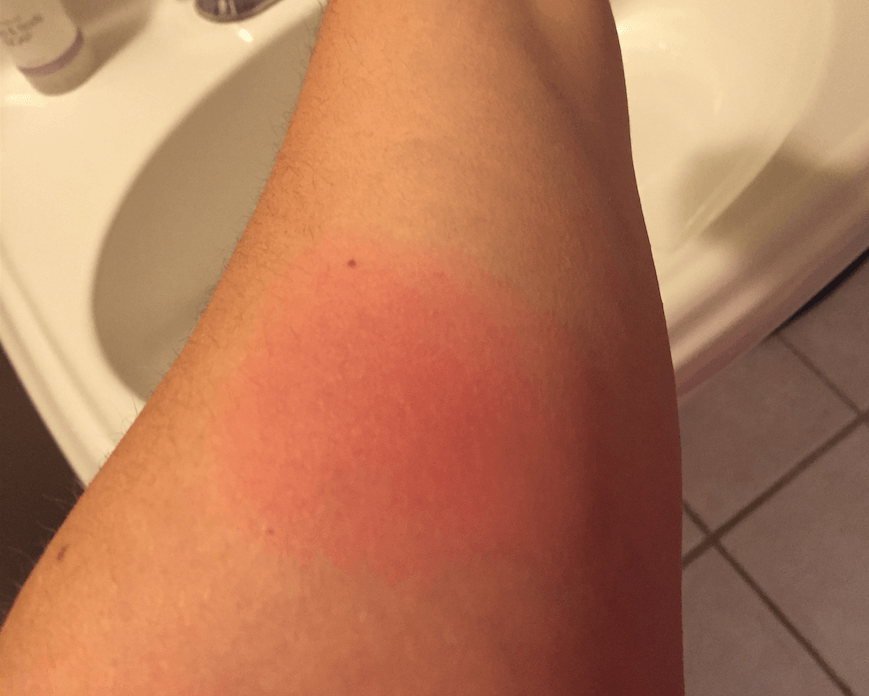 4. With the Des Bio Bartonella series therapy completed, I now began the Des Bio Mycoplasma series therapy (yes, I really do have this many co-infections! boo.)
5. Low Dose Naltroxone (LDN) was added to my protocol. No, I'm not a drug addict (though it might seem like it from this list). Ha! Naltroxone (not low doses) is used to help individuals addicted to opiates (heroine and morphine) as it's an opiate antagonist. Thus, those who take opiates while taking naltroxone won't experience their high. When used for this purpose, they use anywhere from 50-300 mg.
I'm currently taking 1.5 mg of LDN. While patients have been using the low dose version of naltroxone in the US since the mid-80's it's still considered "off-label" to use it as such. It's been used as part of treatment for a wide range of diseases and seems to help with many of them, but exactly how it works isn't completely understood.
It's been used to help auto-immune diseases, to stop the growth of cancer cells, treatment of MS, and more. Part of the hope with adding LDN to my particular protocol is that it will help even out my sleep. I tend to sleep a LOT and I don't feel refreshed from my sleep. My fatigue has eased up some since starting, but I can't tell if it's from the use of LDN or from one of the other therapies.
6. Lithium? Yeah, lithium. I was a little confused when the doctor said she wanted to add lithium to my protocol. I even questioned my doctor, "umm…you mean the stuff used to treat bipolar disorder?"
Nope, not that at all. The type of lithium she recommended was lithium orotate, which is a mineral that helps protect your central nervous system.
And finally, I got to discontinue something! WooHoo! I've been taking chlostryamine for several months and I've been given the go-ahead to stop taking that.
Do you have Lyme? What treatment modalities do you find that are working/not working for you? Would love for you to share!
Treating Lyme disease holistically is hard work, but small strides have been made, and I remain positive about my health.
You can check out my other posts on lyme disease here.