These grain-free, refined sugar-free no-bake pumpkin pie shooters with honey candied pecans are a delicious, fall-flavored dessert sure to impress!
Looking for gluten-free recipes and resources? This Everything Gluten Free page is a library of everything gluten free we've worked on.
Fall into pumpkin everything.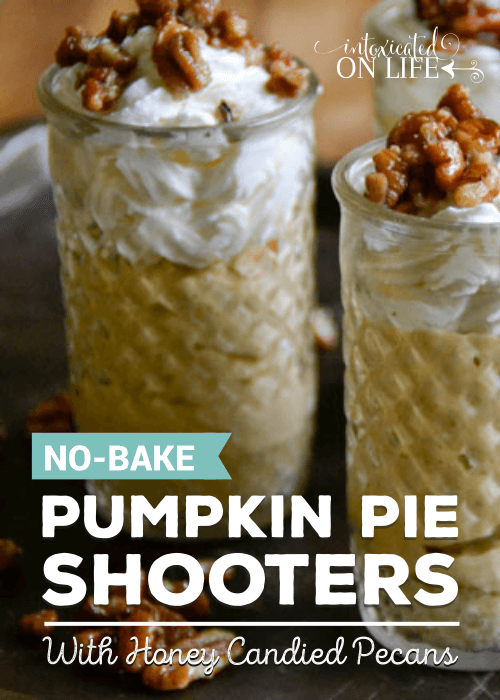 Are you ready for fall? I sure am! Ever since school started up way back in August, I've had my eye on anything pumpkin filled or pumpkin spice flavored. I would like nothing more than to sit down with a cup of delicious herbal pumpkin mocha, or a slice (or two) of delicious protein-packed pumpkin roll.
But sadly, while I'm ready for sweaters and bowls of hot 'n cream pumpkin flax cereal, or pumpkin cranberry muffins in the mornings, the weather down here in the south just isn't agreeing with me. Not that the weather and I have ever really seen eye-to-eye. Regardless, I've been trying to be patient and wait until it's below 90 degrees to start making all the fall baked goodies.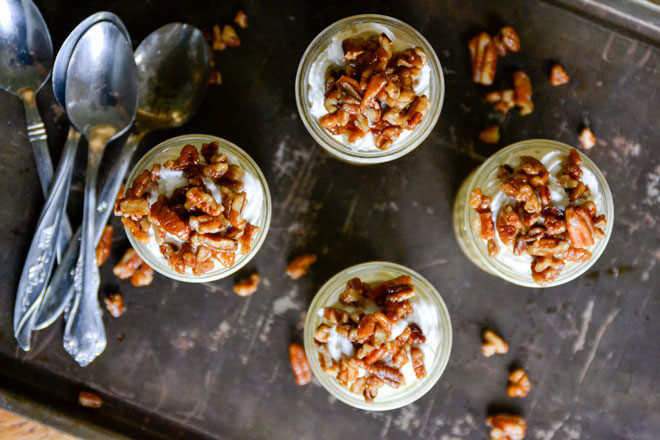 I needn't let the heat dissuade me from enjoying pumpkin everything, though. These no-bake pumpkin pie shooters are the pumpkin dessert dreams are made of! Just give me a can of pureed pumpkin, some whipping cream, a few spices, some almond flour, and some honey and we're good to go! No turning on of the oven needed. And if that's not enough, top them off with delicious, homemade honey candied pecans. Seriously amazing, friends!

Nuts for pecans.
My family loves pecans. Well, they really love any kind of nut, but we usually eat them plan. So when I was dreaming up this recipe and candied pecans popped into my head, I wasn't quite sure what to do. I didn't want to fill my wonderful dream of a dessert with refined sugar, so I set about figuring out how to health-ify candied pecans. Thankfully, it wasn't that hard. I just took a regular recipe, subbed in honey for the sugar, and added a little coconut oil. In the end I had a delicious, sticky tray of honey candied pecans and a flock of heart-eyed children to fight off!
All in all, these no-bake pumpkin pie shooters with honey-candied pecans are a totally worth the extra effort you might have to take in fending off eager family members. And even though I used regular whipping cream for the pumpkin filling and maple whipped topping, you can make these dairy-free quite easily by using my pumpkin spice fruit dip for the filling and my coconut whipped cream recipe in for the topping.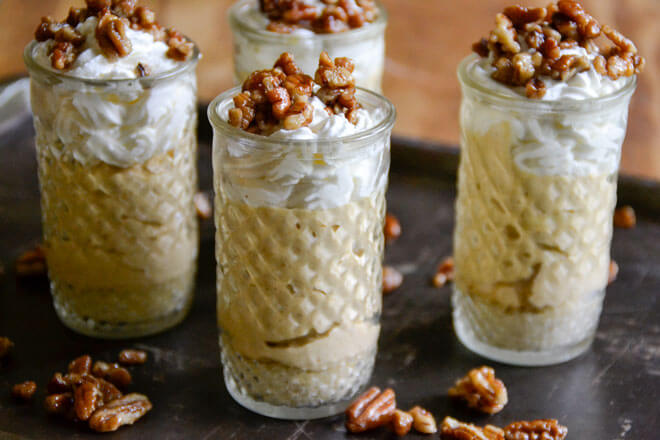 No-Bake Pumpkin Pie Shooters with Honey Candied Pecans
Ingredients
Crust:
1/2 c. almond flour
1 1/2 t. coconut oil
1 1/2 t. honey
Pumpkin Filling:
1/2 c. whipping cream
1/4 c. pumpkin puree
1/4 c. honey
1/2 t. cinnamon
1/4 t. ginger
1/8 t. nutmeg
pinch cloves
1/2 t. vanilla
Honey Candied Pecans:
1 c. pecans
1 1/2 T. honey
1 T. coconut oil
1/8 t. maple extract (or vanilla extract)
1/8 t. salt
Maple Whipped Cream:
1 c. whipping cream
2 T. maple syrup
Instructions
To make the Crust: place medium-sized bowl and beaters in the freezer. While they chill, combine crust ingredients in small bowl. Divide between four juice cups or 4 ounce glasses - about 2 tablespoons each. Press down to make a crust.
To make the Pumpkin Filling: remove bowl from the freezer and add in all filling ingredients and whip until mousse-like. Divide evenly between the four glasses - about 1/4 cup each. Clean out bowl and beaters and replace in the freezer for until chilled. Store the dessert cups in the fridge while you wait for the bowl to re-chill. While the bowl is chilling, make the candied pecans.
To make the Honey Candied Pecans: in a medium saucepan, toast pecans over medium heat for 2-3 minutes. Stir in remaining ingredients all at once and stir for 10-15 seconds to combine. Pour onto parchment paper and let cool. Break up and sprinkle over maple whipping cream.
To make the Maple Whipped Cream: after the bowl is chilled, add in the whipping cream with the maple syrup and whip until fluffy and it stands in peaks. Spoon or pipe over top of the pumpkin filling.
---
Shared at the Better Baker, Blogghetti, Bowl Me Over, Creative K Kids, the Deliberate Mom, Everyday Made Fresh, Happy & Blessed Home, Ilka's Blog, Juggling Real Food & Real Life, Marilyn's Treats, the Measuring Flower, Miz Helen's Country Cottage, Modest Mom, Morsels of Life, My Pinterventures, My Snippets of Inspiration, Nourishing Joy, Organic 4Greenlivings, Pint Sized Baker, Raising Homemakers, Rattlebridge Farm, Style By Joules, Suburban Simplicity, Urban Naturale, Vegetarian Mamma, Zesty South Indian Kitchen, Giving Up on Perfect.