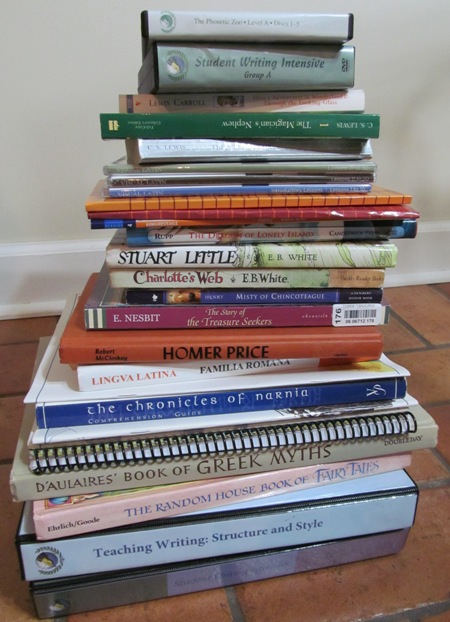 With the arrival of my twins in May of 2011, I knew the 2011-2012 school year was going to be a challenge to say the least. Not only would two babies keep me hopping, but I also have a somewhat challenging 3-year-old. I knew choosing curriculum would be important to help us keep up with school throughout the year.
I also determined that I'd lighten my 7-year-old son's load if either he or I needed it. He's been working beyond his grade level, so slowing things down certainly wouldn't hurt him. Up until this school year we had been following Veritas Press curriculum recommendations. I've been very impressed with quality and comprehensiveness of VP's curriculum. This school year we deviated some from their recommendations.
The following list inventories what we've been doing this school year.
Literature
Veritas Press recommended books for 3rd grade literature plus some of their literature guides
History
Veritas Press Self Paced History: New Testament, Greece, and Rome
Bible
Veritas Press Bible: Judges – Kings
Latin
Supplements: Lingua Latina per se Illustrata, Pars I: Familia Romana
and I Speak Latin
Composition
Excellence in Writing: Student Writing Intensive DVD Course – Level A
English
Fix it! Grammar and Editing Made Easy with the Classics
Memory Time
Homemade "memory box" with flashcards
Spelling
Excellence in Spelling: The Phonetic Zoo – Course A
Math
Math 4: A Teaching Textbook
Supplements: Xtramath.org and Times Tales DVD
My aim in my curriculum choices was twofold 1) to provide my son with a quality, comprehensive education that would challenge him and 2) at the same time allow him to do some independent work while freeing me up to care for my infants and spend some time with my 3-year-old.
In the coming weeks I'll be reviewing each piece of curriculum to let you know what I've liked, what I'm not so keen on, and why. Stay tuned!