Anger is a cowardly emotion. It only comes out when it believes it is safe to play. And unfortunately, this means behind the private walls of my home, my kids become easy targets of my anger.
I see the cowardliness of anger every time I'm fuming over something my kids are doing—and then the phone rings. Suddenly, without a great deal of effort on my part, my voice can go from venomous viper to smiley secretary as I put on my best face for the one on the other end of the call.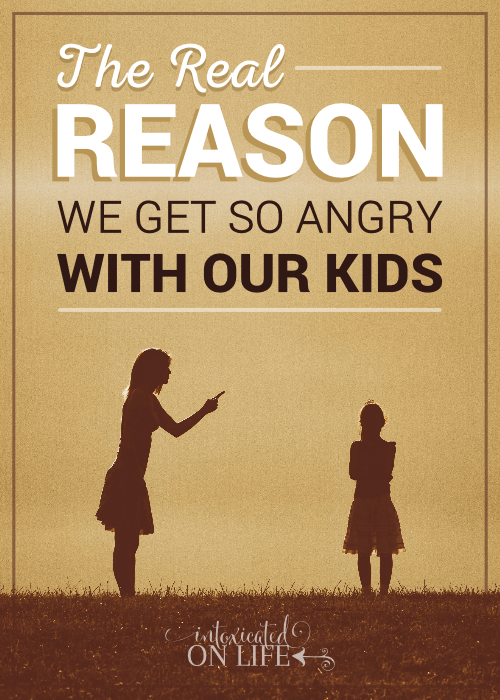 But God has a different agenda in mind for our lives. In our effort to repent of our anger, the apostle Paul has some sage words of advice to parents…
7 Tests of Ungodly Anger
Paul doesn't mince words when he speaks of ungodly anger. If we are going to walk in a manner worthy of our Christian calling (Eph. 4:1), we need to put sinful anger to death:
Be angry and do not sin; do not let the sun go down on your anger, and give no opportunity to the devil (4:26-27).
Anger, Paul assumes, will still be part of the human experience—even as Christians. We are wired to get angry because we are made in the image of a righteous judge "who feels indignation every day" (Ps. 7:11). Christian counselor David Powlison rightly says, the fact that God gets angry "tells us that anger can be utterly right, good, appropriate, beautiful, the only fair response to something evil, and the loving response on behalf of evil's victims."1
But when anger mixes with sinful motives, it ceases to be a loving response to a perceived evil in the world.
Ungodly anger can have any one or all of the following marks…
The Wrong Trigger – We should get angry with our kids over the right things—the things God condemns, not merely matters of personal preference or annoyance.
The Wrong Response – Godly anger wants to see sin removed and our sinful children redeemed. Ungodly anger, however, attacks and cuts down the other person.
The Wrong Duration – Godly anger isn't bitter or irritable; it pushes toward forgiveness. Ungodly anger stews over our kids' bad behavior, replaying each offensive detail over and over in the mind. 
A Lack of Control – Godly anger never loses it, is never rash, and is never hotheaded. It is always controlled. Ungodly anger, on the other hand, controls you.
The Wrong Motive – Godly anger is always motivated by wanting God to be honored. Ungodly anger is about protecting our own convenience or reputation. 
Primed – Once expressed, godly anger brings peace back to one's emotional disposition. Ungodly anger is primed and ready to react to our kids' habitual sins—we are "just waiting" for our kids to act up.
The Wrong Effect – Godly anger restores the repentant person because it desires peace more than vengeance. Ungodly anger wants our kids to pay for what they did, to sit in the intensity of our burning displeasure.2
The Game-Changer: Having a Mercy Agenda
Let all bitterness and wrath and anger and clamor and slander be put away from you, along with all malice. Be kind to one another, tenderhearted, forgiving one another, as God in Christ forgave you. Therefore be imitators of God, as beloved children. And walk in love, as Christ loved us and gave himself up for us, a fragrant offering and sacrifice to God. (Eph. 4:31-5:2)
Paul tells us here the opposite of ungodly anger is not just stuffing it down and holding our tongue. It is love, kindness, tenderheartedness, and forgiveness.
That sounds nice, but how do we actually do it?
At the risk of sounding simplistic, the secret to overcoming ungodly anger is becoming absorbed in the merciful character of Christ.
Let me explain…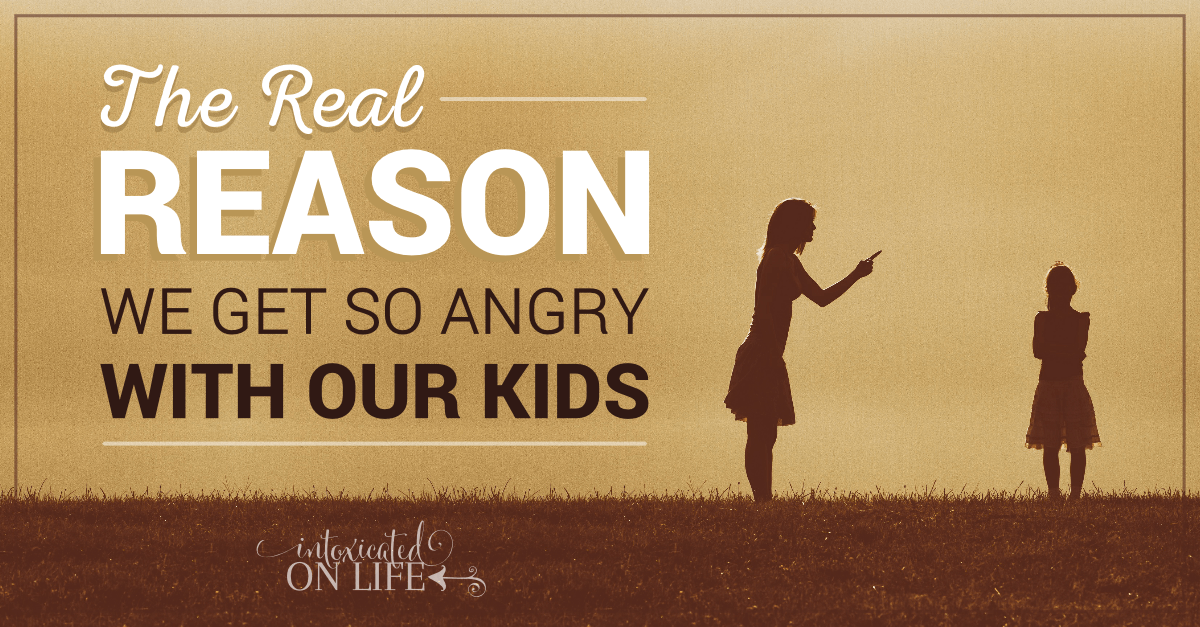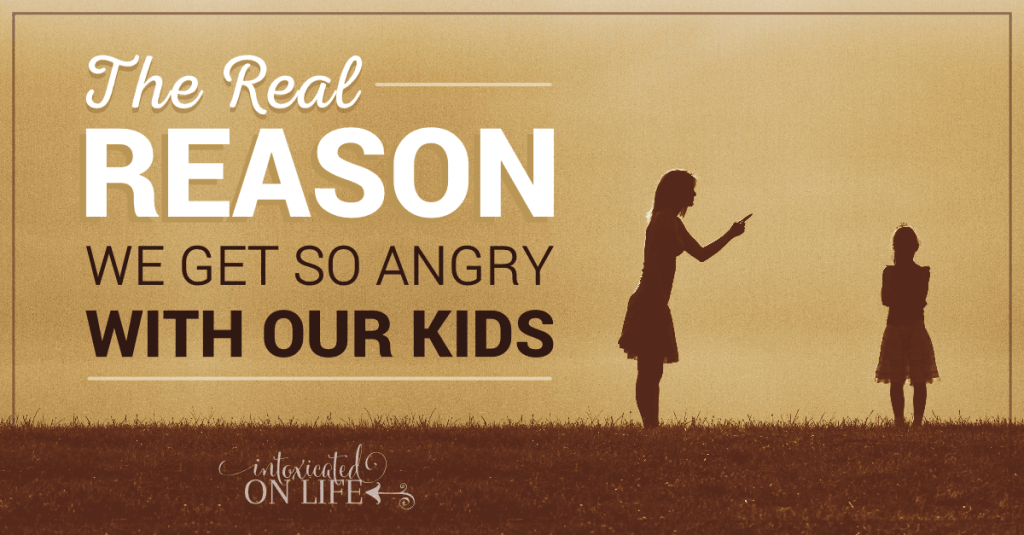 To use a phrase from Timothy Lane and Paul Tripp's book, Relationships: A Mess Worth Making, Jesus had a practical commitment to "mercy's agenda." He made it his mission to show mercy, and so we must make it our mission as well. "Mercy is my commitment to live alongside you in this broken world, even though I will suffer with you, for you, and because of you. I will do everything I can to relieve your distress."3
In short, having a mercy agenda means expecting to suffer. We easily get angry when we expect something else.
1. Instead of anger, expect to suffer with your kids.
Christ did not just feel pity for us from afar. He descended to Earth (Eph. 4:9) and preached peace to all far and near (2:17). He left the glories of His Father's side to suffer alongside us in the miseries of this life.
As parents, we should expect to suffer with our kids. Having a mercy agenda means we expect to be distressed over our kids' weaknesses, pains, and struggles, not selfishly protecting our time by remaining cold, distant, or annoyed by their petty problems.
2. Instead of anger, expect to suffer for your kids.
Paul says Jesus "gave himself up for us" (5:2)—we should not gloss over these words. Both in His life and in His horrific death, He sacrificed any natural desire for comfort, self-preservation, or personal achievement. And he did so to bear our sins so we could be reconciled to God (1:7; 2:16).
As parents, we should expect to suffer for our kids—to radically inconvenience our lives so they suffer less. We make money to put a roof over their heads, shoes on their feet, and food in their bellies. We teach and train—again and again and again—so they can learn how to navigate this broken world in a wise manner. Having a mercy agenda means we sacrifice time, talent, and treasure for our kids, not stewing in bitterness because we feel as if our life has been robbed of its freedoms.
3. Instead of anger, expect to suffer because of your kids.
When Paul says Jesus presented Himself as "a fragrant offering and sacrifice to God" (5:2), he is using priestly language of an animal being slain—a graphic reminder of what Christ endured on the cross. Christ suffered butchery at the hands of evil men.
As parents, we should expect to suffer because of our kids. Our kids will cause us suffering. Period. In time, our kids will disobey us. They will disrespect us. They may even deliberately break our hearts. But having a mercy agenda expects this kind of suffering and chooses forgiveness.

Looking to the Merciful Christ
If you're like me, you see these expectations and you sink under the weight of them. What gives us the strength and desire to have a mercy agenda?
We grow in mercy only by becoming more and more fascinated with our merciful Savior. As we see his mercy agenda for us, our hearts are filled with a fresh love for others—including our kids.
3 Steps to Conquering Your Anger
The million dollar question is the HOW. Ungodly anger just seems to be part of who we are (because it is), so HOW does God give us the wisdom and power to overcome our anger and treat our kids differently?
You can count to 10 and take deep breaths all day long, but in the end, God wants us to get to the root of our anger—no matter how we express it.
We invite you to come to our training course: Losing It! ​3 steps to conquering your anger and becoming a happier mom. This online training is great for moms (and dads) who want to do more than just learn how to manage their anger. They want to get to the root of it and replace it with joy.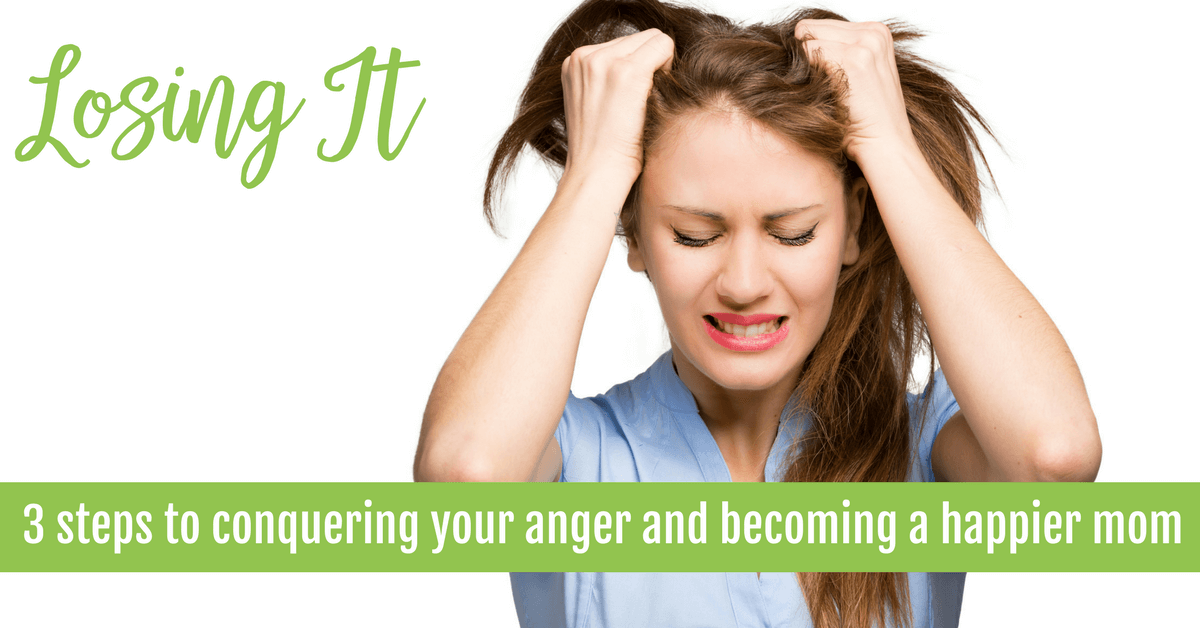 Sources
Anger: Escaping the Maze, P&R Publishing, p.1
For more on these seven criteria for of righteous anger see David Powlison's "Anger Part 1: Understanding Anger" in The Journal of Biblical Counseling, volume 14, no. 1 (1995).
Relationships: A Mess Worth Making, p.137