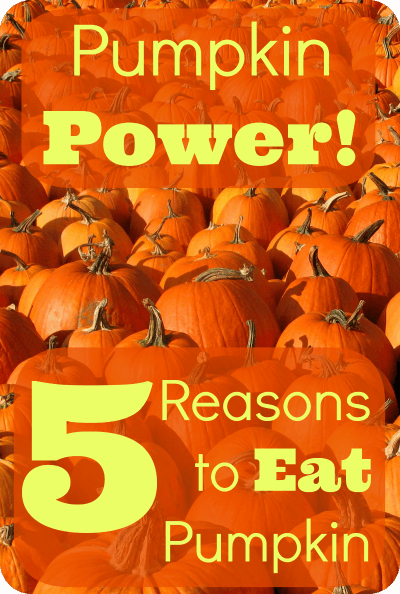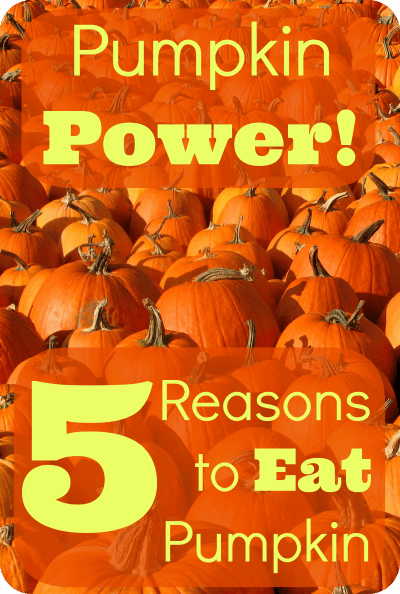 What's the first thing you think of when I say Fall?
Apple cider.
Hayrides.
Corn Mazes.
Leaves changing color.
The first thing that I think of is pumpkins, of course! What about you?
This month we're going to talk about some fall fruits and vegetables that pack a powerful punch (punch of nutrients, that is)! This week we're going to start with one of my very favorite fall vegetables. Or is it a fruit? (I'm going to call it a vegetable, but it is technically a fruit.)
Be sure to check out these fabulous healthy, grain-free, and sugar-free pumpkin recipes!
5 Reasons to Eat Pumpkin
1. Just 1 cup of pumpkin has 200% of your recommended Vitamin A along with carotenoids that covert into a form of Vitamin A. This aids in building a strong immune system important for the coming cold and flu season. Vitamin A is also vital for  eye and bone health.
2. Pumpkins are high in anti-oxidants. Antioxidants help in decreasing inflammation (inflammation = bad). Sweet!
3. Pumpkins are fantastic for restoring electrolytes. One cup of pumpkin has 564 milligrams of potassium (vs. bananas puny 422 milligrams). Pumpkins obviously put the smack down on bananas. So, for your post-workout, load up on the pumpkin. (Bananas are also much higher in sugar with 14 grams to pumpkins 2 grams of sugar—that's just an extra reason to eat pumpkins!)
4. It's not just the flesh of the pumpkin that's good for you. Pumpkin seeds are powerhouse player too. Pumpkins seeds are a good source of zinc, protein, magnesium, potassium!
5. Pumpkin seeds are also rich in the amino acid tryptophan. *yawn* Yes, this is the same amino acid in turkey that makes you drowsy. This amino acid also helps to produce serotonin which helps keep us happy. Eat pumpkins. They're happy food!
What are your favorite ways to eat pumpkin? Don't forget to check out this post if you're looking for some pumpkin inspiration!
Sharing at The Nourishing Gourmet, Whole New Mom and Kelly the Kitchen Kop.