Once upon a time there was a girl (that would be me) who didn't have a whole lot of money. She learned to be very frugal. Some might have even called her a tight-wad.
When she began homeschooling, she was pretty shocked at the prices of curriculum.
The first year of homeschooling you could find her spending hours in used book stores, scavenging random garage sales, and trying to find the best deals wherever she went. Sometimes she even ordered books on interlibrary loan (but that was a real pain in the rear end).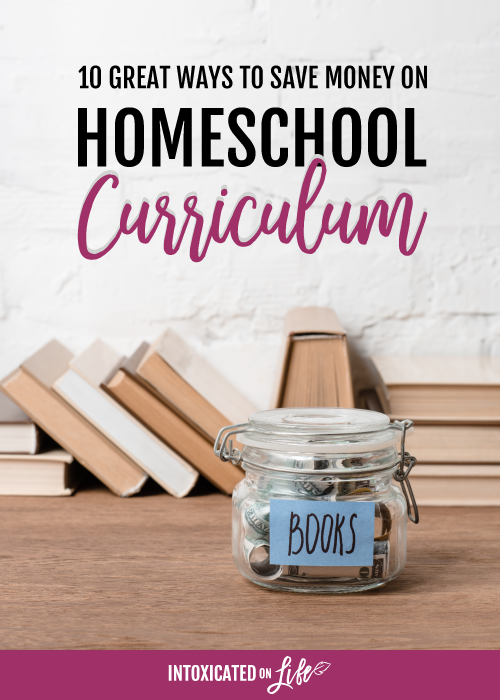 She eventually learned there were easier ways to save money on curriculum without spending hours and hours and hours scouring garage sales. (But she still likes to check out garage sales from time to time, because that's just fun.)
How to Save Money on Homeschool Curriculum
Though you can kind of nickle-and-dime your way through homeschool curriculum by downloading free resources online, I personally like to purchase complete curricula for each subject.
Don't get me wrong, sometimes I'll use some of the fantastic free resources I find online to supplement, but I want to have our core curriculum planned out at the beginning of the year. Below you'll find my tactics for saving money on curriculum (both in the short run, and long run).
1. Buy curricula that you can use with multiple children.
This could mean you are using curriculum you can use right now with multiple children or with one child now and more children as they reach that level. Almost all of my curriculum fits this bill. I try to focus on purchasing curriculum that is not consumable.
Whenever possible I ensure the workbooks I purchase have a copyright that allows you to make copies for multiple children.
2. Sell your old curriculum.
When you're done with your old curriculum, sell it! For me, it's going to be a long time before I'm able to sell some of my curriculum since I have 5 little boys—and who knows if it will even be in good shape to sell after going through that many boys.
Nevertheless, if your curriculum is still in good shape, hop on eBay, Amazon, or find out when your local homeschool curriculum sale is and sell the books. Some curriculum has a very high resale value which you can then put towards buying new curriculum!
3. Buy used.
While you're at that homeschool curriculum sale selling your books, don't forget to check everyone else's tables to snag up some treasures of your own.
Now, don't be like me and get distracted by all of the fun supplemental books and manipulatives and lose track of what you should be buying :). Of course, don't forget to check eBay and Amazon. They are two of my fave places online to look for used curriculum!
4. Buy downloadable books.
This could be in the form of PDF digital books that you and your kids can read online or print off. Or it could be in the form of Kindle books.
A lot of major publishers along with independent writers have jumped on the digital book bandwagon a long time ago. It's a win-win for everyone. They don't have all of the printing fees, and you save on the book plus no shipping.
I actually started doing this with the handwriting curriculum I created a while back (shameless plug alert). Our Write Through the Bible books are all available as digital downloads. And we have dozens of workbooks for all ages. You can get a full year of handwriting curriculum that has integrated vocabulary, dictation, and Bible memorization.
(We have printed, spiral-bound books if you prefer that too. And I don't mind if you photocopy the pages for all your kiddos.)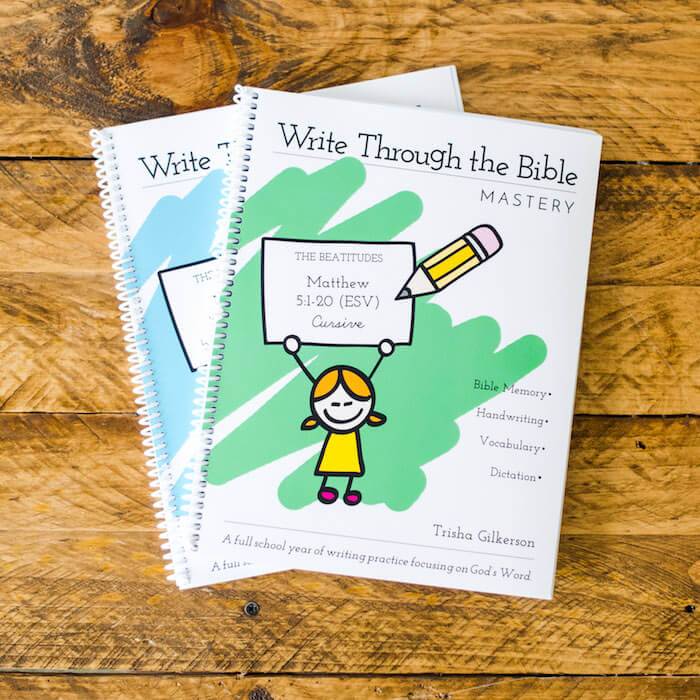 5. Swap with friends or family.
This has got to be one of my favorite ways to save on curriculum. Do you have a large network of homeschoolers in your area? Do you have lots of friends who also homeschool? Then be sure to be talking to them.
Chances are not all of your kids are the same age. They may have a math book that is just right for your child, but their younger child isn't quite ready for it. See if you can borrow that math book and see if there is anything of yours they'd like to borrow.
Why keep all of our unused curriculum sitting in a box when we could be helping each other with it?!
6. Online discount stores.
There are a number of online stores that offer discounts on homeschool curriculum. Homeschool Buyers Co-Op is one I've used several times. I'm sure there are others out there.
7. Exchange curriculum for a review.
Do you have a blog or some other public platform? You may be able to talk to publishers to work out a deal where you receive curriculum you'd like to use with your kids in exchange for a fair review.
Depending on the size of your platform and the value of the curriculum, you may also need to include other things in your promotional package including sidebar ads, social media shout-outs, a giveaway, or newsletter space.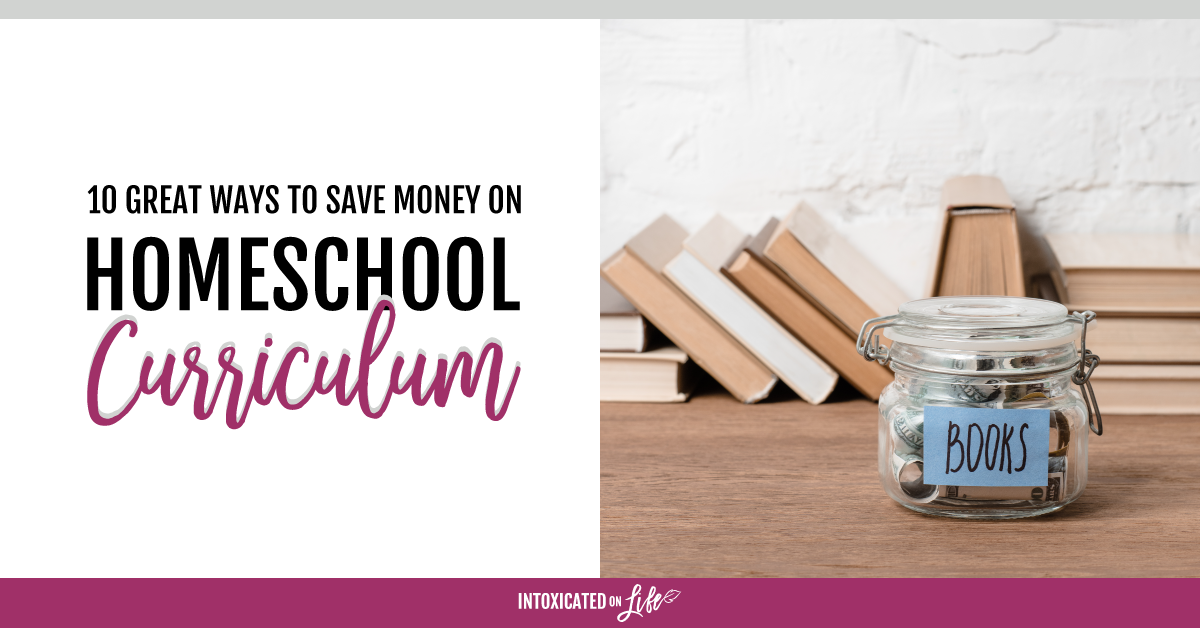 8. Free curriculum.
As I mentioned before, you can find lots of free printables and worksheets online, but I personally wouldn't ever use this as my core curriculum.
There are a number of free sites that actually have free curriculum you can download. I've seen a lot of full curriculum for pre-K and Kindergarten levels. You can also use sites that are completely free like Khan Academy.
9. Homeschool Conventions.
When I have gone to homeschool conventions I always go fully armed with information. You can spend sometimes more or sometimes less on books—that's why you need to know what the going rate is for books.
Make a list of all the books you need for your child. Find the best prices online (either through online discount curriculum stores or used curriculum) and see if vendors at the homeschool convention can beat it. Often vendors (I know, because I've been one!) run special deals just for homeschool conventions. So not only can you save on shipping, you can probably grab the curriculum you need for a bargain price too!
10. Bundles.
Sometimes bundles can feel gimicky. How can you get a bunch of books for such huge discounts. That just doesn't make sense. I get that. Before I was a blogger and really understood how bundles worked I really thought there must be some catch.
The truth: sometimes they really aren't that good of a deal. Sometimes they are a bunch of junk. However, sometimes they're a great deal.
So how do you know the difference? Spend time looking through what you'll be getting. Realistically determine which books you'll use with your family. Go check out the price to purchase those books alone — sometimes if there's even 2-3 resources you'll use in a huge bundle of books it can still be a good savings. And who knows, you might even find a couple other resources you're excited to use too.
But don't feel bad if you end up not using most of the resources. As long as it's a good deal for what you need, that's all that matters.
How do you save money on homeschool curriculum?