Winter time is here and cold weather means kids will be inside more than outside. If your kids are like mine, they love the idea of the snow, but can only last so long before they need to come in and warm up.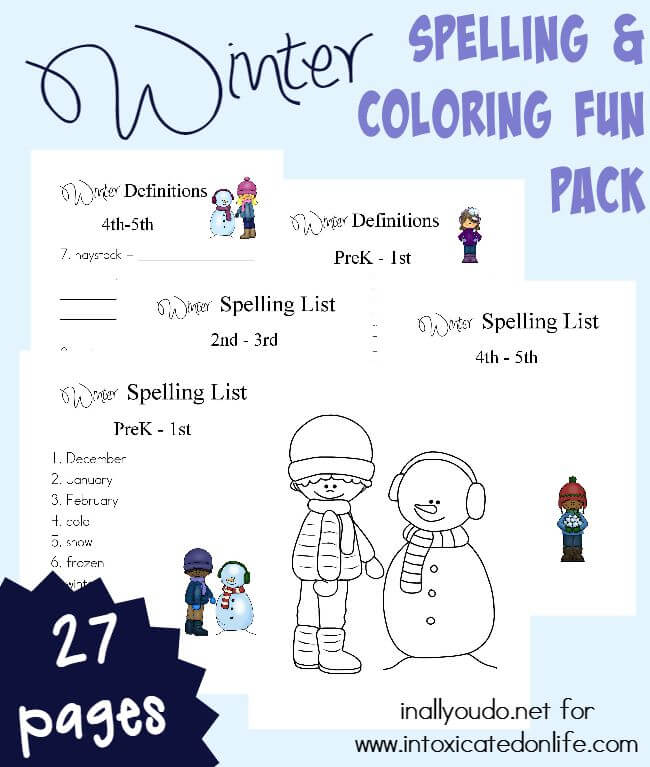 As they're warming up, why not add in a few fun spelling words and coloring sheets to get the blood flowing through their hands again.
This year, I thought I would throw in some fun Winter themed printables to change things up a bit and maybe I wouldn't hear so much backlash after a day of playing in the snow. This Winter Spelling & Copywork pack has spelling lists for PreK-1st, 2nd-3rd & 4th-5th along with pages to write definitions of each word. And then they can color some cute Winter themed pages after all their hardwork.
To make a fun mini Winter unit, try these Snowy Days puzzles, writing prompts and coloring pages.
Included in this Winter pack:
27 pages of printables
Spelling lists (K-1, 2-3, 4-5)
Spelling test sheets
Definition sheets to use when defining the spelling words
Coloring pages
What's nice about these mini units is the kids don't think they're doing real school work and we're sneaking in some learning time while they're having fun! Pair it with this Winter Copywork pack and you've got it made!
To download your freebie, simply click the link below.