Here's my latest essential oil post for you: A Skeptic's Guide to Essential Oils: Choosing a Company (a.k.a. The Purity Issue)
Are you interested in essential oils but confused about which company to buy from? It can be frustrating to navigate the thousands of blog posts and articles that talk about essential oil purity only to find that most of them are written by people trying to sell a particular brand.
I'm sure many of them wholeheartedly stand behind the company they are promoting (and I personally know several people who resell at cost just to get the discount on a product they love), but it sure makes things difficult for the average skeptic. All that makes choosing an essential oil company more difficult.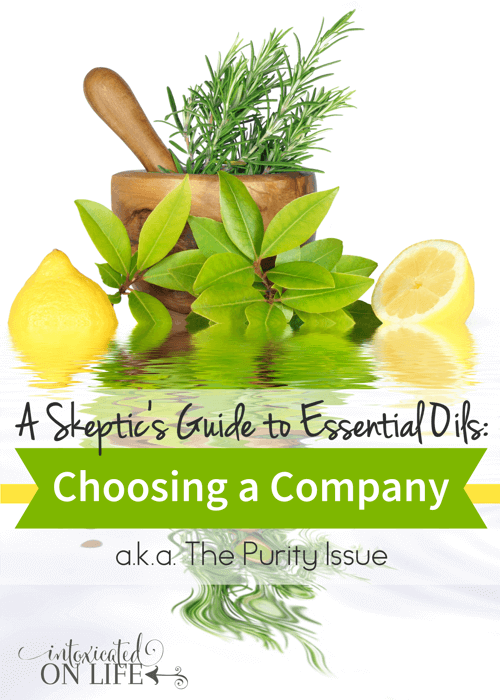 Last time, I shared my research about how essential oils work and declared myself convinced enough to give them a good trial in my home. Today, we're talking about what determines the purity of essential oils and what we should consider when choosing a company to buy from.
Learn more about my favorite essential oils in this post.
What Makes an Essential Oil Pure?
Many companies say they sell 100% pure and natural, therapeutic-grade essential oils. They may even say "certified." However, there is no such standard that is defined and universally applied to essential oils. The EO companies can define for themselves what "therapeutic-grade" and "pure" mean and use those terms in their marketing materials.
I don't know about you, but I find that highly irritating, especially when I'm trying to choose an essential oil company.
That said, it is commonly understood that "pure" essential oils are those that contain only the concentrated aromatic compounds from the plant without any adulteration. Additives and adulteration can be harmful to the body and greatly reduce the effectiveness of the oil. They are typically added to essential oils as a way to lower production costs, and can include: chemical dilutants, synthetic oils, mixing cheaper oils with more expensive ones, and alcohols.
Other Quality Issues to Consider when Choosing a Company:
In addition to the composition of the oils, it is also important to consider two other factors when choosing an essential oil company:
How the plants are grown: Basically, you can think of this in a similar fashion as buying organic/local vs. conventional foods. Organic essential oils are better than conventional because the effects of chemicals impact the integrity of the oils. Buying essential oils provided by local, sustainable growers is even better than buying organic because the higher quality and personal care of the plants grown.
How the oils are distilled: The best processes are the ones that alter the essential oils the least, thus retaining the most therapeutic value. This means no additional pressure or heat. Generally, the best distillation methods aren't ideal for large crops, and so quicker methods are usually employed.
Choosing an Essential Oils Company
What makes choosing an essential oils company difficult is that they sell their products at such widely varying prices and yet all claim to have superior quality. Something doesn't smell right here (pun intended).
In my research for choosing a company, I've learned that most companies buy from the same essential oil "experts," who basically function as middlemen between the EO company and large-scale farmers. This makes me question how much of their pricing comes down mostly to marketing. It can be very difficult to cut through the sales hype and misinformation to get to the real data.
A Checklist for Choosing an Essential Oils Company
After processing all this information and much more, I came to the conclusion that I just need to do my best for choosing a company that seems to have good quality for the price. However, my research revealed some other important things about Essential Oil companies to consider. I decided on the following as my personal checklist.
Purity: I want to choose oils that I feel good about using with my family, so I want to buy oils that are are unadulterated. For me, this is like buying organic/local food over conventional whenever I can (which isn't all the time). I'd like to get the most pure oils I can reasonably afford.
Price: I don't have money to just throw around. However, if I'm going to do this EO thing, I accept that I may have to pay a little more for quality and customer experience.
Quality: Keeping the price point in mind, I'd love to find an essential oil company who has the local farm flavor, purchasing from small, sustainable farms and using farming and distillation methods that produce the highest integrity oils.
Service: I have a lot of questions and I want a company that can provide good customer service and education in how to use my essential oils most effectively. I also want them to be real experts that shoot straight instead regurgitating fluff. Am I aiming too high here?
Reputation: Choosing a company that has a reputation for all the things above is so very helpful. Finding stories of company interaction and essential oil experiences helps me make the best choice in the midst of so many good options.
Bottom Line for Choosing a Company
Ultimately, my goal is to find high quality essential oils that work well from a company that I can trust. That is my advice for you as well, even if you don't end up with the same company that I do.
Interested in essential oils? Let's talk! Click here to learn more about essential oils and how to find good-quality oils for your family.
Free Download: Mom's Essential Oil Cheat Sheet
Would you like a resource to help you learn to use essential oils with your family? Download this free 3-page printable:
Basic guidelines for using essential oils around kids
A list of safe, kid-friendly oils essential oils
Helpful essential oil recipes
Click the link or image below to download the 3-page Mom's Essential Oil Cheat Sheet. I'll follow it up with more resources and free printables to help you on your essential oil journey. Grab your copy now!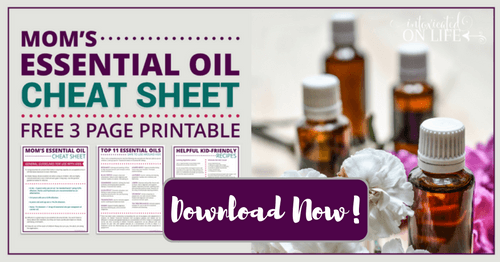 *FDA disclaimer: "These statements have not been evaluated by the Food and Drug Administration. This product is not intended to diagnose, treat, cure, or prevent disease."
More Essential Oil Posts: