Spaghetti and meatballs is a classic dish. I don't think I've ever met anyone who didn't love it. But enjoying this while still eating grain-free can be a little tricky. My solution? Add more veggies! If you're grain-free, then spaghetti squash is definitely the way to go. It's easy to bake and shreds up quickly into a perfect paleo, low-carb version of every kid's favorite slurpy pasta. No more missing out on spaghetti and meatballs with spaghetti squash and meatballs: an easy, grain-free version of the family favorite!

Spaghetti squash and meatballs… and kids.
When it comes to veggies, spaghetti squash is a little nutritional powerhouse. It's rich in the B-family vitamins riboflavin, niacin, and thiamin, as well as vitamins A and C. It also boasts beta-carotene, lutein, and zeaxanthin, folate, potassium, and manganese. Spaghetti squash is full of essential minerals like calcium, iron, phosphorus, and zinc, too. But it doesn't stop there! These veggies are all full of omega-3 and omega-6 healthy fats! Fat, in a veggie? Yep.
Now, my kids aren't the pickiest of eaters, but I do have two particular little princesses who seem to like trading off who will find something they don't appreciate during any given meal. Especially if the meal is mostly vegetable. But I don't let that dissuade me. I love trying to find new ways to sneak things into meals so that they won't notice. Spaghetti squash is rather hard to hide, but a good sauce and some delicious meatballs helps!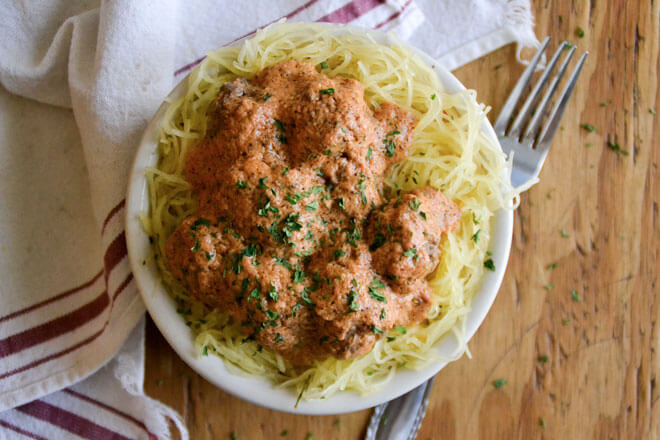 If I know my kids are probably not going to be excited about a certain food, I try my best to encourage a little interest. While we're at the market or grocery store, the kids get to help pick out the best veggie, and at home they're my sous chefs. But not until they've had a chance to decorate their dinner (or lunch).
This delicious spaghetti squash and meatballs meal came to use courtesy of a little French spaghetti squash my 8-year old daughter (the pickiest one of them all) lovingly drew. She didn't mind letting us eat "Jenny." In fact, she was quite interested in watching me carve and gut her little piece of art. We considered it veggie anatomy. Now art and science are done! Kidding…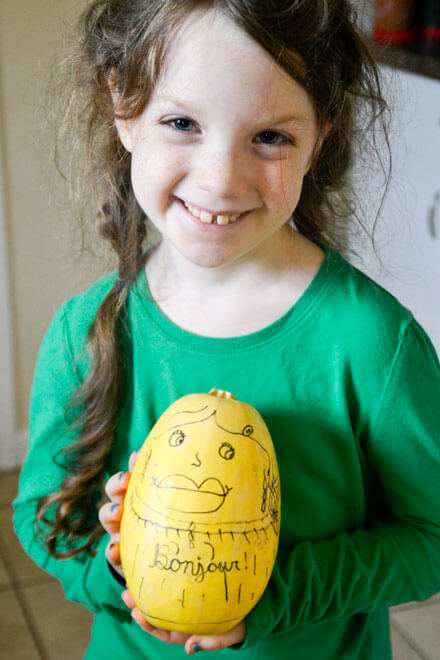 Easy peasy meatballs.
Though my kids willingly eat spaghetti squash re-baked as "pizza," topping it with spaghetti sauce and homemade, grass-fed meatballs is one of their favorites. Not only do they love eating the meatballs, they love making them. My son, in particular, enjoys mixing and smashing the ground beef and spices together.
Though you could use whatever ground beef you have on hand, I prefer to use grass-fed beef for my meatballs. Meat from grass-fed animals has been shown to be higher in vitamin E, and have 2-4 times more omega-3 fatty acids than meat from animals who are fed a steady diet of grain.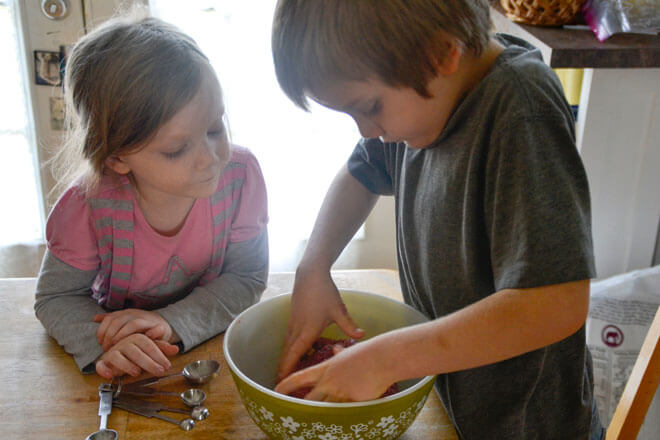 Most meatball recipes contain a filler or binder, such as eggs or flour (or almond meal, for grain-free), but I like to keep things as simple as possible. Just meat, herbs, and some garlic, salt, and pepper. That's it, folks! Easy peasy, and simply delicious!
If you're looking for a good source of grass-fed meat,
Butcher box
has high-quality meat that they will deliver right to your door.
If you use this link to Butcher Box, you can get FREE meat in your first box!!
Throw these little babies on your squash (or pasta, if you eat that), and you've got a family-favorite meal, for sure!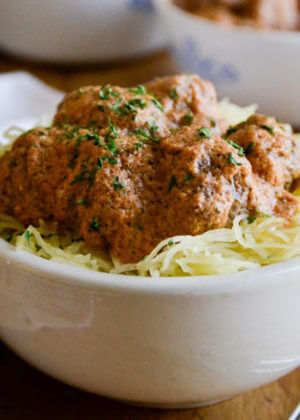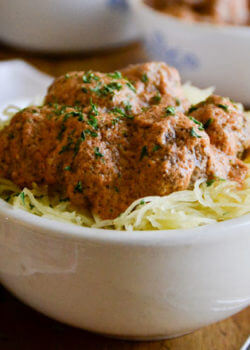 Print
Spaghetti Squash and Meatballs
Enjoy the classic Italian dish without grains or gluten! Spaghetti Squash and Meatballs is easy, delicious, and totally good for you.
Ingredients
1

spaghetti squash

1

lb.

organic ground beef

2

teaspoons

garlic powder

1

teaspoon

parsley

1

teaspoon

oregano

1

teaspoon

sea salt

1/4

teaspoon

pepper

2

tablespoons

lard

tallow, ghee, or high smoke-point oil like coconut or avocado

15

oz

organic tomato sauce

1 can

1/2

cup

sour cream
Instructions
Preheat oven to 37°5 and line a cookie sheet with aluminum foil (optional, just makes clean up easier).

Cut off stem of squash, then cut in half length-wise. Place squash flesh-side down on cookie sheet and bake for 35-45 minutes, depending on how big your squash is. It's done when a fork easily punctures the skin.

When the squash is cooked, gently rake a fork across the flesh-side of the squash, making "spaghetti". Continue until all the squash is made into "pasta".

While the squash is baking, in a bowl, combine meat, herbs, and spices. Roll into meatballs and set aside.

In a large, deep skillet, heat fat over medium-high heat. When hot, add meatballs and brown.

While the meatballs are browning, mix the tomato sauce and sour cream together.

Pour sauce over browned meatballs, reduce heat to medium-low, cover, and cook for 15-30 minutes, depending on the size of your meatballs and how well done you like them.
Notes
I usually make about 30 bouncy-ball sized meatballs (little kids!) and they cook though in about 15 minutes.
Nutritional value is approximate and will depend on the type of meat, fat, and sauce you use.
Nutrition
Calories:
315
kcal
|
Carbohydrates:
16
g
|
Protein:
17
g
|
Fat:
21
g
|
Saturated Fat:
10
g
|
Cholesterol:
74
mg
|
Sodium:
852
mg
|
Potassium:
670
mg
|
Fiber:
4
g
|
Sugar:
8
g
|
Vitamin A:
619
IU
|
Vitamin C:
9
mg
|
Calcium:
84
mg
|
Iron:
3
mg
If you try this spaghetti squash and meatballs on your family, let us know what they think! We hope you love it as much as our family does.