Avocado is definitely one of my favorite foods. It only makes sense that I would figure out a way to make an avocado salad. This recipe for avocado salad makes use of another one of my favorite foods too —bacon! Bacon and avocado, really people, how can you go wrong???
This 5-minute avocado salad with bacon is a delicious, beautiful, eye-catching salad that's sure to impress guests (and won't take you long to throw together either– bonus!).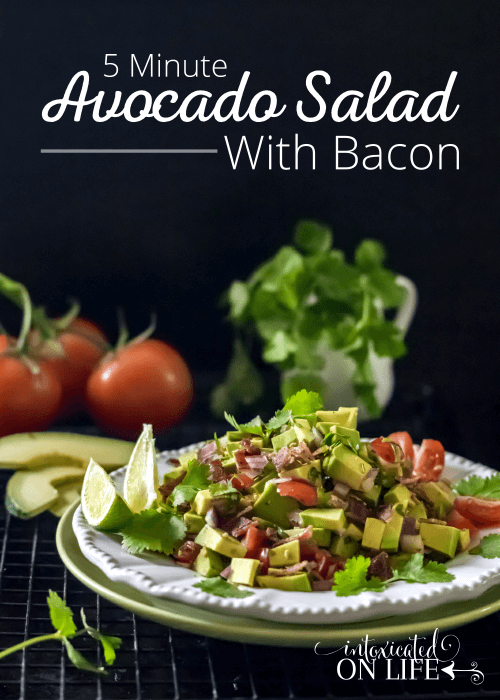 Not only does avocado taste fabulous on a burger, in an omlette, or as homemade guacamole, it's also a powerhouse health food. The avocado is is rich in healthy fats, vitamin B6, potassium, and folate.
Now, before I hear you complaining about all the fat content in avocados, let me assure you…there is nothing to fear from this beautiful creamy green fruit. In fact, avocados can actually benefit your heart health, because polyphenols and flavonoids are present in avocados.
What are they? Why, that's a good question! They are compounds that help decrease inflammation (the real enemy of your arterial walls, not fat or cholesterol as some would have you believe).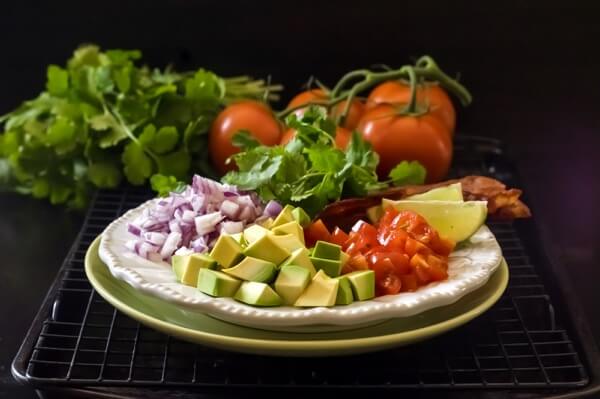 Eat more avocados – your body will thank you!
Avocado Salad with Bacon (Recipe)
Ingredients
1

medium avocado

coarsely chopped

1

roma tomato

coarsely chopped

1

T.

onion

finely chopped

3

slices

bacon

fried crisp and crumbled

1

T.

cilantro

finely chopped

1

T.

fresh lime juice

1

T.

olive oil

1/2

clove

garlic

1/2

t.

salt

1/4

t.

cumin

1/4

t.

chili powder
Instructions
Chop your vegetables.

Toss together chopped vegetables, bacon, olive oil, lime juice, and spices. Enjoy immediately!
I hope you enjoy this recipe as much as I have, but really who can go wrong with bacon and avocado? I'd love to hear if you have the opportunity to try it out.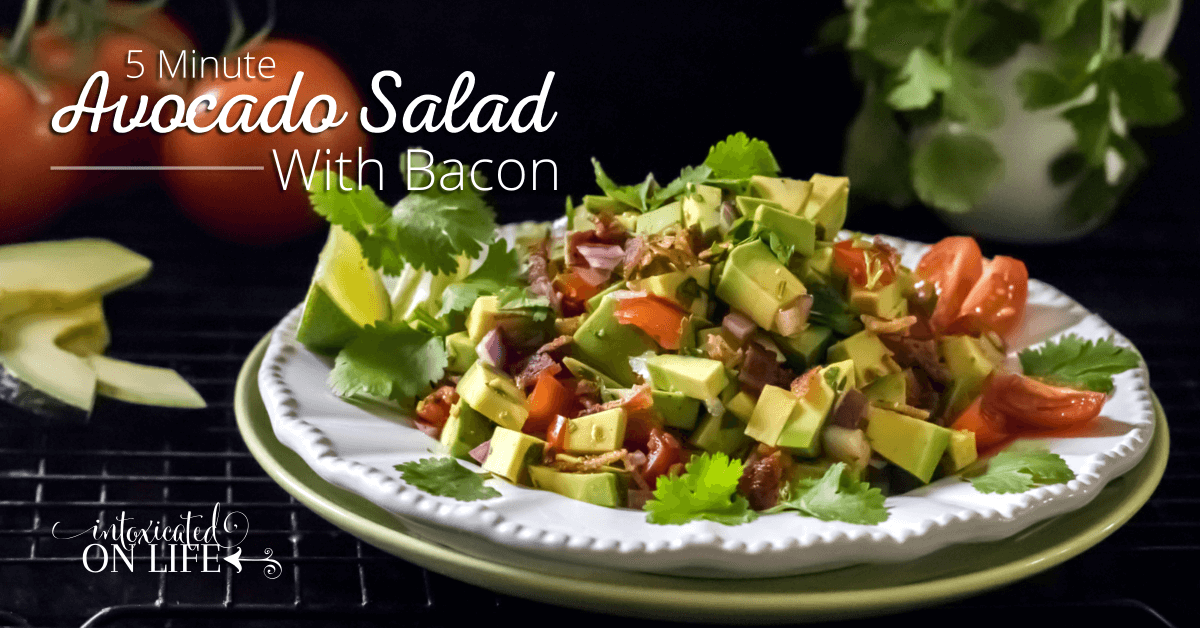 ---
Looking for more great ways to use avocado? Why not try this healthy, creamy, no-brown guacamole? I love making it ahead of time for parties!