These grain-free Christmas Cheer cookies are the perfect holiday treat. You simply take a traditional grain-free chocolate chip cookie recipe and make it even more special. Everyone will love these cookies, both at parties and as a homemade Christmas gift!
To quote the movie Elf,
The best way to spread Christmas cheer is singing loud for all to hear.
I have to say that Buddy has a good point, but I'd like to add "…and baking cookies to share with those around you."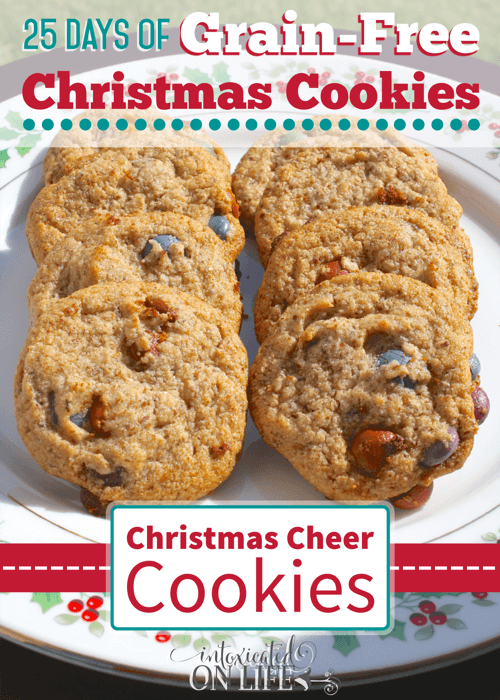 The Joy from Making Christmas Cheer Cookies…
Christmas season is one of my favorite times of the year. Life always seems to speed up during the holidays, but my family is intentional about trying to slow things down.
My family makes it a point to follow through with the traditions that are important to us and let go of those that are not meaningful to us. I keep a yearly "running list" of activities that we want to experience together, and baking fresh goodies is at the very top.
We are a family of six so everyone picks a special treat to make and then we round out the season's dessert menu with a couple more…just because. We always make six to eight different cookie, candy and bread recipes to gift or nibble on leading up to Christmas day. We love making fun memories together and there is no better way to "spread Christmas cheer" than being in the kitchen together.
One of our favorite recipes, year round, is this grain-free version of the traditional chocolate chip cookie. We take out the chocolate chips and replace them with colorful, dye-free chocolate candies and use only whole food ingredients.
This Christmas Cheer Cookies recipe is so easy, so good and tastes great straight out of the refrigerator.
I hope you love it enough to make it a tradition at your home too!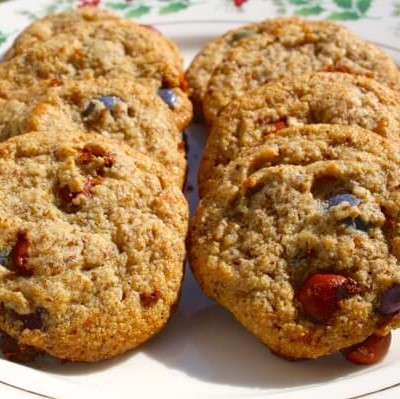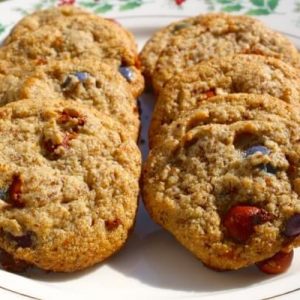 Print
25 Days of Grain-Free Christmas Cookies: Christmas Cheer Cookies
These delightful Christmas Cheer cookies combine the best of multiple cookies in one gluten-free delight!
Instructions
Combine all ingredients in a large bowl. Mix with a hand mixer. Using a cookie scoop, drop dough onto a baking sheet lined with parchment paper. Press balls flat.

Bake at 350° for 7 - 10 minutes. Cool, serve and store in fridge. This makes around 22-24 cookies.

Depending on my mood, I may add a handful of walnuts, hemp seed, raisins, etc. This recipe is a great base recipe to adapt and change to your liking!
25 Days of Grain-Free Christmas Cookies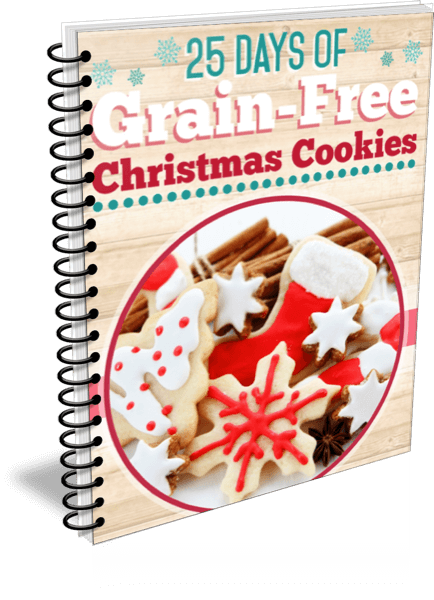 Christmas and cookies go hand-in-hand, but most traditional cookie recipes use wheat flour and other grains. If you are grain-free, or you are looking to cut back on the grains you eat, this cookbook gives you 25 amazing cookie recipes to continue to fill your home with the pleasant traditional tastes and aromas.
Of course, you can use these cookie recipes year round! Your family is going to love having these healthy, delicious alternatives.

More Healthy Holiday Desserts You Will Love:
---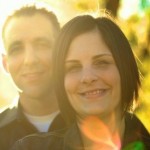 Shannon Miles is a wife, mom, holistic health counselor and musician/worship leader living in Texas. She and her husband, Scott, blog at Simply Smiles and own their own small business, Miles Holistic Health. They are a fun loving family with four amazing kids and two lazy dogs.