There once was a time when I looked forward to the upcoming school year. I had fun picking out curriculum that would most challenge and engage my son. I opened the boxes of curriculum arriving in the mail like a kid at Christmas.
When this summer arrived…I sighed with relief. Finally. Freedom! Have you ever felt that way about homeschooling?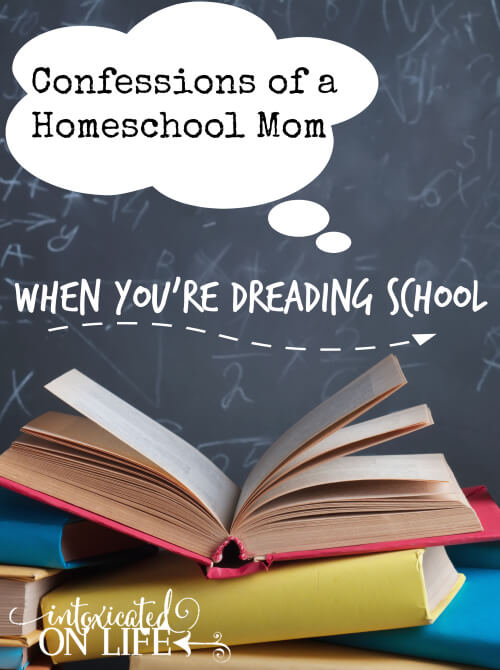 Can I tell you a secret? I feel terrible about this. I'm going to be honest: there have been more than a few times over the last several months when I've though about how nice it would be to send my older boys off to school. I could spend my days playing with my little guys, writing on my blog, and keeping my house together.
7 Changes You Can Make to Enjoy Homeschooling Again
The last few years have been exhausting. I had a very difficult twin pregnancy. Then I was caring for twin newborns who didn't like to sleep and spiked randomly high fevers every month. Last year I was trying to juggle homeschooling two boys while trying to make sure two little toddlers didn't destroy the house (and they still weren't sleeping great).
All of this resulted in a mama who was pulled in many directions, over-tired, and is now suffering from adrenal fatigue (stay tuned for future posts about how I'm working to support my adrenals). It's time for some changes. I want to enjoy my school year and look forward to each day, not wake up and wish I could pull the covers over my head and hide.
1. Scale back & use more self-directed curriculum
We have used very demanding curriculum in the past. I'm not completely changing this, but there are some curricula choices that may get changed so my kids can be more self-directed. (For instance, we have used the Veritas Press self-paced history course and Phonetic Zoo for spelling—both of which are very self-directed.) I'm looking for more curricula like this.
We might even *gasp* completely drop a peripheral subject or two.
I'm also finding that curriculum that worked for my oldest son isn't cutting it with my second-born. My second son is a creative, artistic, melancholy boy. He is also very bright, but he doesn't learn the same as his older brother. This year, I'm exploring new curriculum for my second son. Unfortunately, this means I won't be able to reuse all of the curriculum I purchased for my oldest son.
2. Explore children's interests and abilities while looking towards the future
Recently, Luke and I purchased the book How to Discover and Develop Your Child's First 100 Hours of Talent. We are just now digging into it, but I'm really excited about how this may change the course of my children's education.
This book guides you through exercises to discover what your children's unique talents are and the first steps for beginning to hone those talents. I think this is going to be a game-changer for us. It's going to excited our kids to know some of what they're working towards in school is preparing them to do something they're talented in and love.
3. Keep the 3-year olds busy with engaging activities
Now that I don't have needy breastfeeding infants or over-curious toddlers that get into everything, I plan to utilize many of the ideas from Annette's post on Homeschooling with Toddlers.
My boys have an increased attention span and are more interested than ever in doing what their big brothers do. This school year, they'll have fun doing worksheets and Kumon books. I plan to have scheduled activities for them each day of the week—they'll be more content and engaged throughout the day with a more structured schedule than in the past.
4. Have a flexible schedule
There are 2 key words here: schedule and flexibility. For me, a homeschool schedule is necessary (if you need help on this part, might I suggest Amanda's very comprehensive 3-part series Homeschool Planning 101). I must have a good overview of what's going on for the year, as well as daily and weekly goals. The part I sometimes I have trouble with is the flexibility.
Say what? Take a day off school because we had 4 feet of snow and the kids want to go sledding (just like the public school kids)?! Yes, sometimes I've been known to be a stickler to make sure our precious schedule doesn't get messed up.
Sometimes our sanity necessitates that we deviate a bit from our schedule. Isn't that one of the beautiful things about homeschooling? We can decide to do an impromptu educational field trip or even take a day off for whatever reason we want to. It's important to remember that it is OK to take a day off because we need to take care of ourselves.n This isn't selfish or irresponsible. Your schedule won't fall to pieces. If you are totally burnt out, you won't be doing your family any favors at all.
5. Chores for the kids
My kids do chores. Honestly, they do. Unfortunately though, mom isn't always as consistent as she should be about enlisting the kids help. As my boys get older I know how important it is for them to take responsibility for doing different things around the house.
If you have a hard time thinking of what to have your kids do, be sure to download this 3 page printable. You'll receive 2 pages of chores listed by age, but a free chore charts (it's an editable PDF…fancy!).
6. Schedule mom's work: the myth of multitasking
Something I've been reminded of recently is trying to multitask work and homeschool does not mean I'm supermom. It doesn't mean I'm super-productive. It means that my attention is split and I'm not doing either thing well.
I'm determined to stop squeezing in responding to e-mails while I'm waiting for Cameron to finish writing an answer to a question. I will have scheduled work hours throughout the day. (Please forgive me in advance if I don't respond to a comment on the blog or an e-mail right away. I'm not trying to ignore you, I promise.)
7. Most of all: keep in mind the why
For Luke and I, there are many reasons why we decided to homeschool our children. When I stop and think about those reasons, I'm just as passionate now as I was when we first made the decision. I want my children to have rigorous education, founded in the truth, but I also want to inspire in them a love of learning. How can I do that when I'm frazzled and dreading each day?
Keep your eye on the prize, Mama!