Sugar…we have a sweet, sweet love affair with you. You're in so much of our food. You taste so good, you make us feel good, we constantly seek you out. You must be good, right?
Nope.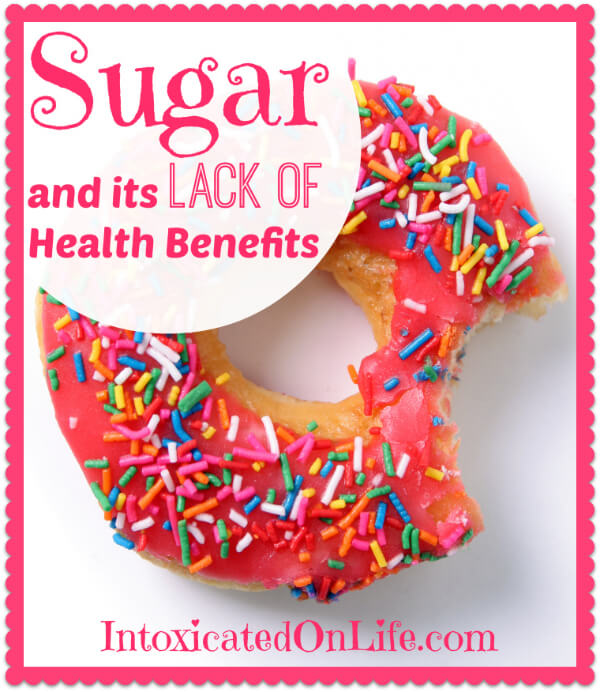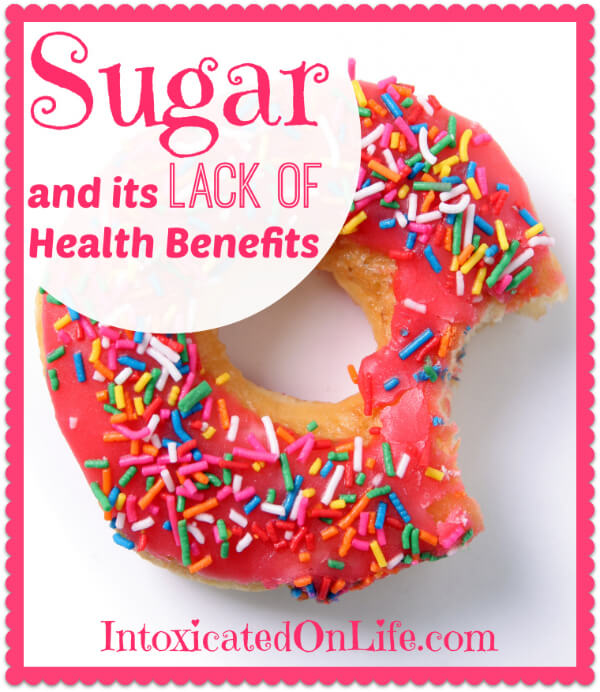 Sugar has no nutritional value—there is nothing that your body needs that is found in sugar. There are no vitamins, minerals, or enzymes that can benefit your body in any way. Furthermore, sugar can wreck havoc on your body in many many ways. The consumption of sugar has been linked to a plethora of modern diseases: diabetes, obesity, cancer, hypertension, depression, headaches, acne, fatigue, hardening of the arteries, and high blood pressure. 
We Eat a Whole Lot of Sugar!
Sugar (and it's sneaky little cousin "corn syrup") is found in all of the places that you would expect: cookies, candy, cake, and one of the biggest culprits—pop. But, it's also found in many places that you may not have thought about: yogurt, condiments, crackers, peanut butter, fruit drinks, canned fruits, and canned vegetables. Most pre-packaged and/or processed foods have sugar in one of its many shapes or forms added to it.
Estimates on what the average American adult consumes ranges anywhere from 22 to 55 teaspoons of sugar a day while our children consume even more.
Dr. Hyman in the  book UltraMind Solution estimates, "Historically, we ate the equivalent of only 20 teaspoons of sugar a year as a hunter/gatherer species. Now we eat 158 pounds per person per year, or about 50 teaspoons or half a pound each day." Thats a whole lot of sugar!
Even the American Heart Association recommends much more modest consumption of sugar – 6 teaspoons a day for women and 9 teaspoons a day for men—though, this is still an excessive amount  of daily sugar intake to promote health. (FYI, if you drink just one 12 ounce can of pop you're at 8 teaspoons which puts women already over the AHA recommended limit.)
Sugar & Diabetes
Do you think it's a big coincidence that the skyrocketing rates of Type 2 diabetes (and cancer) in both adults and children have mirrored the ever increasing  consumption of sugar? I think not.
Type 2 diabetes in children increased by 21% between 2001-2009. Since the 70's the overall incidence of diabetes has more than tripled. Those are staggering numbers! What's to blame for these alarming rates. You guessed it. It's primarily our love affair with sugar and other refined carbohydrates.
Let me give you a quick tutorial on how this works…
First, when you eat sugar it turns into glucose in your system and provides your body with an immediate source of energy.
Next, your pancreas must produce insulin allowing your cells to use the glucose as energy.
Next, whatever glucose is left over gets delivered to your liver to be turned into triglycerides and stored in your fat cells for future use.
But, because our standard American diet is so high in sugar, many people have a continuous stream of glucose entering their bodies all day long with the resulting insulin production. When insulin levels are always high in the body, this often leads to insulin resistance.
What does this mean for your body? It means your body has to produce increasingly higher amounts of insulin to do the same job. The cells in your body simply don't respond to the lower levels of insulin anymore. It also means that your body is storing more and more of those glucose molecules as fat. 
(Side Note: sugar is not the only culprit here, it's also that so called "heart healthy" bowl of oatmeal you had for breakfast, whole wheat bread you had your sandwich on, and that pile of brown rice you had with dinner that turns straight to glucose in your system, but I digress…we must get back to sugar)
Eventually, insulin resistant individuals can become Type 2 diabetics. And with type 2 diabetes, there comes a host of other health problems. Needless to say, it is in your best interest to control those blood sugar levels and keep insulin levels low!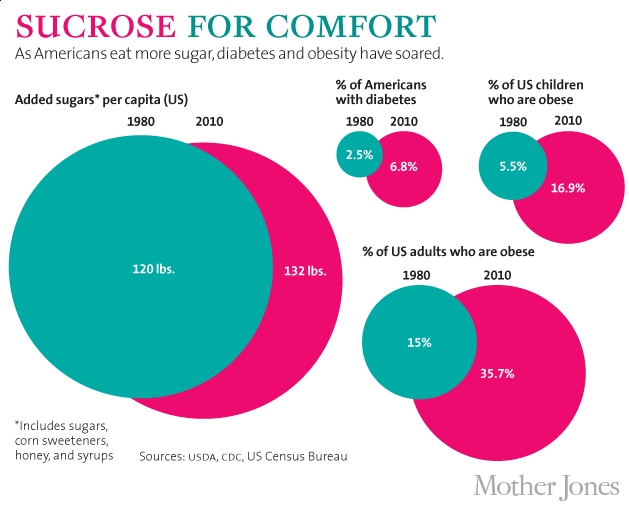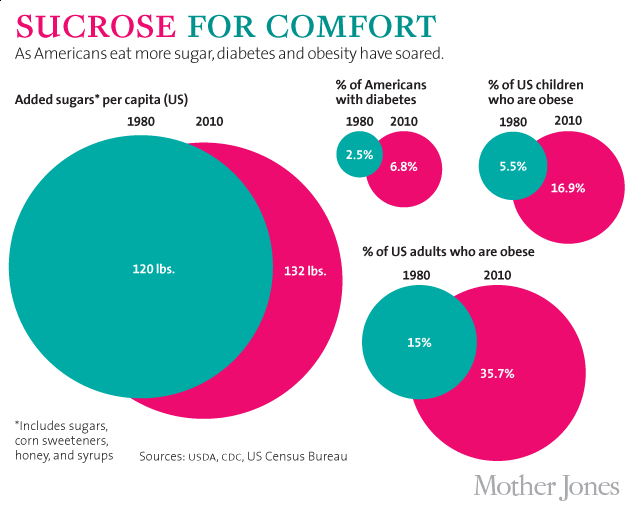 Sugar & Cancer
The World Health Organization Agency for Research on Cancer deems you more likely to get cancer if you're obese, diabetic, or insulin resistant. Guess what? An excessive amount of sugar will cause obesity, insulin resistance, and diabetes.
Furthermore, many cancers require sugar (glucose) to grow (cancer metabolizes through fermentation and fermentation requires sugar).
Want more evidence?
There are some very successful alternative cancer treatments which include a very low carbohydrate, moderate protein, ketogenic diet to help starve cancer. Malignant cancers in population that that do not eat a western diet, such as the Inuit prior to westernization in 1940's, is extremely rare. The Inuits lived primarily on a diet of fatty sea and land animals with occasional vegetables and berries that could be gathered in the natural arctic habitat. The Inuit's ate no sugar and very few carbohydrates that could be converted to glucose (sugar) by their bodies.
Don't take my word for it though, listen to what the cancer experts have to say!
Craig Thompson, President of Memorial Sloan-Kettering Cancer Center in New York explains, "I have eliminated refined sugar from my diet and eat as little as I possibly can because I believe ultimately it's something I can do to decrease my risk of cancer."
Another researcher, Lewis Cantley, Director of Cancer Research at Harvard Medical School put it much more succinctly saying simply, "Sugar scares me."
Sugar & Alzheimers
Alzheimers is currently being dubbed "Type 3 Diabetes" by some researchers in the medical field. We now know alzheimers has much less to do with genes than we originally thought, and much more with environmental factors—particularly what we put into our body. There can be no other explanation considering the sharp rise in the rates of alzheimers over the last 50 years. Researchers project that in the next 50 years, the incidence of alzheimers will quadruple!
Though diabetes does not cause alzheimers, people with diabetes are twice as likely to get alzheimers. This is because diabetes and alzheimers have the same root cause. The root problem for both diseases is the consumption of foods that alter the role of insulin in the body.
Dr. Suzanne de la Monte, a Neuropathologist from Rhode Island Hospital, one of the leading experts in this field of study explains:
"There is a considerable link between diabetes and Alzheimer's disease—and the crucial role diet plays in the onset of both conditions. In many respects, Alzheimer's is a brain form of diabetes. Even in the earliest stages of disease, the brain's ability to metabolize sugar is reduced. Normally, insulin plays a big role in helping the brain take up sugar from the blood. But, in Alzheimer's, insulin is not very effective in the brain. Consequently, the brain cells practically starve to death."
All This & More…
And if all of these things weren't enough to convince you to seriously consider slashing your consumption of sugar, there's more! We haven't even touched on the fact that sugar is a big player in some other pretty major problems in the body: it causes inflammation which is a precursor of heart disease, contributes to non-alcoholic fatty liver disease, and sugar has the propensity to suppress the immune system. It's not as hard as you think, it really isn't, as long as you have some good sugar-slashing tricks up your sleeve!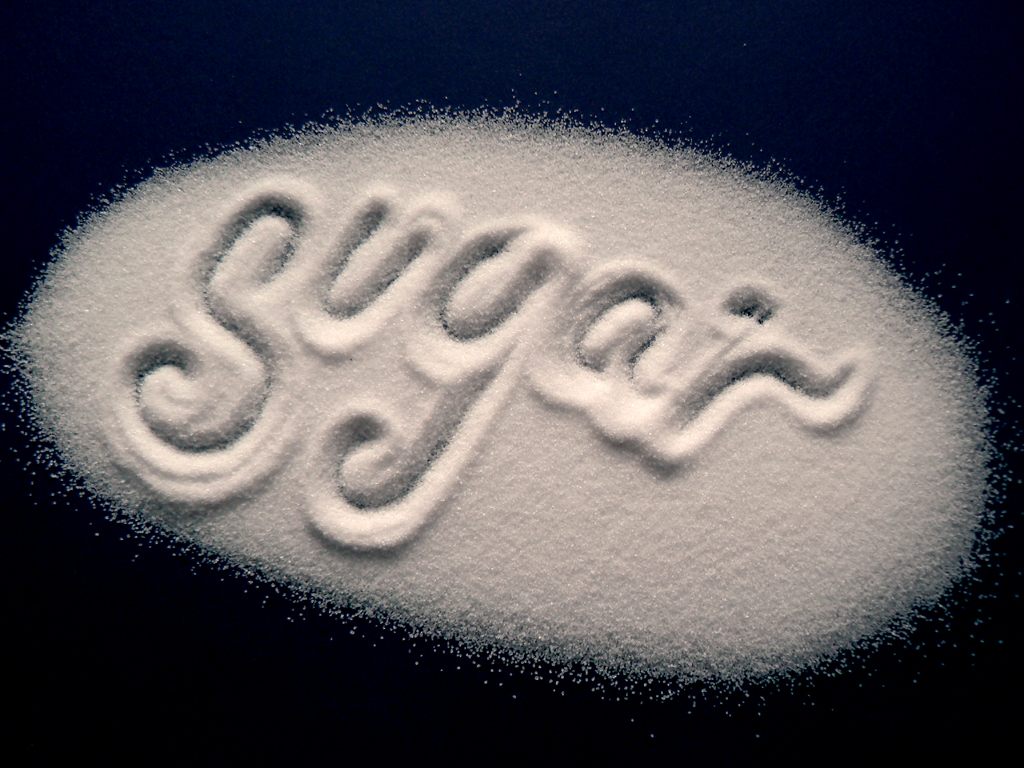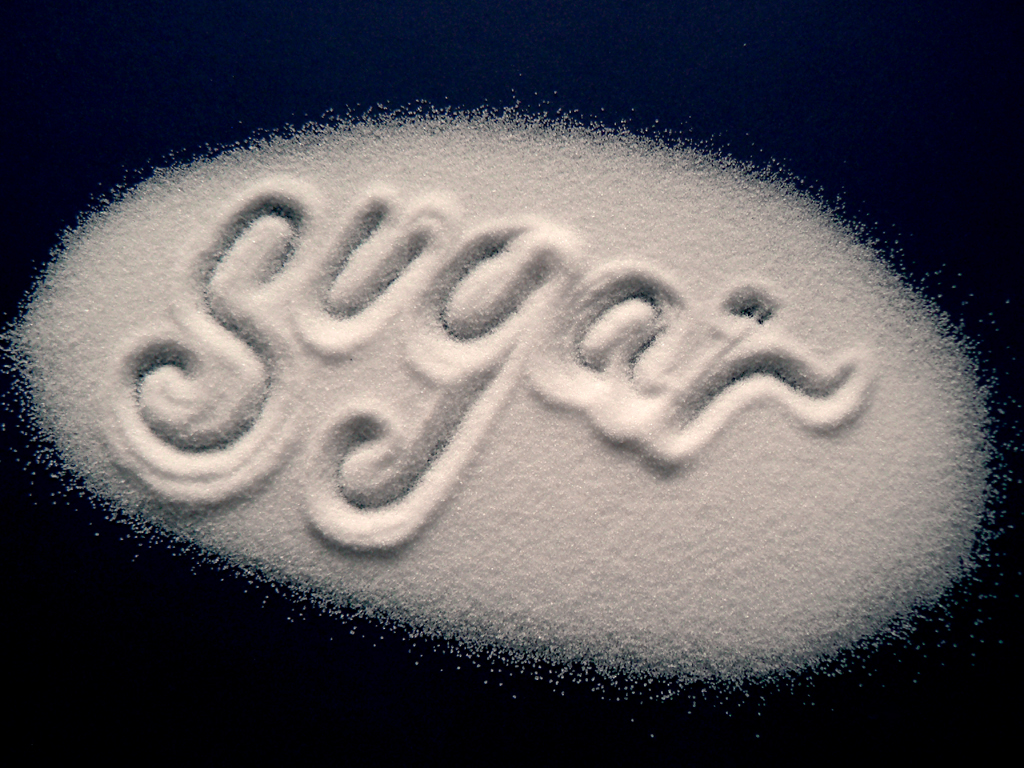 Other Posts in this series: