Do your kids have too many toys? Be honest. I know mine sure do, and the only thing that saved my sanity was implementing a toy rotation. It was literally a night and day change in our house dynamics.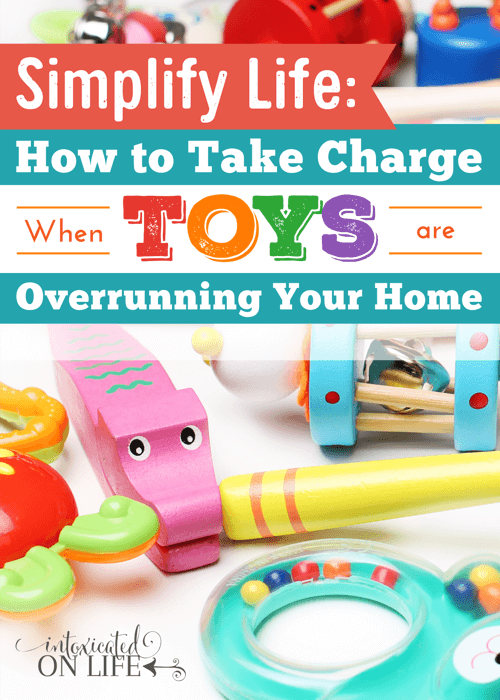 I used to feel like toys were literally taking over my house.
Okay maybe not "literally," I mean they didn't stage a military coup, set boobie traps with jump ropes, and Legos or anything. And there was never a list of demands left duct taped on my children's door asking for fresh batteries with a picture of a "hostage toy" roped to a chair. And I'm pretty sure, despite Pixar's artful story telling, they don't come alive when my kids leave the room, so our family was of course safe from a literal toy dictatorship.
But that's what I felt like: my life was being dictated by the demands of too many toys. They demanded my time  and energy to help my children keep them picked ups. And quite frankly they were simply causing too many squabbles between my kids too.
Toy rotation doesn't need to be complicated, or take a lot of time to implement. Don't let it intimidate you, one day's worth of work will literally cut your cleaning time down to a fraction of what it was. It will also enable your children to clean better, because lets face it too many toys is far more overwhelming to a child than it is to us, and often times they have no idea how to clean when the mess is so large.
Here's how you can implement an easy toy rotation in your house. It's certainly worth a try if you're feeling overwhelmed.
1) Get the containers you need to store your toys.
Obviously where your storing them will determine the type of container you use. Crawl space storage is slightly different than closet space. Personally I love this laundry basket from Amazon; it's very sturdy (ours is crammed full of toys at the moment), and it zips. We also use storage tubs like this one, that I scored on clearance at a hardware store that was going out of business. Plain boxes reinforced duct tape also work well. Don't let not having the perfect container stop you from storing though, you can always use what you have and buy sturdier containers when your budget permits.
2) Ditch the kids or let them have a movie day.
Seriously packing away toys is so much easier without them in the way, discovering "new" toys that they haven't seen them in ages. If you can get a sitter, or get Dad to spend a few hours with them away from the house and DO IT. Then store the toys as fast as you can while they're gone.
3) Don't try to store toys you know are special to your kids or that they need to sleep with.
Personally, I'd be all for storing all but 3 toys per child. Practically speaking though there would be no way I could get away with it. Try to be flexible with your kids if they're used to always having access to whatever toys they want.
4) Speed fill your containers, don't worry about sorting too much.
If you've got the time, sure go ahead and organize. Quite frankly, though, when I store toys they are loosely sorted. The Legos make it in a box together, the cars make it in a box together, and the dress-up clothes make it in a box together.  Everything else is intermixed. Which actually works out great because when I pull out a new box there is a variety of toy types for my kids to choose from. It also makes initially storing the toys go much quicker and makes it easier for kids to clean up after themselves later if they don't need to worry about putting a toy away in the "right box."
5) Don't worry about purging toys.
If you're going for speed, save purging for another day.  Simply throw away the obviously broken toys and store the rest.
6) Once filled put said storage containers out of sight and out of reach.
I'm amazed how quickly my children will forget about certain toys simply because they can't see them.
7) Allow your kids to get out a new toy box, only when all other toys are put away, but do allow them to get new toys out often, especially if they're asking.
Stick with this rule, and train your kids how to put their toys away. I'm amazed at how well even my three year old cleans up toys when there are only 10 out as opposed to 50.
8) Keep a portable toy container at the ready.
I keep a laundry hamper in my downstairs closet. If toys aren't picked up, they wind up in there at the end of the day. I don't mention these toys to my children, if they ask for them I'll get them out, but otherwise I just eliminate them from the current rotation.
9) Choose toys to donate after you get a feel for your kids genuine favorites.
After toys have been in storage for a little while it's much easier to be objective about what your kids do and do not play with. If your child's forgotten about a toy it's a safe bet you can get rid of it.
10) Be flexible.
I said it before but it bears repeating. It's your home, they're your kids, ultimately how you make toy rotation work is 100% up to your personal preferences.
Personally, I've tried to reduce my kids' toys they always have out to a bare minimum. We have two toy boxes half full that are always out. This gives plenty of room to store stray toys and enough toys for my kids to play with regularly. I also allow them to have their favorite stuffed animals in their bed.
We've found a balance that allows them to have choices, reduces squabbles, and enables them to clean much quicker without getting overwhelmed.
How do you handle too many toys in your house?