Let's get serious about testing for Lyme Disease.
Imagine a world…
Imagine a world where the approved screening test for a disease running rampant misses 55% or more positive individuals.
Imagine a world where a second screening test is available, but this test still misses 20-30% of positive individuals. Imagine a world, where the CDC has removed vital pieces of information from this test, making accurate diagnosis extremely difficult.
Imagine a world where insurance only pays for these two tests, a world where the government, insurance companies, and CDC stick their heads in the ground and refuse to acknowledge there is a problem.
A world where much more sensitive tests are available, but insurance refuses to cover them…the CDC refuses to accept them…government turns a blind eye.
This is your world when it comes to testing for Lyme Disease.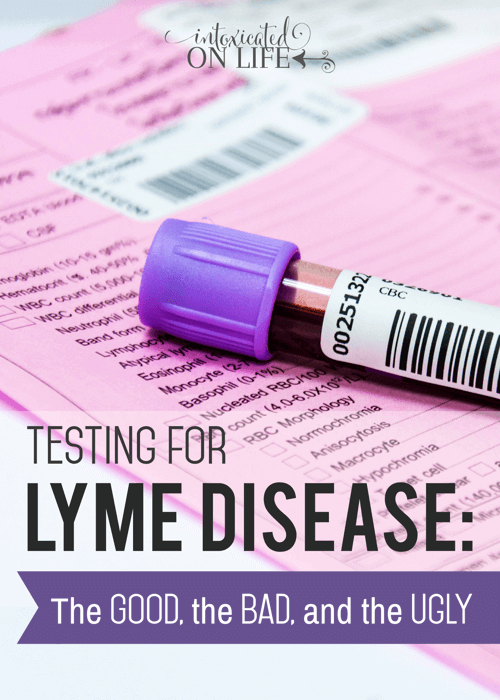 Disclaimer
I've done a lot of reading over the past several months, but I won't try to pretend to be a lyme testing expert. Since this has been the #1 question I've had since sharing my diagnosis of Lyme disease, I'd like to share enough for you to get a rudimentary understanding of Lyme testing. I'll also link to some articles where you can read more about the currently available tests as well.
In the end, if you suspect Lyme disease, I'd encourage you to go to ILADS.org and use their physician finder feature to find a Lyme-literate medical doctor. If you don't have a highly knowledgeable doctor on your side as you explore whether or not you have Lyme disease, you'll be at a great disadvantage.
The Current Approved Testing for Lyme Disease
The current, approved Lyme disease testing is an initial screening with an ELISA test. If this test is positive, the CDC recommends following up with a Western Blot test.
The problem is, the ELISA test misses at least 55% (though, some research indicates up to 70%) of individuals who are actually positive for Lyme disease. Many doctors, falsely believe this is good enough to rule out a Lyme diagnosis and stop here. Personally, this sounds like a worthless waste-of-money test.
Only if you have a positive ELISA test does the CDC recommend a Western Blot. The Western Blot tests approved by insurance companies have some problems of their own. When you receive a Western Blot from an insurance approved lab like Quest or LabCorp they have removed some vital information.
While the Western Blot seems to be a better test than the ELISA, most commercial labs don't test for two of the bands that are most indicative of Lyme disease (bands 31 and 34). They were removed a number of years ago when a vaccine for Lyme disease was being developed—if a person received the vaccine, they would test positive on this test. But there isn't a Lyme vaccine available. So why are these bands still missing from most labs?
Do you see a pattern here? The common tests that are widely available to us are not sensitive enough to determine whether or not someone has Lyme disease. Doctors believe they're doing due-diligence in ruling out the horrific disease, but they're not. They haven't been educated
More Problems with Lyme Testing…
Most labs are not looking for the actual organism in the blood, but are looking for antibodies to the organism. Even with some of the more accurate tests, this can be problematic. Consider the following:
1. If testing for Lyme Disease is done too soon after infection, antibodies won't show up. Your body simply hasn't had the time to develop antibodies to the infection yet.
2. If the testing is done late, then the antibodies might not show up. With chronic infections, antibodies often decline over time and aren't detectable.
3. Individuals with a compromised immune system often don't create enough antibodies to show up on blood tests.
What Good Lyme Testing Options Are There?
Thank goodness there are more accurate tests out there. Mind you, these aren't 100% accurate, but they are definitely better than the CDC approved alternatives.
1. Igenex is the lab that is most commonly cited as being the gold standard of testing in the Lyme community. Igenex offers a Western Blot test that still includes bands 31 and 34.
2. Though not as well known as Igenex, Immunosciences is the lab my doctor suggested we use. He believes this to be even more sensitive than the Ignex test. My test was lit up like a Christmas tree—no denying a positive test with me.
Side note: my insurance actually covered part of this test: about ¼ of the cost went towards my deductible. 
3. Fry Labs uses microscopy to look at the blood. I've read many positive things regarding this lab, particularly in diagnosing co-infections, which can often complicate treatment if not appropriate addressed.
4. Advanced Laboratory Services isn't dependent on antibodies at all, but cultures the actual Lyme organism: borrellia. This is a novel approach, considering the problematic nature of testing for antibodies.
What if all of the tests come back negative?
If all the testing for Lyme Disease is so inaccurate, what's a girl (or guy) to do? Good question. Very good question.
In the end, most well-known lyme experts agree that Lyme is a clinical diagnosis. This means, if all of the tests are coming back negative, but a person clearly exhibits the signs and symptoms of Lyme they can be clinically diagnosed as having lyme disease and treated. The tests, as you can see, are greatly limited.
Someday, I hope doctors will be educated. Someday, I hope our government will allocate the same amount of funding to combating Lyme disease as it does to diseases like breast cancer and HIV.
But Lyme isn't a very trendy disease. Lyme is modern-day leprosy. The medical community, the government, and the insurance companies don't want to acknowledge us. If they don't talk about it…maybe it will just go away?
No, this is the real world. With 300,000+ new Lyme cases each year, we won't be going away anytime soon.
References and More Information:
More Lyme Disease Articles: