It's blueberry season! So naturally, it's time to create a Blueberry Cheesecake that is sugar-free and gluten-free.
I had 5 marvelous pounds of those beautiful berries of deliciousness sitting in my refrigerator just waiting to be used in some wonderful recipe. And if you know me, you know some of my favorite recipes are cheesecakes. They're so creamy, delicious, and easy to make sugar-free and gluten-free.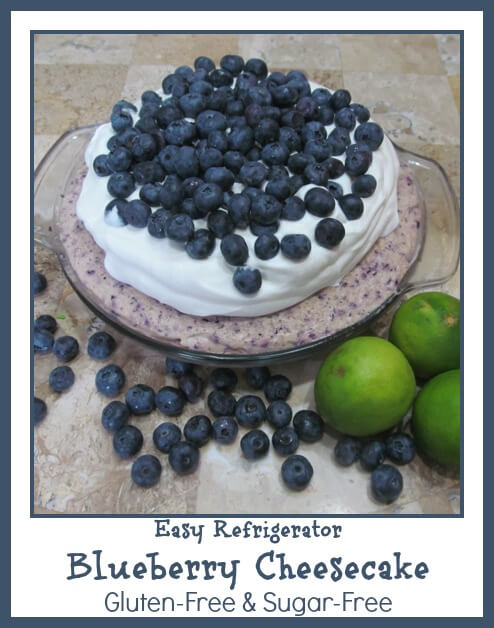 I decided to skip a crust in this particular recipe, but if you wanted one you could certainly add a nut crust like one that is in my New York Style Cheesecake. I'd simply pre-bake the crust and let it cool prior to adding the cheesecake filling.
If you are looking for a tasty, healthy way to use up some extra blueberries, this recipe if for you!
Easy Refrigerator Blueberry Cheesecake (Sugar-Free and Gluten-Free)
Ingredients
For the Filling:
1/4 cup water
1 Tablespoon high quality gelatin
12 ounces cream cheese
1 cup heavy cream
1 Tablespoon fresh lime juice
3/4 cup powdered xylitol
1/4 teaspoon pure stevia extract
3 cups fresh blueberries
For the Topping:
1 1/4 cup heavy cream
2 Tablespoons fresh lime juice
1 Tablespoon powdered xylitol
1/8 teaspoon pure stevia extract
Instructions
Begin by powdering your xylitol. I use my magic bullet, it's super easy to do in this. If you don't powder your xylitol you may end up with gritty cheesecake, and that's no good!
Next, warm up your water on either the stove top or in the microwave and pour your gelatin in. Let it set while you complete the next step.
Place the cream cheese, heavy cream, lime juice, xylitol, stevia, and blueberries in your food processor. Finish by placing the gelatin from step 2 in the food processor.
Whiz it all around in the food processor until it's well combined.
Pour into a 9 inch pie plate and refrigerate several hours (preferably over night) until it is set up.
Meanwhile, prepare your lime whipped cream. Beat the cream, lime juice, xylitol, and stevia on high until stiff peaks form.
Top the cheesecake with lime whipped cream and blueberries. Enjoy! 🙂
http://www.intoxicatedonlife.com/2013/08/10/easy-refrigerator-blueberry-cheesecake-sugar-free-and-gluten-free/
This recipe copyright Trisha Gilkerson ���¢�¯�¿�½���¢ IntoxicatedOnLife.com