Perfectly spiced and easy to make, this grain-free pumpkin pie is a wonderfully delicious way to celebrate fall flavors!
Looking for gluten-free recipes and resources? This Everything Gluten Free page is a library of everything gluten free we've worked on.
Nothing quite says fall like a pie.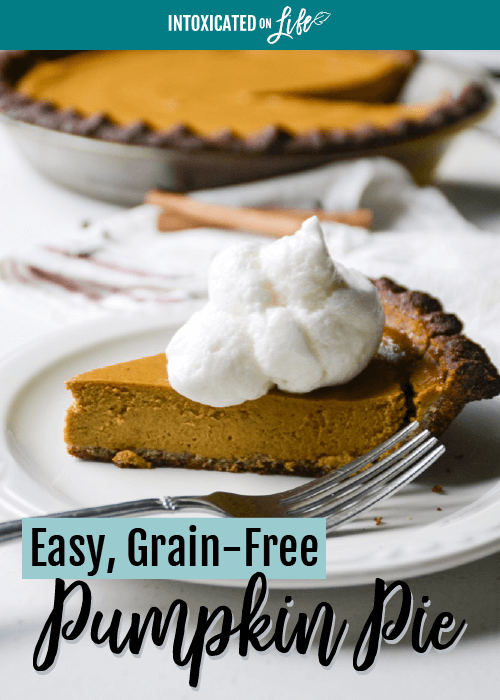 Am I right? Of course I am. While my husband would be happy to eat gluten-free apple pie every day of the week, my favorite fall-flavored pie has always been homemade pumpkin. There's just something about the gooey, custardy filling and the perfect mix of my favorite spices that gets me every time.
And it doesn't need to be a conventional pumpkin pie for me to love it, either. I'm all about pumpkin anything! Pancakes, cookies, fruit snacks, cheesecake, and little mousse shooters… I love it all!
Easy as pie.
I remember a time when I was a little put off my making pies. They seemed like so much work. Especially the crust. But not this pie, my friends. One bowl, one blender – that's all you need! Well, you do need the ingredients, a pie plate, and an oven, too, but those are givens, I guess.
To keep this pie super simple and completely grain-free, I've used almond meal for the crust. It lends a beautifully nutty flavor that pairs perfectly with plush pumpkin pie.
Ha.
Sorry about the corniness.
If you've never used almond meal before, it is a little different than almond flour. It will get nice and dark, but don't let that put you off. It WILL be delicious. If you don't have any almond meal, but you do have almond flour, it's ok to use that instead.
Homemade is better.
You might be tempted, when you're in the baking isle, to just pick up one of those convenient cans of pumpkin pie mix for this recipe. Why not? It would save time and the energy you'd spend measuring out all those spices. Don't give in the the temptation, my friends!
While those mixes might sound like a good idea, they're always loaded down with processed and unnatural ingredients. Just take a look at the ingredients in this popular pumpkin pie mix found in most grocery stores:
Pumpkin, water, sugar, salt, spices, dextrose, natural flavor.
The ingredients might sound ok, but once you get past the pumpkin and water, watch out! Two types of sugar? Completely unnecessary. Especially when both of them are refined and possibly GMO. Natural flavor? Just a fancy way to say MSG.
Even though convenience is tempting, it's always the healthier choice to use single ingredients and make your food as completely from-scratch as possible. This allows you to the ability to control the ingredients that go in, like the sweetener, spices, and salt.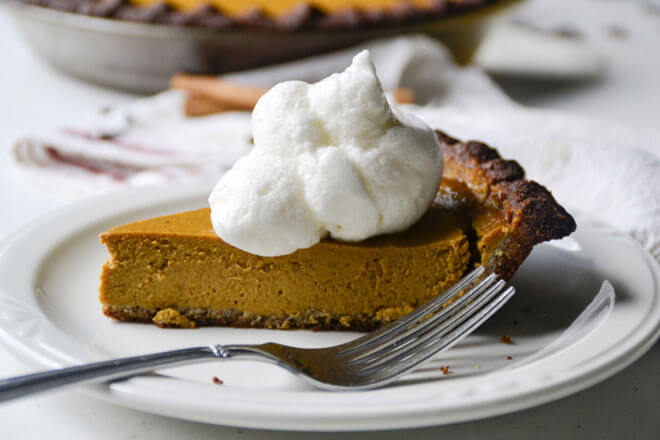 Easy, Grain-Free Pumpkin Pie
Ingredients
Crust:
2 c. almond meal
1 egg
1 T. honey
1/2 t. sea salt
1/3 c. softened butter
Filling:
1-15 oz. can pureed pumpkin (NOT pumpkin pie mix)
2 eggs
1 c. sour cream
1/2 c. honey
1 1/2 t. cinnamon
1/2 t. ginger
1/4 t. nutmeg
pinch of cloves
pinch of sea salt
Instructions
Preheat oven to 350 and grease a 9-inch pie plate.
Combine all crust ingredients in a bowl until it comes together in a ball. Place in the middle of pie plate and gently press out evenly until it fills the entire plate, including the sides. Crimp the edges, if desired. Set aside.
In a blender, puree all filling ingredients until smooth. Pour into prepared crust and bake for 50-60 minutes, or until set. The crust will look very dark - don't worry!
Serve warm or chilled.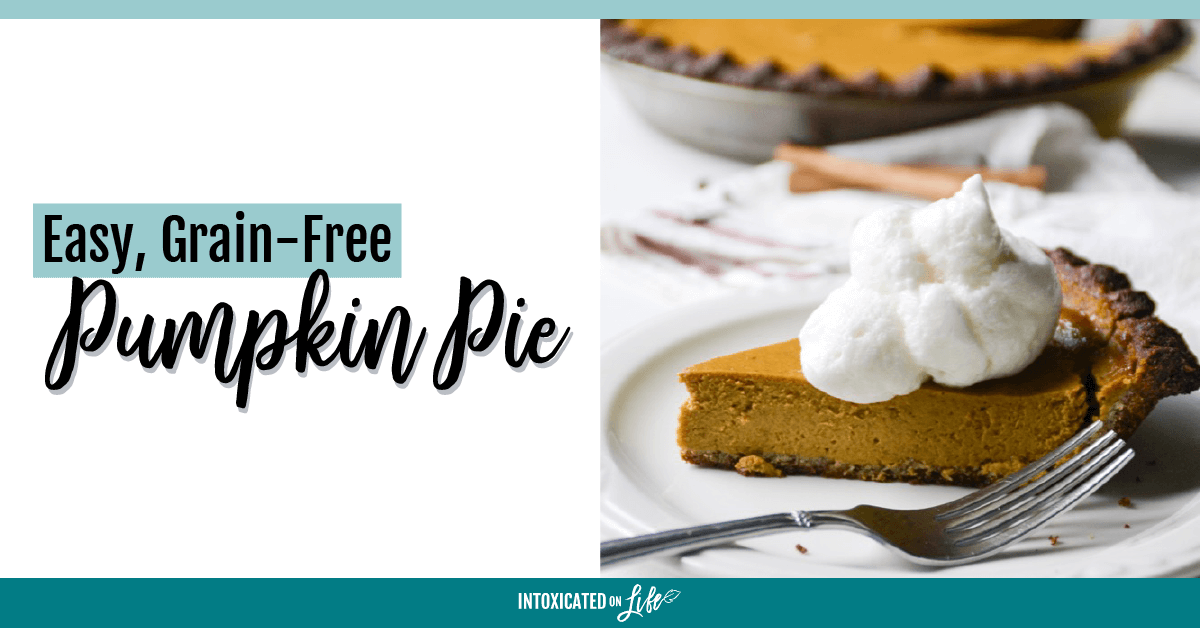 Sharing at The DIY Mommy, The Modest Mom Blog, Create with Joy, Saving 4 Six, Mum's Savvy Savings, Pam's Party & Practical Tips, Denise Designed, and Mommy on Demand.
SaveSave
SaveSave