Summer is here! The bitter cold temperatures of this past winter will soon be a distant memory as the days get longer and warmer. So what can you do to take advantage of these longer, warmer days?
Our family loves to be outside. My kids would spend entire days outside if I let them. They love riding their bikes, going on walks, and just running around in the sun. But there are so many more family activities you can do outside! And many of them are free. Here's our 20 favorite Family Fun Outdoor Activities!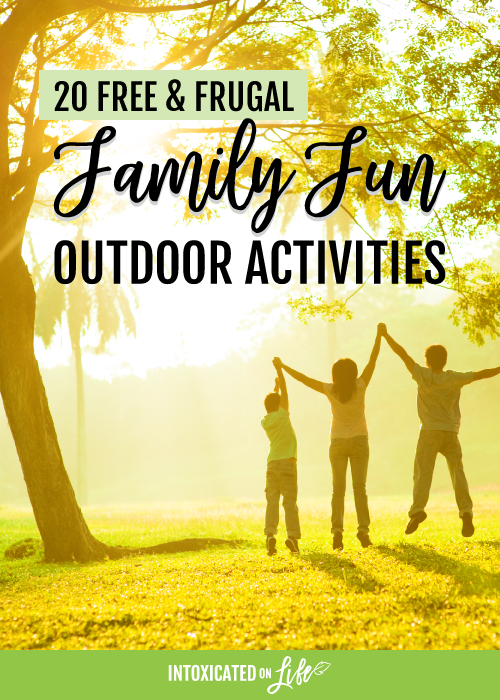 Outdoor Activities for the Whole Family
Have a day out at the park. Visit your neighborhood park or venture to a new park across town. Don't forget to take along a picnic lunch and enjoy even more time outside. Don't forget your sunscreen. While you're at the park, you can also play catch or frisbee golf, if there's a course.
Let's go fly a kite. Better yet, make your own homemade kites and take them out to see who's kite goes the highest.
Go on a nature walk or hike. Let your kids take along disposable cameras to show what they see on the walk!
Visit a national park near you. They are usually only $5 per car load, take advantage of free National Park Days, or buy a pass that gets you into many national parks.
Many city and neighborhood parks have a splash pad. They are typically free and the kids have so much fun at them. Again, don't forget the sunscreen.
If you live near a lake, make a day of it or better yet, plan a few days and take the family camping. Campsites are usually fairly inexpensive and you can include all kinds of learning experiences: cooking, setting up camp, fishing, nature walks. Try creating a fun scavenger hunt for your kids to learn even more about their surroundings.
Take a family bike ride.
Take a family walk around your neighborhood
Set up lounge chairs or blankets on your lawn and do some star-gazing together. Do this several times during the year and you can see different stars and constellations as the seasons change. Don't forget extra blankets and hot chocolate for those cooler nights.
Play a fun game of Flashlight Tag. Wear dark clothing so you are harder to find.
Go swimming. If you have a pool, try a night swim with glow sticks!
Play a game of night tag or capture the flag. This is especially popular with older kids.
Have a cookout and bonfire.
Have a water balloon fight. Use sidewalk chalk to draw a target on the ground and toss water balloons.
Outdoor movie night—hang up a sheet outside or project the movie on the side of your house.
Geocaching—don't know what it is? It's like a scavenger hunt with your smartphone and GPS.
Blow bubbles: always a popular activity with my little ones. Try make homemade bubbles or try these sock bubbles.
Take some of your kids small toys (figurines & cars work great) and freeze them in a block or tub of ice. Take it out on the back porch and let the kids chisel away to recover their "treasures."
Have a Family Field Day: set up game stations outside and have each person record their scores. Some fun games are Tug-of-War, Horseshoes, Corn Hole, Long Jump, Jump Rope Challenge, and there are many more! Use your imagination.
Find a local farm where you can pick strawberries, blackberries and pumpkins when they are in season. Don't forget about picking your own Christmas Tree as a family too! Just be sure to bundle up.
What are your family's favorite free or frugal outdoor activities?