My four older kids all have their own tablets. We originally got them so the kids could use educational apps to improve their reading and math skills. The kids are allowed to play games on them, but we decided when and for how long. We chose to focus on these no-guilt kids apps that educate and entertain. We have set rules and apps they must do before playing on them non-stop. It has been fun to search and find educational apps they love and enjoy.
Apps are a great way to increase their learning in a fun, interactive way. Apps can be great for any age and any subject and can be used anywhere. And they are easily accessible on an iPad, iPod, iPhone or Android device.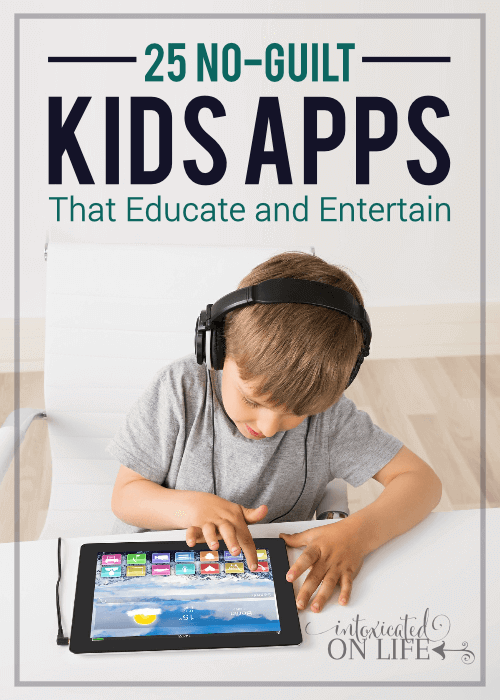 If you don't know about the Amazon Underground apps, you really need to check them out! These are completely free versions of apps that might cost money on other platforms. We have found several fun kids apps this way and saved quite a bit of money too! This year, we have also invested in a few apps that were not free, but have been very beneficial. Here are a some kids apps we have tried and loved, and a few that are on our list!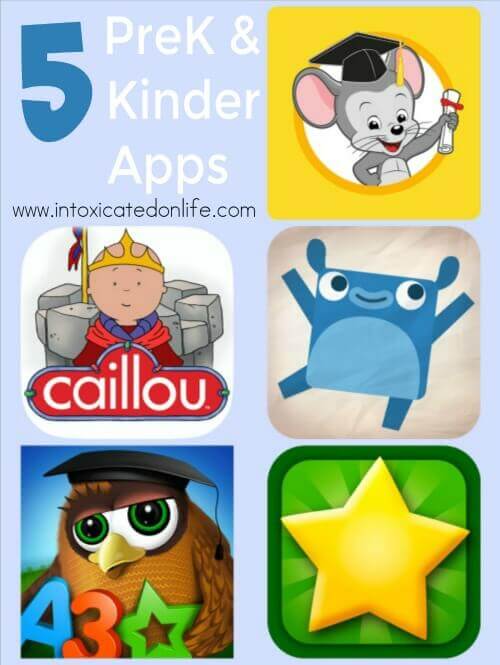 Preschool and Kindergarten No-Guilt Kids Apps
ABCMouse.com – This is the first app we installed on the kids' tablets and they use it all the time. My middle three love to create and change their avatar, listen to the alphabet songs, work their way through different subjects and earn tickets to buy pets and accessories. My 5-year old has learned her letters and how to count using this app!
Caillou's Castle – Yes, I know, his voice is annoying. However, my kids love the show and love this app. It helps them work on shape recognition and matching skills. I love that the storybook highlights the words as it reads, so that kids can follow along and learn to recognize words. This kids app is also available on Amazon Underground for free.
Endless Alphabet – My 5-year old has trouble remembering the names of letters, so I'm hoping this app will help. Each word features an interactive puzzle with talking letters and a short animation illustrating the definition. Before you know it, your child will be using words like gargantuan and cooperate! This no-guilt kids app is also available on Amazon Underground for free.
Preschool & Kindergarten Learning Kids Games – We have had the free version of this app for quite a while. The free version is limited in what the kids can do, but they have fun working on their letters, shapes and number recognition. It also has different levels you can get where they can work on addition and subtraction and more. This kids app is also available on Amazon Underground for free.
Starfall – We have loved the Starfall website and now you can access it anywhere with the app! Kids will have fun learning math, reading, geography and more through songs and fun games.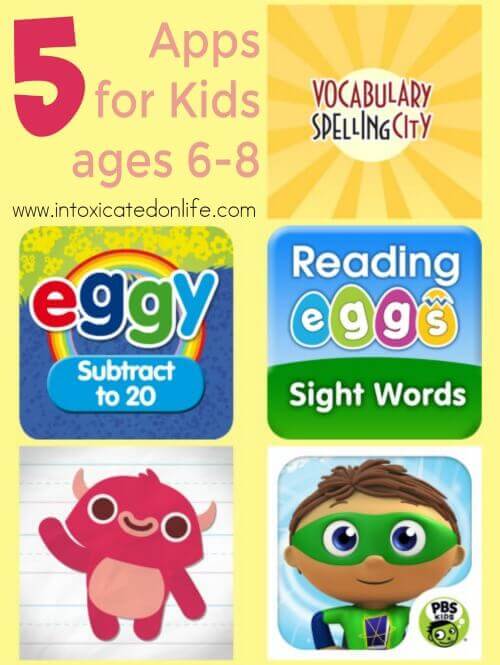 Educational No-Guilt Kids Apps for 6-8 year olds
Spelling City – Vocabulary Spelling City is a fun way to learn spelling and vocabulary words by playing engaging learning games using any word list. The most popular activities are Spelling TestMe, HangMouse, and our vocabulary games. The most popular word lists are Sound Alikes, Compound Words, Hunger Games and SAT Words. This no-guilt kids app includes ten of our most popular word lists and eight of our most popular learning games and activities.
Eggy Subtract to 20 – Eggy Subtract to 20 is a fun and motivational app that teaches children aged 4–7 the subtraction skills needed for success with mathematics. This kids app builds subtraction to 20 skills using 6 highly interactive games that make learning and practicing subtraction enjoyable for all children. Each activity features its own unique setting and game play. Children have fun feeding monsters, throwing subtraction pies at Grandpa, snowboarding, helping Teddy climb the rope, finishing Dr. Shocks subtraction grid and playing the memory game.
Eggy Words – Eggy Words 250HD is an application designed to help children recognize and learn sight words. Sight words are words that readers should know automatically "at sight," such as he, the, was and where. This kids app covers the first 250HD sight words using a fun and motivating game to keep kids learning.
Endless Reader – Kids will have a blast learning sight words and their context and usage with the adorable Endless monsters. Each word features an interactive word puzzle with letters that come alive, and then a sentence puzzle with words that become what they describe. See the word "dog" as a barking dog, and the word "up" reach for the sky!
Super Why! – My kids love this show and now this app! They play 4 original games to build their literacy skills, practice the alphabet, rhyming, spelling, and writing. They even earn stickers to keep track of the words they learn all while interacting with the popular television characters.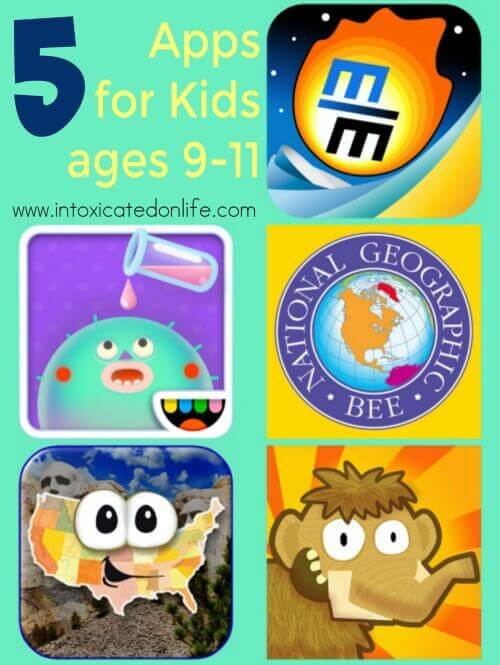 Educational No-Guilt Kids Apps for 9-11 years
Motion Math: Fractions! – Bounce your way to fractions mastery by tilting your screen! Motion Math helps learners estimate four forms of fractions: numerator over denominator (like 1/2), percents (like 50%), decimals (like 0.5), and pie charts. Perceiving fractions quickly and accurately is needed for advanced math success. Includes beginner, medium and expert modes with hints to help struggling learners.
Toca Lab – Welcome to Toca Lab! Explore the colorful and electrifying world of science and meet all 118 of the elements from the periodic table by using 6 different lab tools to experiment with by taking your elements for a spin in the centrifuge, warming them up in the Bunsen burner, adding drops to the test tubes and more! This kids app is a fun, intereactive way for kids to learn science.
GeoBee Challenge – This fast-paced trivia game tests your geography skills using beautiful color maps from National Geographic. In the multiple-choice round, answers come from a library of more than 1,000 National Geographic Bee questions. In the map challenge round, you zoom, pinch, and tap your way to find spots on an interactive map from a catalog of 1000+ locations. For an added challenge, bonus rounds include compelling National Geographic photographs where you have to locate what's in the photo on the interactive map.
Stack the States – Stack the States makes learning about the 50 states fun! Watch the states actually come to life in this colorful and dynamic game! As you learn state capitals, shapes, geographic locations, flags and more, you can actually touch, move and drop the animated states anywhere on the screen. Carefully build a stack of states that reaches the checkered line to win each level. You earn a random state for every successfully completed level. All of your states appear on your own personalized map of the United States. Try to collect all 50! As you earn more states, you begin to unlock the four free bonus games: Map It, Pile Up, Puzzler and Capital Drop. Four games in one!
Slice Fractions – Slicing through ice and lava to clear the mammoth's path, kids earning fraction concepts without words and collect funky hats by solving over 60 physics puzzles. I love this no-guilt kids app because there are no ads or in-app purchases.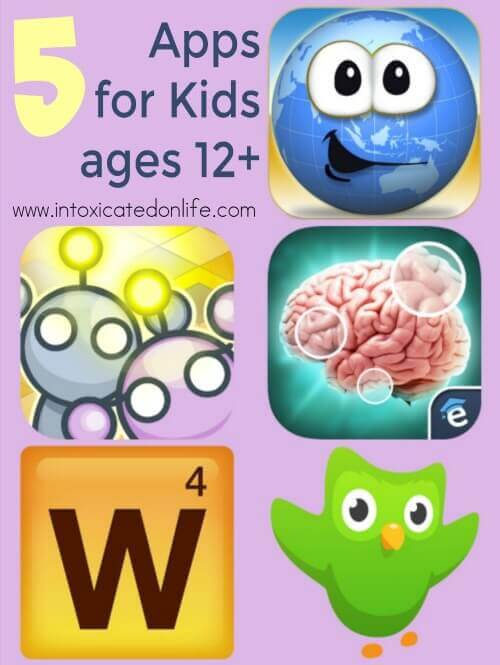 Educational No-Guilt Kids Apps for ages 12+
Stack the Countries – This is played just like Stack the States, only with countries. Stack the Countries makes learning about the world fun! Watch the countries actually come to life in this colorful and dynamic game! As you learn country capitals, landmarks, geographic locations and more, you can actually touch, move and drop the animated countries anywhere on the screen. Carefully build a stack of countries that reaches the checkered line to win each level. You earn a random country for every successfully completed level. All of your countries appear on your own personalized maps of the continents. Try to collect all 193! As you earn more countries, you begin to unlock the free bonus games: Map It! and Pile Up! Three games in one!
Lightbot Programming Puzzles – Lightbot is a programming puzzle game with game mechanics require using programming logic to solve levels. Simply guiding a robot to light up tiles and solve levels using commands, Lightbot is a kids app that cultivates a real understanding of procedures, loops, and conditionals.
Discover Human Body: Anatomy and Physiology 3D – Discover Human Body is an educational App on anatomy basics. This kids app is perfectly suitable for both biology students and pupils and for amateurs willing to learn more about human body, or even for professionals who want to have all the essential anatomy data at hand.
Words with Friends – This might seem like a strange app to include and I know it is an older one; however, I love this app for kids. It is a great way to play Scrabble on the go! I love using Scrabble for building their vocabulary as well as improving their spelling. This app does both with the fun aspect of "beating your friends."
Duolingo: Learn Languages Free – I love this app because it's free…for real. No fees, no ads, no gimmicks. A college-quality education without the price tag. It's fun. Lose hearts for answering incorrectly, advance by completing bite-sized lessons, and track your progress with shiny achievements. You can learn Spanish, French, German, Portuguese, Italian, and English.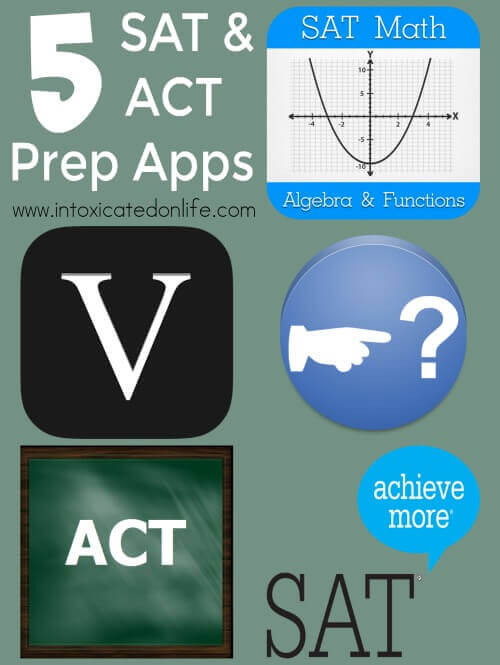 SAT and ACT Prep Apps
SAT Math: Algebra & Functions Lite – This app has over 420 questions and 42 revision notes in all just for Algebra & Functions. High quality content written by experienced SAT tutors. There is also a Mock Test with mixed questions from all topics. Students can review each question at the end of the test and know the right answer with detailed explanation for each question. Students can also track their progress with pie charts and bar graphs to know when they are ready to take the real test.
Vocab Genius: SAT & GRE Definitions – This app will test your vocabulary. Use your brain power and spell out the answer based on the definition given. The answer is a word used in the SAT and GRE tests. If you get stuck, use a hint with coins. Coins are earned from solving puzzles correctly and can be purchased. Right now there are only 20 levels, but more are in the works! This app is a great start to working on your vocab for the SAT.
SAT Vocabulary Prep: 1000 Words – Quiz yourself on the top 1000 words from past SAT tests. This is also useful for the GRE, PSAT, ACT, GMAT, TOEFL, MCAT, LSAT, GED and other standardized tests. Clicking "New Game" gives you a new set of 10 multiple choice questions to answer. It takes less than 45 seconds to answer a set. Quiz yourself fast and anywhere! Do you forget to study? Set a daily notification to remind you to answer a few questions. The widget that shows you a new word and definition every time you click on it. Put it on your home screen and learn a new word every few hours.
ACT College Test Flashcards – The ACT Flashcards App contains both Questions and Answers in an Easy To Use Flashcard Format! Created as a Very Quick & Efficient way for you to Learn and Review English, Mathematics, Social Studies, and Science.
SAT Practice Test – This app provides many training questions for people who want to get high score in SAT tests. Enjoy Our SAT Test app with 6 categories: Reading Sentence Completion, Reading Comprehension, Math Problem Solving, Identifying Sentence Errors, Sentence correction (improving sentences), Editing in context (improving paragraphs). SAT Test application also has many flashcards for you. Practice them everyday to improve your vocabulary.
---
BONUS: Covenant Eyes – Covenant Eyes is an important app for all ages, offering Internet protection on both Android and iOS devices. If you're looking for ways to monitor and filter the Internet on your child's device, Covenant Eyes is a stellar service!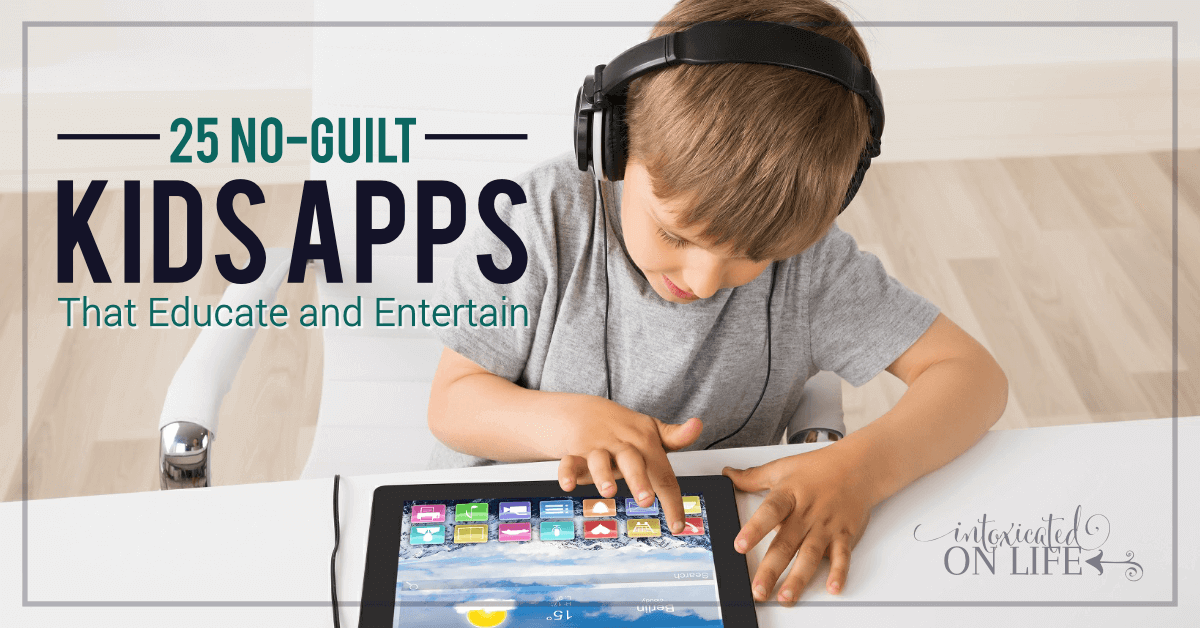 More Articles on Kids and Technology: