It's that time of year! Yes, it's only October, but Christmas decorations and paraphanelia are showing up at many stores. I even saw a few strings of Christmas lights on some trees the other day.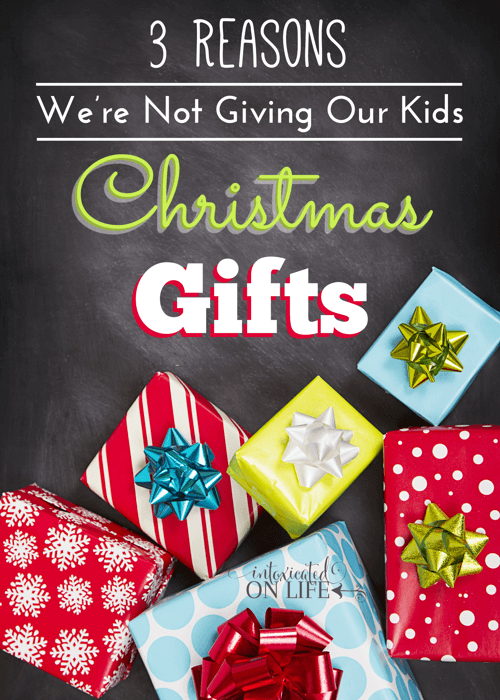 Truth be told, I'm  not really ready to start thinking about Christmas yet, but I feel I must. You see, after last Christmas my husband and I determined to make some changes. One decision we made was that this year there would be no gifts. No gifts, you gasp?! Well, no gift exchanging will be done among our immediate family. We aren't going to cut off gift exchanges with the grandparents or other family members. Let me explain our reasons… 
Our kids have way more toys than they know what to do with. They don't even play with most of their toys. They play with a select few and the rest lay untouched most of the time.
It is always a struggle trying to come up with gift ideas for the kids to give the grandparents and other family members who are terribly generous to our kids. Once we give all of the ideas away to other family members, we are left wandering Toys Я Us picking up random things our kids will only be excited about for 15 seconds after opening the gift up.
Last, and most importantly, we desire to have a worship-filled Christmas morning with our children. We want an experience that is focused on Christ, not on worldly gifts. We want our children to experience the thrill of sharing with those who are truly in need.
Give Us Your Ideas
We have decided to use the money we would typically use on gifts for the kids and each other to help individuals who have real needs. We are currently in the brainstorming stage. We would like the kids to be involved in this gift-giving process in some way.
We have had special Christ-focused family devotions the past year during the weeks leading up to Christmas and would like to do so again this year. We'd like to find something a bit different than what we've done the last couple of years, but haven't yet settled on an idea.
We're also open to considering any other unique ideas or traditions that will help us focus on Christ this Christmas. So, my fine unfeathered friends, what are you doing to make this a Christ-centered Christmas? I'd love for you to share your ideas!