I've been talking to my older boys recently about transgenderism — they are currently 12 and 7 years old.
Like a lot of our conversations about sexual topics, my wife and I try to take advantage of teachable moments based on what's happening in the news. For more than a year, the issue of transgenderism has become a more mainstream discussion, from Bruce Jenner's transformation last year to the recent debates about bathroom policies.
I'm often asked by Christian parents how we can talk to our kids about this subject of transgenderism.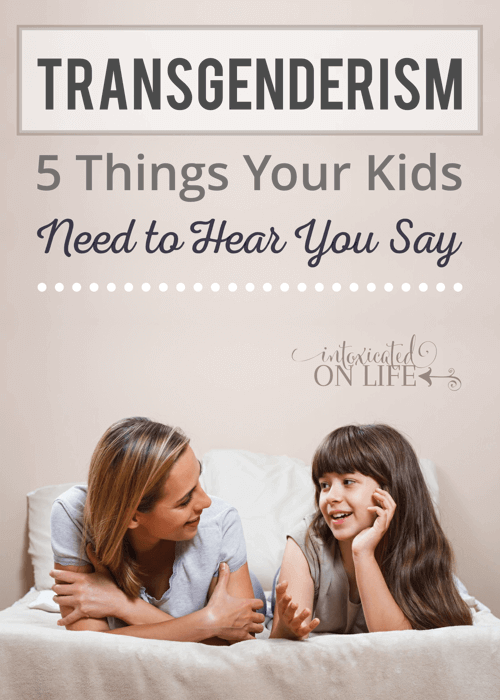 5 Things to Say to Your Kids about Transgenderism
Below are some talking points I hope you find helpful. As C.S. Lewis says, believing in Christ is like believing in the sun—we believe not just because we see it, but because by it we see everything else. Christ becomes more real to us not just when we understand who He is, but when He helps us to understand rightly the world in which we live.
1. Here's what transgenderism is…
Make no mistake: in today's world, it is good to equip your children to understand transgenderism. They are bound to bump into the issue sooner or later, and it is best to deal with the subject straightforwardly and proactively.
It starts by simply defining what it is.
Transgenderism is also called "gender dysphoria" is the state of feeling like a gender that does not match a person's physical/genetic sex. Surveys suggest there are about 700,000 individuals in the U.S. who identify as transgender.
Tell your kids: "If someone says they're transgender, it means they're a boy who feels like a girl or a girl who feels like a boy."
2. The modern world uses "sex" and "gender" differently.
Today, when many people talk about your "sex," they are talking about your biological makeup, your genetics, your reproductive anatomy, and other sexual characteristics of your body, like having a penis or vagina.
When people use the word "gender" (as opposed to sex), they typically mean your own sense of identity or your social roles based on your sex—feelings, behaviors, and activities that are more masculine or more feminine in a given culture.
Tell your kids: "Your sex is what your body is. God intends people to either be male or female, a man or a woman. When many people talk about 'gender' they are talking about how they feel and behave. Do they feel more like a boy or a girl? Are they acting more like a boy or a girl?"
3. Transgenderism is part of a fallen world.
Ever since our first parents walked east of Eden (Genesis 3), the world has not been as it was originally intended. God is the one who invented "gender binaries"—male and female. But sin brought death, decay, and brokenness into the human experience, and in different people, that brokenness manifests itself in many different ways.
People do not choose to be transgendered—at least, not as it is currently defined. They do not choose it any more than they choose to have PTSD, cystic fibrosis, or cancer.
And like PTSD and cystic fibrosis and cancer, even though transgenderism isn't a chosen condition, this does not therefore make it a desired condition. Regardless of its origins—whether it stems from a psychosexual disorder, family dynamics, or genetic abnormalities—transgenderism does not reflect God's original design of male and female.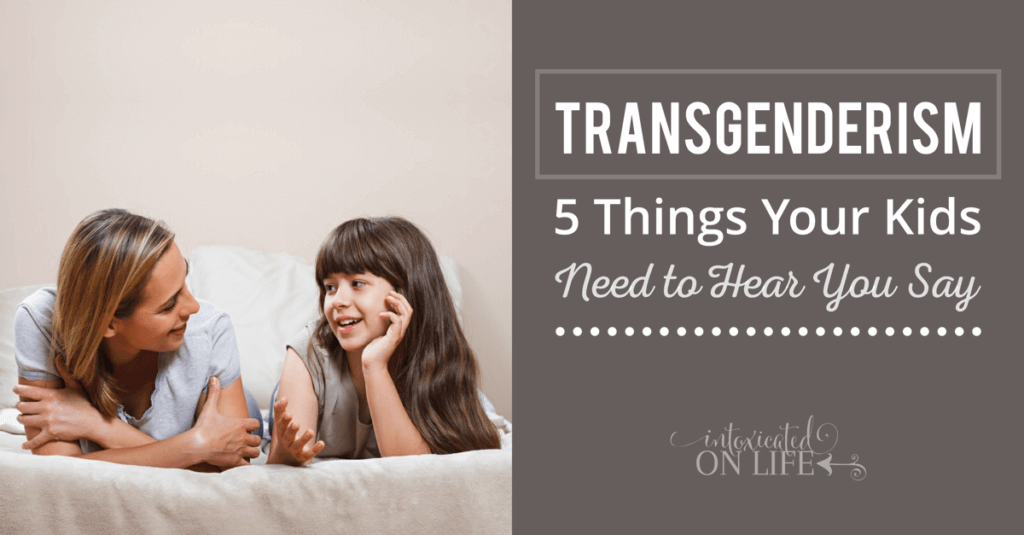 There are many today who want to suggest that if someone is "born with" a condition, this makes all feelings, thoughts, and behaviors that flow from condition good or acceptable. But we rarely apply this same logic to other disorders.
Tell your kids: "Transgenderism is just one of the many physical and mental problems that some people have living in a fallen world. When Adam and Eve sinned, this brought brokenness into our bodies, minds, and souls, and for some people, this means they don't feel comfortable in their own bodies. Some people feel fat even if they're very skinny (anorexia); some people feel anxious or terrified about things that aren't likely to harm them (OCD, phobias, etc.); and some people feel like they should be another sex (transgenderism)."
4. Transgender people choose to react to their condition in different ways.
Those who have these feelings cope with them in different ways—sometimes in sinful or unwise ways.
Some simply hide these feelings and tell nobody. Others talk about them openly with friends, family, counselors, and pastors. Some believe the problem is in their mind, so they work to change how they think. Others, however, believe the problem is in their assigned sex, so they work to change how they look.
Tell your kids: "Some transgender people try to change their bodies, like taking hormones or having surgery, to make themselves look more male or female. But not all do this. Some choose to address the feelings in the mind instead. There is a difference between unwanted feelings or thoughts and choosing to build an identity around those feelings. The first says, 'I have these feelings, but I know they don't line up with who God says I should be.' The second (wrongly) says, 'I have these feelings so they must reveal who I really supposed to be.'"
5. We must love our transgendered neighbors as ourselves.
It is easy to fear or hate what we don't understand, but there is no place in the Christian's life for unloving behavior towards transgender individuals.
Rightly understood, the psychological condition of transgenderism is a form of human suffering, and therefore, it is our joyful duty to show such people the utmost mercy and compassion.
In a famous text in 1 Corinthians 13, the apostle Paul tells us what genuine love looks like: "Love is patient and kind; love does not envy or boast; it is not arrogant or rude. It does not insist on its own way; it is not irritable or resentful; it does not rejoice at wrongdoing, but rejoices with the truth" (1 Corinthians 13:4-6).
This gives us a well-rounded picture of love…
Loving our neighbor means we should never think ourselves better than our neighbor, which means we should involve ourselves in their lives in genuine Christ-like kindness.
But loving our neighbor also doesn't necessarily mean agreeing with them: love does not rejoice at wrongdoing, but rejoices with the truth.
Tell your kids: "As you go throughout life, as you interact with those who are transgender or talk about transgenderism with others, we should never make fun of them, call them names, or make them feel embarrassed. When others spread lies or gossip about them, we should stand up for them. We should never think ourselves better than them. This doesn't mean agreeing with what a transgender person does—like wanting to change how they look—but it does mean loving them despite what they do."
Preparing Christian Kids for an LGBT World
We know there are a lot of questions Christian parents have about this subject…
What's appropriate to say at what ages about LGBT issues?
Should I wait for my kids to ask questions, or should I initiate some discussion?
What exactly does the Bible say about same-sex attraction—and how do I make that make sense to my kids?
How can I model love to the LGBT community for my kids?
That's why we did a training called "Preparing Christian Kids for an LGBT World." We welcome anyone who wants to take a proactive approach to helping their kids be in the world and not of it.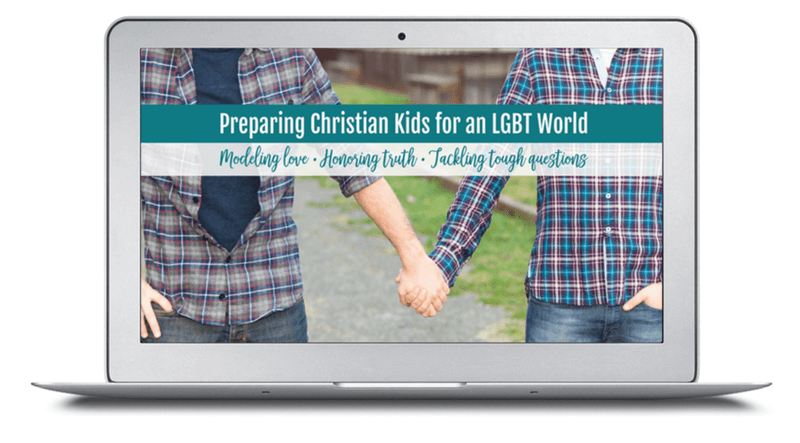 More Resources for Christian Parents: