I've recently discovered 4 secrets that every person with a corn allergy should know about.
Corn is insidious. No really, it is. Did you know it's in yogurt? Deli meat? Bacon? Sausage? Potato chips? Toothpaste? Juice? Salt? Yes, I'm now convinced that virtually anything that is not in a whole food form has added corn. Where does that leave someone who has tested positive for a corn food allergy? Oy!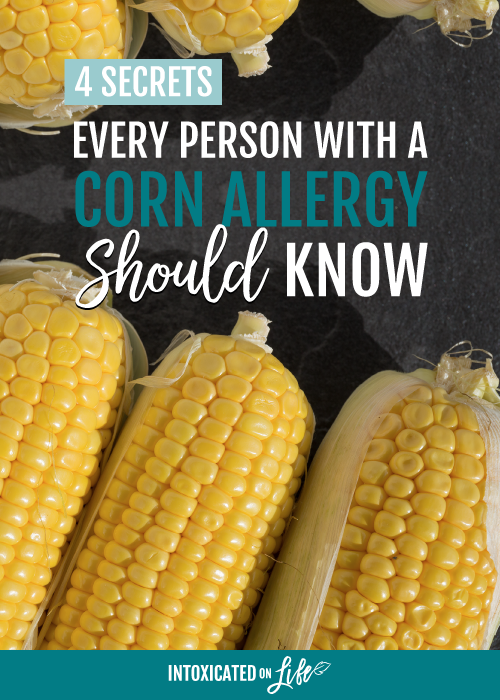 Little did I know just how difficult it would be when 3 out of 4 of us who were tested for food allergies would test positive for a corn allergy (I was the lucky one with no corn allergy). People think dairy is hard…gluten…but take it from me, someone who has cut all of those, corn is by far the most difficult.
You see, prior to food allergy testing, I thought we ate a pretty "clean" diet. We were gluten-free (the kids were mostly gluten-free with occasional treats at grandmas house, or special events). I had cut sugar out of our diets. Our diet consisted of primarily of whole foods. I didn't think that we were consuming much corn, with the occasional exception of when I was hit with a serious Mexican craving and my husband would take me to my favorite Mexican restaurant on a date.
4 Unexpected Items I Had to Stop Feeding My Family Due to a Corn Allergy
When I was challenged to cut corn out my families diet 100%, due to the corn allergy issues, my eyes were opened to all of the insidious places it was lurking in my pantry and refrigerator! Of course I knew how to avoid the common culprits: corn syrup, high fructose corn syrup, corn flour, corn starch, corn meal, and, of course, corn. You know, everything that has the word "corn" in it is off-limits.
What about the bacon and sausage my kids loved to eat for breakfast? If they didn't have corn syrup in them then they had MSG. If they were free of both of these than they most assuredly had dextrose.
What about making homemade jello for my kids? Gelatin, stevia, and fruit juice – a fun treat without a bunch of added junk. Go down the juice aisle and look at the back of every single container of juice. Yes the front says 100% juice, but the back says citric acid. Citric acid is a corn derivative.
And what about all of my lovely pickles I canned this past summer? Nobody can eat them right now. All of them were made with distilled vinegar.
What about condiments? NO. Absolutely not! To date, I've found no condiments at any of our local grocery stores that are corn-free. Virtually all condiments are made with vinegar – distilled vinegar. Distilled vinegar is, you guessed it, derived from corn. Not to mention salt, yes salt too has corn in it (at least the salt most people add to their food). Salt has added dextrose (ie. corn sugar). This has made my crew sad, they all enjoy their dipping sauces.
The list goes on and on. I won't bore you with any more details.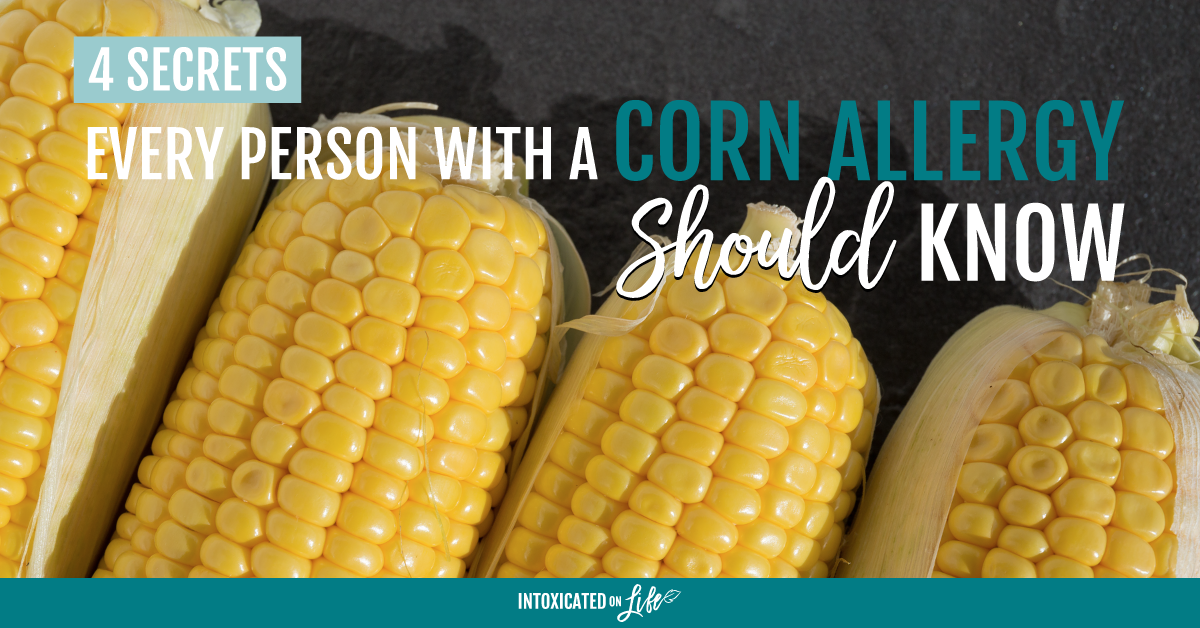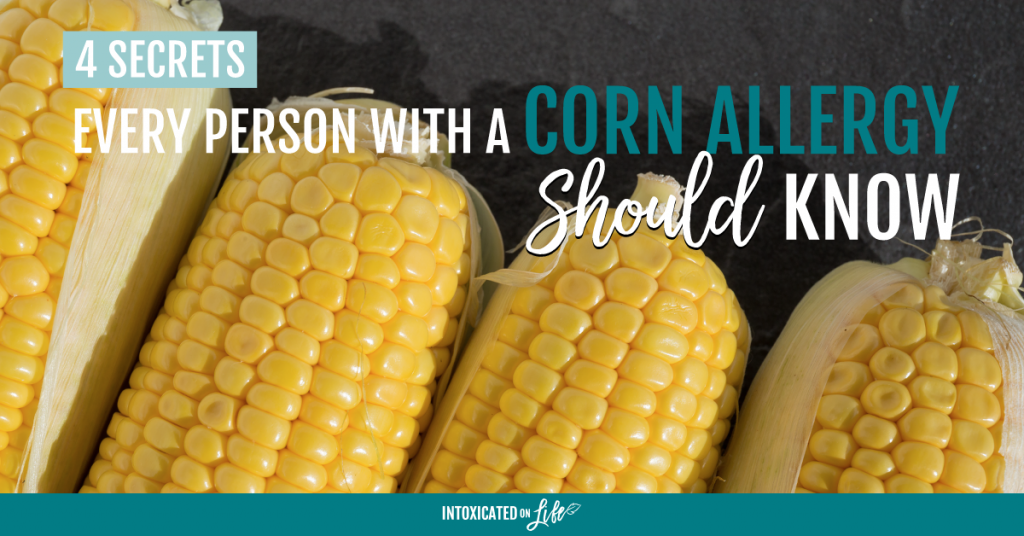 4 Solutions for Corn Allergy People Who Want to Feel Normal
How did I solve these problems so corn allergy people can still feel normal in our home?
The main thing we did is clean up our diet even MORE to reflect a whole foods diet. Now, I've had to cut almost all canned food items from our pantry (we do consume a lot of canned organic coconut milk). But, I've been able to find specific resolutions to each of the problems above.
Sausage: I make my own. Sausage is nothing more than spiced up ground pork. So, I tried a plethora of recipes, tweaked them all to come up with one that is given thumbs up by all of the kiddos.
Jello: If you go to the health food section, you will find a small selection of juices that really are 100% juice.
Pickles: I could ferment my own, but it's not exactly cucumber season in Michigan. I did find a fermented pickle alternative that is sold at my local Meijer, and that is the only local grocery store I can find it at. Topor's Pickles – these pickles may be some of the best pickles I've ever had. I'm looking forward to attempting my only naturally fermented pickles this summer though!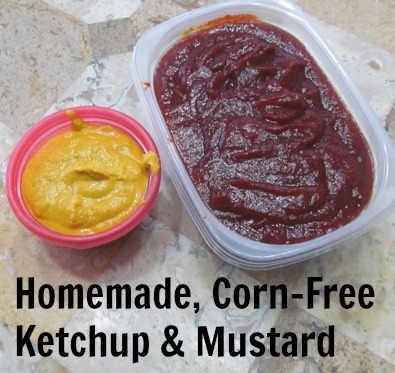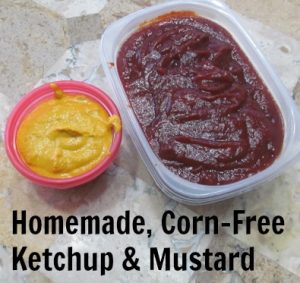 Condiments: I've only just recently delved into making condiments. It was only after I got the book Restocking the Pantry that it dawned on me to make all of these things myself. I'm not sure why I didn't think of it before? Kresha has compiled over 55 recipes of condiments!
I have thus far tried the ketchup and the classic yellow mustard recipe and they both turned out great! I did have to tweak the mustard recipe a bit. I used apple cider vinegar in place of the distilled vinegar and tapioca starch in place of corn starch. I'm anxious to try the barbecue sauce, teriyaki sauce, chili sauce, plum sauce…there are more. So many more recipes I want to try in this book.
If you are dealing with a corn allergy or intolerance, my heart goes out to you. It is not fun. Restaurants are not equipped to deal with these allergies. Food labels do not have to tell you if there is corn or corn derivatives in the products you're eating. You must be exceedingly diligent in knowing exactly what is in every bite you eat.
This book is a fantastic resource for anyone with a corn allergy or for those just trying to avoid corn syrup and other unhealthy additives in commercially available condiments. You can click here to purchase the book.
For further reading: