While these lovely gingerbread brownies still have the chocolate we've come to expect in a brownie, the chocolate is more of an undertone. The molasses, cloves, and cinnamon scream "holiday treat!" This grain-free, dairy-free, and refined-sugar-free treat will not disappoint at your next Christmas party.
Looking for gluten-free recipes and resources? This Everything Gluten Free page is a library of everything gluten free we've worked on.
If you're like me, you have your absolute favorite desserts. Those top tier desserts that are your go-to recipes every time. OK, so maybe you don't think about food as much as I do. For me, this isn't the top tier holiday desserts, but it is one of my frequent go-to's because of how easy it is to whip together (without sacrificing flavor, of course).
And just in case you were wondering, my top tier holiday dessert is this Egg Nog Cheesecake with Cranberry Glaze. Yuuuuum. But it does take a bit of pre-planning to pull off that dessert. So if you want something that's easy, but still festive, stick with this gingerbread brownie. It's a great spin on the classic brownie!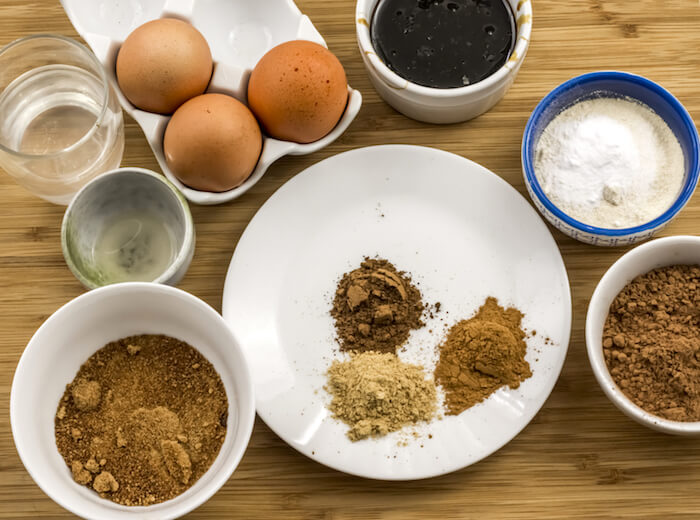 What's this about Coconut Sugar?
The sweetener of choice I use for Gingerbread Brownies is coconut sugar. If you're a regular reader, you probably know I usually use xylitol or erythritol and stevia in most of my sweet treats. But sometimes it's nice to mix things up and I've found I can't get quite the right consistency with those when I make brownies with my typical xylitol/stevia blend.
What I love about coconut sugar, is that in addition to being unrefined, it doesn't cause near the insulin spike that regular table sugar or brown sugar does. In fact, it has a glycemic index score of just 35.
If you don't have any coconut sugar on hand, you can certainly swap it out for your sweetener of choice. You can just use brown sugar, or if you're looking for other alternatives check out my post all about swapping sweeteners. If you want to avoid regular table sugar, it will give you some options for a few sweeteners that will have very little impact on your blood sugar and some natural, less refined sugar alternatives.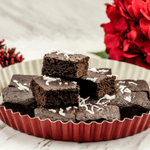 Print
Gingerbread Brownies (grain-free & sugar-free)
These festive gingerbread brownies combine all the holiday flavor you expect from gingerbread with chocolate, making for a unique and delicious treat!
Equipment
Parchment Paper

food processor

8x8 baking pan
Instructions
Preheat the oven to 350° F and grease an 8x8 pan with coconut oil or line with parchment paper.

In a large bowl, sift together the coconut flour, cocoa powder, baking soda, ground ginger, cinnamon, cloves, and add a pinch of salt. Set aside.

In a blender or food processor, combine, the eggs, melted coconut oil, coconut sugar, molasses, vinegar, and vanilla. Blend on high for a minute or two.

Add the dry ingredients to the blender and blend on high, until everything is well incorporated.

Pour the batter in the prepared pan and smooth the top.

Bake for 20 to 22 minutes, or until a toothpick inserted in the middle comes out clean.

Let your brownies cool for 10 minutes in the pan and finish cooling completely on a wire rack.

Cut into 9 to 16 squares, depending how big or small you want each square to be.
Notes
You can add ½ cup chocolate chip or chopped nuts to the brownie batter for added texture.
Nutrition values reflect using coconut sugar; the total sugar and carbohydrates will be less if you use a sugar substitute.
Nutrition
Calories:
155
kcal
|
Carbohydrates:
20
g
|
Protein:
3
g
|
Fat:
8
g
|
Saturated Fat:
6
g
|
Cholesterol:
55
mg
|
Sodium:
116
mg
|
Potassium:
160
mg
|
Fiber:
2
g
|
Sugar:
14
g
|
Vitamin A:
79
IU
|
Calcium:
27
mg
|
Iron:
1
mg
This is a great recipe you can throw together quickly if you're in a pinch and need something to quickly take to a party. While it might not be as impressive as that egg nog cheesecake, you can still dress it up easily. Sprinkle some coconut pieces on top of the brownies, or add some homemade whipped cream and sprinkle with a dusting of cocoa powder!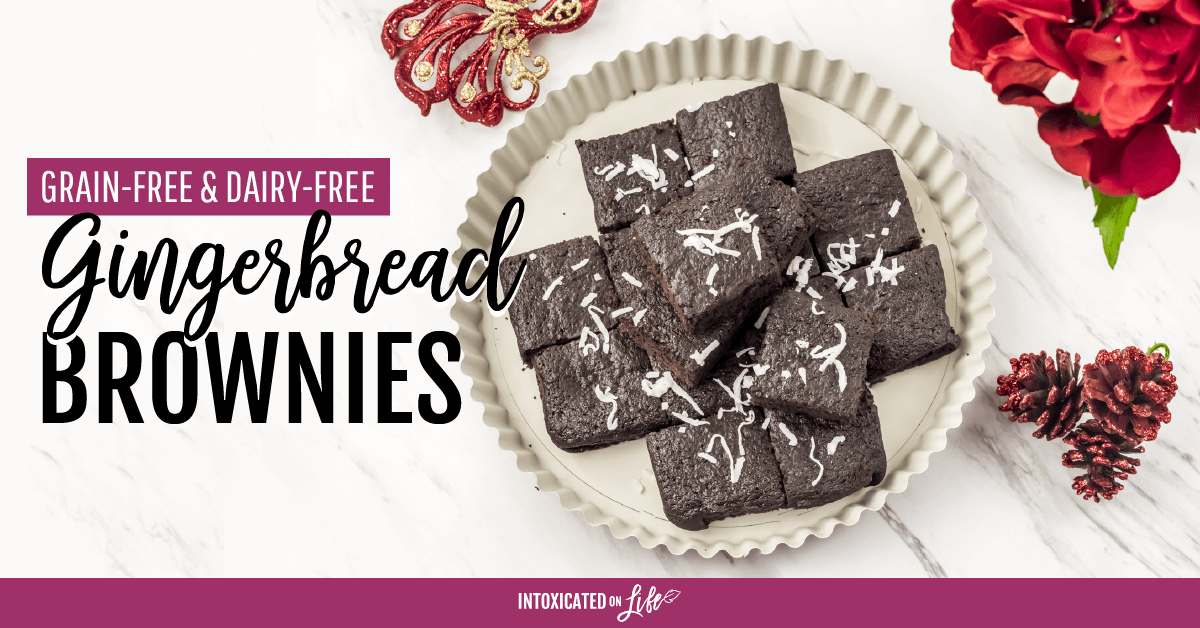 SaveSaveSaveSave
SaveSave
SaveSave
SaveSave
SaveSave
SaveSave
SaveSave