I love that my thirteen-year-old has an iPod.
With it, she's able to download and play worship music that suits her tastes. She can keep in contact with extended family members and friends through the social media apps we allow her to have. She enjoys the depth and convenience of electronic Bible-reading and devotional apps. And she has quick and safe access to the internet thanks to the accountability software we've installed. (That's not just for kids, by the way. The adults in our home have it, too.)
But my favorite thing is that her iPod makes it easy for me to stay in touch with her via text messages.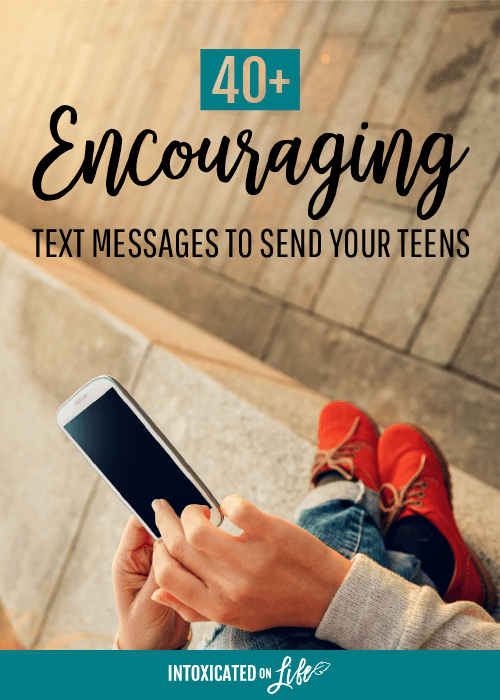 As she is getting older, the time she spends away from my physical presence is slowly but surely increasing.
So while I often text her because I need to convey some type of important information to her, I also try to be intentional about using technology to infuse her with courage, love, and security in her identity as a Christian and a Clarke.
Does your "tween" or teen have texting capability? If so, don't miss the valuable opportunity to speak life to him through their device. Here are more than forty messages to get you started.
(And if your child isn't quite old enough for texting, these would also be great Post-It notes left where she'll find them.)
40+ Text Messages For Your Teens
Sometimes I can't believe how blessed I am to have you in my life.
If I could choose from all the teenagers in the whole wide world, I would pick you.
Remember that time when (insert favorite memory)? Thinking about it still makes me LOL!
Hang in there! You're almost done! God gives strength to the weary, so keep on trusting Him. (Isa. 40:29-31)
You're one of my favorite people.
I'm sorry about __________________. I was wrong. Can we talk about it more later?
Praying today that you would have joy and peace as you trust in the God of hope. (Rom. 15:13)
I know you've been struggling with _______________. I prayed about that today.
Your team (or insert other group) is so lucky to have you.
I'm so proud of you.
You give the best hugs.
Your (insert character quality) is a special gift.
I folded your laundry (or insert another distasteful chore) for you today, just because I love you! 🙂
Be strong and courageous, for God Himself is going with you. (Deut. 31:6)
You inspire me to be a better person.
I'm so proud of your hard work recently. I know it will pay off!
Have you counted your blessings today? You're high on my list!
The Lord goes before you today. He'll NEVER leave you, so don't be discouraged! (Deut. 31:8)
I'm glad you're mine.
Do you have any idea how important you are to our family?
It seems like ______________ has been a confusing situation for you. Ask God to show you the right way to handle it, and He will. (Prov. 3:5-6)
I spent time praying just for you this morning.
I love being your mom.
I know _________________ was hard for you, but you did it. Well done!
Thank you for helping me with _________________. I couldn't have done it without you!
Don't grow weary in the good you're doing. A harvest is coming if you press on! (Gal. 6:9)
You are one of God's greatest blessings to me.
Life has been busy lately, and I've been missing you! When can we go out for dinner together, just you and me?
Your smile brightens my day.
Mind-blowing truth of the day: Nothing is too hard for God.
Your God is with you today, strengthening you, helping you, and holding you in His hand. (Isaiah 41:10)
How can I pray for you?
The light of Jesus shines so brightly through your life.
Even when we don't agree, I'm always here for you, and I'm always on your side.
Your buddies are blessed to have you as their friend.
Guard your heart today, dear one. (Prov. 4:23)
I'm so thankful for you.
Be prepared for spiritual battles today. Armor up, and stay in touch with God! (Ephesians 6:10-11)
Being your mom is one of the great joys of my life.
You're gonna finish well today, because Christ is strengthening you! (Phil. 4:13)
I can tell you've been working hard to _________________. Thank you.
I know you've been burdened about ________________. Tell Jesus about it, because He cares for you. (I Pet. 5:7)
Do you have more text message ideas? We'd love to hear about the encouraging messages you send your kids.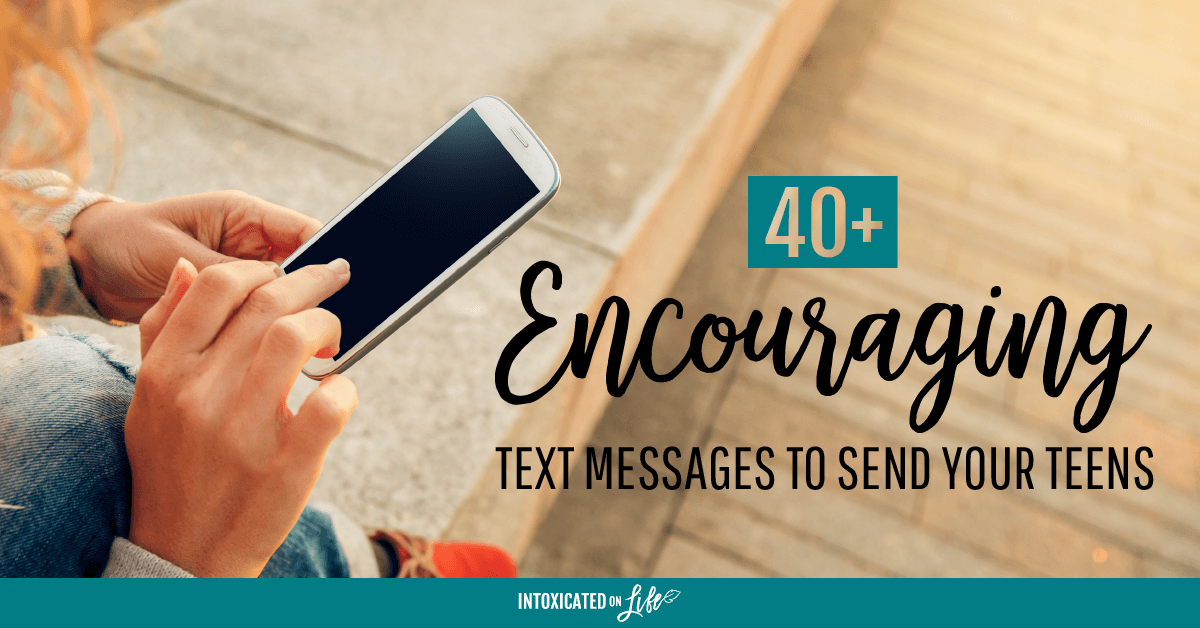 Sharing at The Modest Mom Blog, Create With Joy, Raising Homemakers, Saving 4 Six, Missional Women, Pam's Party & Practical Tips, Crafty Moms Share, and Mommy on Demand.
SaveSaveSaveSave
SaveSaveSaveSaveSaveSave
SaveSaveSaveSave
SaveSave
SaveSave