Every fall the the Halloween decorations hit the shelves of the stores. Costumes fun, scary, gross, and cute line the racks. Whatever your take on Halloween may be, you may long for a more meaningful alternative, something that can help your children focus more on Christ and a more meaningful lessons than simply costumes and candy.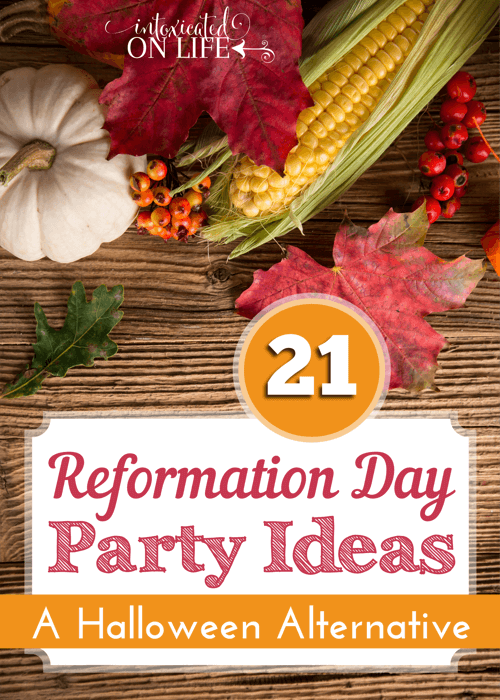 October 31st is not only Halloween. It is also Reformation Day, the anniversary of Martin Luther nailing his 95 Theses on the door of All Saints' Church—an event that eventually sparked the Reformation. For a Protestant, this time of year can be a wonderful time to celebrate how the gospel of salvation has been accurately taught since the days of the Reformation. Dr. Albert Mohler comments:
The coming of Halloween is a good time for Christians to remember that evil spirits are real and that the Devil will seize every opportunity to trumpet his own celebrity. Perhaps the best response to the Devil at Halloween is that offered by Martin Luther, the great Reformer: "The best way to drive out the devil, if he will not yield to texts of Scripture, is to jeer and flout him for he cannot bear scorn.

On October 31, 1517, Martin Luther began the Reformation with a declaration that the church must be recalled to the authority of God's Word and the purity of biblical doctrine. With this in mind, the best Christian response to Halloween might be to scorn the Devil and then pray for the Reformation of Christ's church on earth. Let's put the dark side on the defensive.
Reformation Day Party Ideas
Get ready for October 31st and use some of these Reformation Day party ideas to plan a celebration for your kids, kids from church, or the neighborhood kids! Or if you don't want to forgo other October 31 festivities, have a Reformation Day party on another day at the end of the month.
Your party can be even better than a Halloween party. You can include books, videos, interactive activities, crafts, treats, and of course dress-up for the occasion!
Reformation Day Printables
Reformation Day Books and Guides
Check out these 12 Reformation Day read-alouds. You're kids will learn all about the life of Martin Luther and the Reformation he began.
Reformation Day DVD's
These videos are full-length dramas that will teach you about the lives of these important individuals in church history.
Art Activities and Projects
The Holiday Zone has several fun Reformation-themed art project ideas.
Costume Ideas
Dressing up from a Reformation day party is encouraged! Kids will have fun and it will set the festive mood. Think renaissance themed costumes, like these on Amazon.
Check out these Parties!
Below are links to blog posts that document how others have celebrated Reformation Day. You can check out their costumes, activities, snacks, and more!
Have you had a Reformation Day Party? Are you thinking of having a Reformation Day party? We'd love to hear how it went and what activities you included!