Let's talk about great Bible verses for kids to memorize about anger. Parents and kids alike can easily give into ungodly anger. It is important for families to renew their minds with God's truth to combat these impulses and help us get to the heart of anger.
Not all anger is wrong—on the contrary, God Himself manifests anger. Godly anger gets mad at the right things, in the right way, for the right duration, with the proper control, with the right motives, and strives for the right impact. Often human anger lacks most of these qualities.
This is a list of great Bible verses for kids to memorize about anger, but they are also great Bible verses for parents (and all adults), too.
For more tips on dealing with anger as a parent, check out these articles and resources: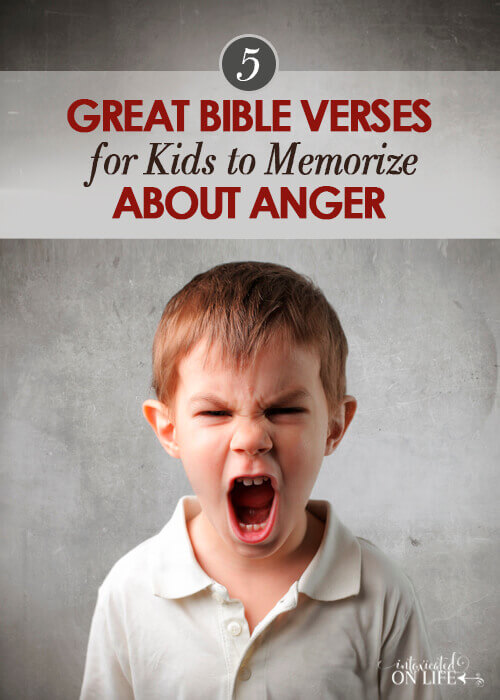 4 Short Passage Bible Verses for Kids to Memorize About Anger
Proverbs 16:32
"Whoever is slow to anger is better than the mighty, and he who rules his spirit than he who takes a city."
This is a great verse for kids to grasp, especially boys who love to play "King of the Hill" or build forts. They love stories of valiant warriors who can break through the enemy lines to take the fortress. Explain to your kids, "You have a tendency to be quick to anger. But if you learn how to master your own heart, you will be mightier than the mightiest warrior." 
Proverbs 19:11
"Good sense makes one slow to anger, and it is his glory to overlook an offense."
Insight, wisdom, discretion—this is the key to patience. As Proverbs 12:16 says, it takes prudence to know when to ignore an insult. Ungodly anger reveals an underlying self-centeredness, getting upset about the wrong things. When we teach our kids about the value of discretion, this opens the door to talking about what is truly worth getting mad about…and it has nothing to do with their sibling playing with their favorite toy.
Proverbs 14:29
"Whoever is slow to anger has great understanding, but he who has a hasty temper exalts folly."
This text teaches two great motivations to show restraint in anger (they are really two sides of the same coin). (1) If you are slow to anger, you show you are filled with wisdom. (2) If you are quick tempered, you become a marketer for stupidity.
James 1:19-20
"Know this, my beloved brothers: let every person be quick to hear, slow to speak, slow to anger; for the anger of man does not produce the righteousness of God."
Connected to quick anger is a tendency to quickly speak. Children (and adults) need to learn the discipline of listening before speaking. Man's anger doesn't lead to living a righteous life.
1 Longer Passage Bible Verse for Kids to Memorize About Anger
James 3:2-12
This passages encompasses far more than just anger. Our kids ability to tame the tongue is critical for their maturity—so critical that James says it is a barometer for their ability to control anything. The visual imagery in this text makes for easy memorization and great conversation with children. Be creative with it: look up YouTube videos of a rudder steering a ship, a bit guiding a horse, a forest fire, a spring of water. Use the visuals to teach them about the metaphors in this text as you teach them to memorize it.
Memory Cards with Verses About Anger
Download and print the cards on cardstock:
Insert these cards into a memory box to help your kids move these passages from their short-term to their long-term memories and become better at memorize Bible verses about anger. (Learn more about how to use a memory box.)
More Resources for Kids to Memorize Bible Verses
I hope this list of 5 great Bible verses for kids to memorize about anger are beneficial to you and your family. They can be a great tool in opening appropriate family discussions about anger and memorizing Bible verses is good for both kids and parents alike.
Check out this list of more theme-focused Bible verses for kids to memorize: