I've found some great Bible verses for kids to memorize about thankfulness.
One of the biggest character battles we face as parents in raising our kids—actually, one of the biggest character battles for Christians in general—is that of discontentment and entitlement. Underneath this is the most vexing problem I deal with in my home: a lack of gratitude.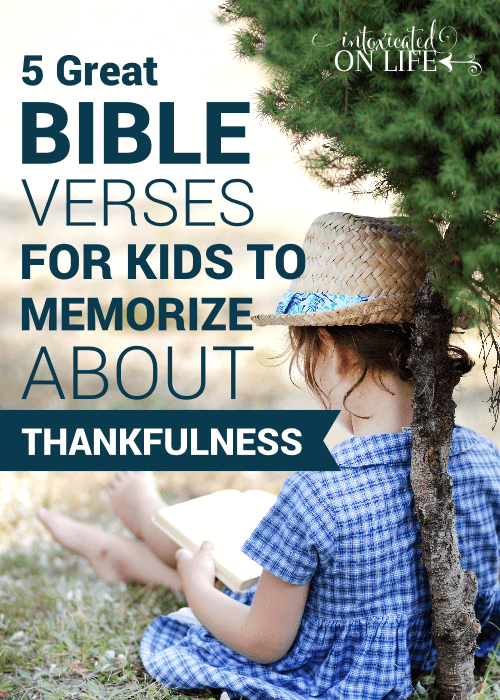 A grateful soul is well fortified to stand against many kinds of temptations in life. Pastor Douglas Wilson says this is God's "gratitude displacement" strategy for fighting sin: when thankfulness and joy fill up all the available space in the heart, the tempting pleasures of sin don't have a foothold.
Biblical contentment is not stoicism. We are not called to be content in the same way that a block of wood is content—even though we may assume the wood presumably is content. That is not what we are called to. And Paul is not urging us into some kind of "happy, happy, happy all the day" kind of stuff. He is not urging a constant and frothy giddiness. No, he sets the pattern for us, providing us with an example. In one place he describes himself as "sorrowful, yet always rejoicing" (2 Cor. 6:10). His joy, his contentment, was not a perverse kind of denial, or a stiff-upper-lip stoicism. And yet it was "always rejoicing." This kind of contentment, whether well fed or hungry, is a deep satisfaction with the will of God for you (Phil. 4:11-12). This is bedrock stuff—a basalt kind of joy twenty feet down. And it needs to be a foundation, bedrock joy that runs underneath the entire house. (Father Hunger, 174)
I have found that when I gathered these Bible verses for kids to memorize about thankfulness and discussed them often with the kids, a sense of gratitude returned to our home. Below are some helpful Scriptures for kids to memorize about thankfulness.
5 Great Bible Verses for Kids to Memorize About Thankfulness
3 Shorter Bible Verses for Kids to Memorize about Thankfulness:
Ephesians 5:20
"…giving thanks always and for everything to God the Father in the name of our Lord Jesus Christ."
Always. For everything. That is how thankful we are called to be. But our thanks should be done to God "in the name" of Jesus. This doesn't mean we are constantly whispering the phrase "in Jesus' name" when we feel or express thanks.
It means we should understand it is because of Christ that we can approach God with thanks. Christ is the hub around which all our gratitude revolves.
Philippians 4:6-7
"Do not be anxious about anything, but in everything by prayer and supplication with thanksgiving let your requests be made known to God. And the peace of God, which surpasses all understanding, will guard your hearts and your minds in Christ Jesus."
Here is a powerful incentive for pursuing a life of gratitude: God's supernatural, unexplainable peace will fill our hearts and minds, guarding us from anything that might seek to drag us down.
This is God's promise to us if, instead of giving into anxiety, we pray to God with a spirit of thanksgiving.
1 Thessalonians 5:16-18
"Rejoice always, pray without ceasing, give thanks in all circumstances; for this is the will of God in Christ Jesus for you."
These three short Bible verses communicate three punctual statements about God's will for our lives: rejoice, pray, give thanks. Instead of discontentment and boredom, we should be filled with joy. Instead of worrying, we should pray. Instead of ingratitude, we should give thanks. This is the life God wants for us.

2 Longer Bible Verses for Kids to Memorize about Thankfulness:
Psalm 100
This whole psalm is perfect for cultivating thankfulness—it says so right in the superscription: "A Psalm for Giving Thanks." Plus, it is only 5 verses and therefore very manageable to memorize. More than just describing what thankfulness looks like on the surface (joyful noises, praise, gladness, singing, blessing God's name), the author describes what motivates thankfulness in the heart.
Only the Lord is God, our Maker (v.3) – God made many good things, and it's right to enjoy those good things, but it is easy to let good desires become ultimate desires. This happens when our hearts say, "I can only be happy if I have ______." This is the root of discontentment: making a good thing into an ultimate thing, and thus making it our master, the thing that makes or breaks our happiness. Here, God reminds us that nothing else in all the universe should be our god. Only the Lord is God. Nothing else can be our all-satisfying god because only the Lord is our maker—only He truly knows how to satisfy us.
The Lord is good (v.5) – This means God is benevolent, kind, and charitable. God fills our world with so many good pleasures. When we feel ourselves slipping into discontentment, we only need to count the blessings our good God has given us.
We are his people, the sheep of his pasture (v.3) – God is our shepherd, and for that we can be grateful. God guides, heals, protects, feeds, and leads us in a way no one else can.
The Lord's steadfast love endures forever (v.5) – The Hebrew word here is checed (חֶסֶד), which means God's "ruthless loyalty" to his people. He is loyal to his covenant promises. He is always at work in our lives to help us know Him better (Jeremiah 33:34; 2 Corinthians 3:16; Hebrews 8:11), forgiving our sins (Jeremiah 33:34; Matthew 26:27-28), and transforming us from the inside out (Deuteronomy 30:6; Jeremiah 31:33; 32:40; Ezekiel 36:26; 2 Corinthians 13:18). This means we can be grateful in every circumstance—good and bad. We can look at each and every situation as a means God is using to make us into the image of His Son (Romans 8:28-29).
Psalm 136
This psalm is sometimes called "The Great Hallal (Praise)." Even today among the Jews, it is recited in full on every Sabbath day and during every sacred festival. Every verse ends with the same refrain: "his steadfast love endures forever." The word here is checed (see the comment on this word above). This phrase appears in Scripture more than 40 times (1 Chronicles 16:34,41; 2 Chronicles 5:13; 7:3,6; 20:21; Ezra 3:11; Psalm 100:5; 106:1; 107:1; 118:1,2,3,4,29; 138:8; plus 26 times in this psalm alone).
It was meant to be sung "antiphonally," that is, call-and-answer style. For this reason, it makes for a great family prayer, especially during mealtimes. The psalm gives the reader a lot to think about, mentioning 26 things about God that show his love and loyalty to his people. The psalm takes the reader back to creation, the Exodus, the wilderness years of Israel, and Joshua's conquest.
What verses have you taught to your kids about gratitude? Do you have a list of Bible verses for your kids to memorize about thankfulness?
More Bible Memory Tips: