If you've ever wondered about what age kids can start helping with certain chores, this list of chores for children will help you out.
Chores. Ugh. No one likes them, but they have to be done. Otherwise the house would be in disarray and chaos would ensue. Okay…so chaos ensues in my house daily—even with a plan—but it does help to have a list of chores for me and chores for children to know where we need to work.
There is such an age difference between our oldest and second child that sometimes things get dumped on our 10-year-old. So this year, I'm going about our chores in a different way.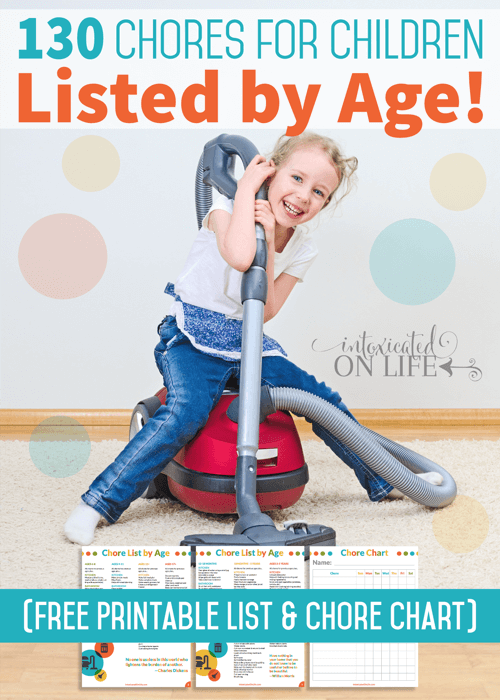 Dividing the Chores for Children By Age
I have divided the chores for children up by age group and each day/week. The children will be assigned chores. This way we can easily rotate chores so no one is stuck doing something they hate for months on end, and they can help with ones they enjoy more often.
This will help eliminate some of the fussing and whining when it comes time for chores. Plus, it will give my oldest a break from some of the chores his younger siblings can easily help with more.
All ages can help with chores, whether young or old. The point is to teach your kids that helping is part of family life and living together. We only have four children, but these days that is a "large family," and large families must work together to keep a house running smoothly.
Chores for Children: Ideas Listed by Age!
The PDFs below are some ideas of kid chores that they can do at various ages. Of course, you will need to adjust them to fit your family needs and the ability of your child(ren). However, I highly recommend that you do not underestimate your child(ren). They are capable of doing these chores at these ages, even if they require some help.
Click the button below to get started! You'll download a 2 page list of chores for children sorted by age as well as a free chore chart (it's an editable PDF…fancy!).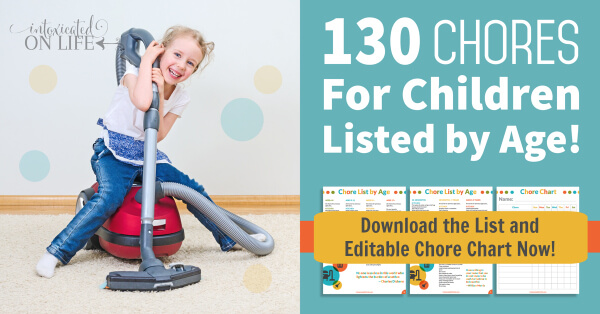 Of course, my kids don't do everything on this list each day or even week, but it gives us a starting point and chores to rotate through so they know how to do everything appropriate for their age level.  And we do adjust these items, taking in to account the responsibility and capability of each child. Our 4-year-old isn't the most gentle, so we don't let her unload dishes unless they're plastic, for instance. Use your own judgement, you know your children best.
What chores for children ideas would you add to this list?
More Tips for Raising Kids: