It is incredibly important to teach your kids the word Amen. Why? Let's take a closer look at some of the most important reasons.
As early as our kids were able to speak, they have been mimicking us saying the word "Amen" at the end of family prayers. My oldest two have each asked me why we say Amen, and I anticipate my youngest will ask the same question some day.
By teaching our children about the word Amen, we give them a deeper understanding and appreciation for prayer.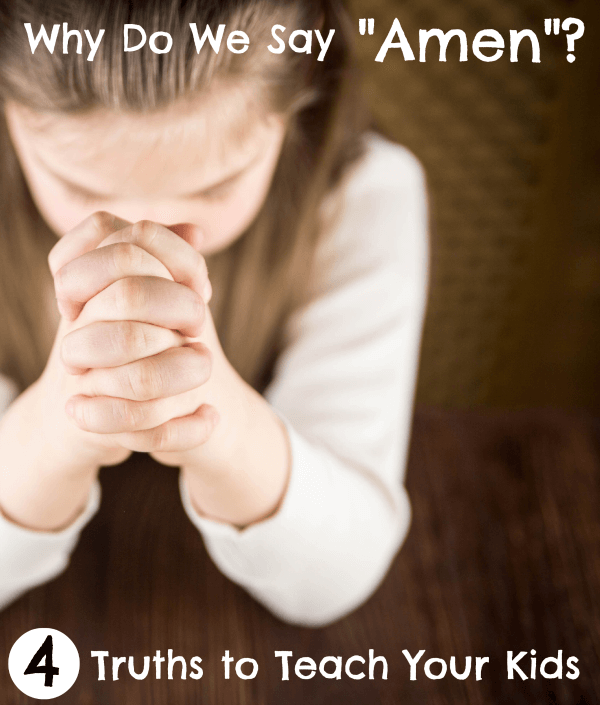 Why You Should Teach Your Kids the Word Amen
1. Amen is a way for all of us to participate in prayer or preaching
Amen is a very old Hebrew term that means "so be it," "indeed" or "truly." Numerous times in the Bible, individuals or a whole group of people would say "Amen" in response to a prayer, a blessing, or a curse uttered by someone else (Deuteronomy 27:15-26; 1 Chronicles 1636; Nehemiah 8:5-6; Jeremiah 11:5; 1 Corinthians 14:16).
When you say or whisper "Amen" after someone has just said a prayer or spoken a great promise from the Bible, it is letting others know you agree with what was just said. When you are paying close attention to what people pray or preach, saying "Amen" is a way you can join them, even if you aren't the one speaking.
It is important to remind our children that we should learn to never say Amen mindlessly. Saying Amen means we have heard what was said in prayer and agree.
2. Amen is the most widely known word in the world
On occasion, when ideas are moving from one culture to another, one language to another, words are transliterated instead of translated. This happened in the Greek-speaking world of the early church, for instance, with the word Amen. Instead of finding a suitable Greek word, New Testament authors chose to keep the sound of original Hebrew word Amen in tact.
Find any culture where Christianity has taken root and you'll likely find the same pattern: churches in China, Nigeria, Spain, Japan, Brazil, and nearly any other place in the world all say "Amen" at the end of their prayers. Some believe the word Amen is the most widely known word in the world.
When we say Amen, we are saying something that thousands of cultures and languages understand. It reminds our children that they are practicing a tradition that dates back to the earliest Christians and is common to Christians all over the globe.
3. Jesus used Amen unlike anyone before Him
We typically say Amen at the end of our prayers or right after someone says something true. But in the Gospels, Jesus uses the word Amen more than 70 times, and most of the time He says it, He uses it before He speaks. Sometimes it is it translated, "Truly, I tell you," or "Verily, I say to you." What He is saying is, "Amen, I tell you."
No other Jewish teachers did this before Jesus' time. He could say "Amen" before He said something because everything Jesus ever said was 100% true. He didn't need anyone to say "Amen" after He spoke. He spoke the very words of God, so He began His statements with a strong "Amen."
4. Jesus is the reason we can say Amen to all of God's promises
Paul writes, "[A]ll the promises of God find their Yes in him [Christ]. That is why it is through him that we utter our Amen to God for his glory" (2 Corinthians 1:20). God has made many, many promises in the Bible—so many, it would be hard to count them all. In this passage, the Paul says that every promise from God you can find, no matter what it is, Jesus is the answer to all of them. When we hear a promise from the Bible, we can say "Amen," because we know Jesus is the ultimate answer to that promise.
Every time we say Amen after hearing a truth from the Bible, in the back of our minds this should mean: "Yes! I believe this is true because of Jesus." Every promise of blessing, peace, provision, comfort, forgiveness, life, and holiness is fulfilled because of the work and person of Christ. He is the great Amen (Revelation 3:14).
Christian Training of Your Children: Final Thoughts
To teach your kids the word Amen might seem like a minor thing, however, it is one of many important parts of Christian training that we as parents must take seriously.
If you need more Christian Parent tips, check out these articles: