I've been think a lot about all the twins in the Bible lately. Why?
Finding out we were going to have twins was, perhaps, the biggest shock of our lives. They have been a double blessing to our lives.
There are many famous sets of twins in history, and this includes Biblical history.
Want to learn some good ways to teach your kids about God's word? Check out our Family Bible Studies Guides.
All the Twins in the Bible:
1. Jacob and Esau – Jacob and Esau, sons of Isaac and Rebecca, are the first twins mentioned in the Bible (Genesis 25:19-28). The story of Jacob is told in Genesis 25:19-37:36 and 42:1-50:3. The story of Esau is found in Genesis 25:19-28:9, 32:1 -33:20, and 35:27-36:43. From Jacob the twelve tribes of Israel descended. Esau became the father of the Edomites (Genesis 36:19,43; Obadiah 1:6; Malachi 1:2-3).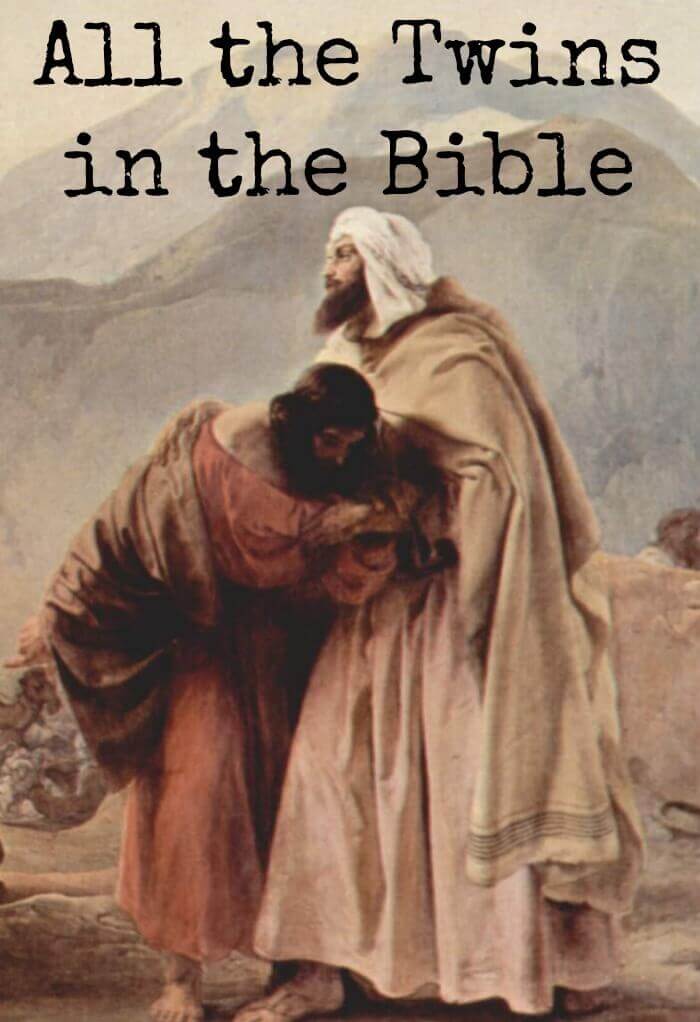 2. Perez and Zerah – Judah's daughter-in-law, Tamar, was widowed and did not want to be childless. Wrapping her face in a veil and disguising herself as a prostitute, she intercepts Judah on the road and he sleeps with her. The result of their union was Perez and Zerah (Genesis 38:12-30). From Perez would come the family of David (Ruth 4:18-22).
3. Ephraim and Manasseh –The Bible does not directly state that the two sons of Joseph and Asenath were twins, but there is good reason to believe they were. First, Genesis mentions they were both born "before the year of famine came" (Genesis 41:50). Second, two conceptions are not mentioned in the text. Third, if they are twins they fit nicely into the pattern seen in the lives of Isaac and Judah: both their younger twins inherited the birthright, just as the younger Ephraim was blessed first by Jacob (Genesis 48:19). Jacob promised that both Ephraim and Manasseh would become patriarchs of a multitude, which began a traditional blessing said in Israel: "God make you as Ephraim and as Manasseh" (Genesis 48:20).
4. Thomas and his unnamed sibling – Thomas was one of the twelves apostles (Matthew 10:3; Mark 3:18; Luke 6:15; Acts 1:13). His name means "twin." His surname was Didymus (John 11:16; 20:24; 21:2), meaning "double," or "twofold." Thomas is perhaps best known as "Doubting Thomas" because of the resurrection story in John 20:24-29, but other stories in the Gospel of John reveal Thomas to be a man of great devotion of to Christ (John 11:16; 14:5).
5. Castor and Pollux – This probably shouldn't make the list, but I'll include it to be thorough. In Acts 28:11 we read that Paul sailed aboard an Alexandrian ship with the figureheads of Castor and Pollux on it. In Greek mythology these were the twin sons of Zeus and Leda, and were the patron deities of sailors.
6. Were Cain and Abel Twins? – Some Bible scholars believe Cain and Abel were twins. Genesis 4:1-2a states, "Now Adam knew Eve his wife, and she conceived and bore Cain, saying, "I have gotten a man with the help of the Lord." And again, she bore his brother Abel." The word "again" is the Hebrew term yacaph can also mean "add" or "increase," giving the impression that Abel was born directly after Cain. This is a possibility, but because the text moves very quickly through time (in the very next statement Cain and Abel have grown up and engaging in their respective occupations), one can't be dogmatic about it. There is no early Jewish or Christian tradition supporting this claim.
All the Twins in the Bible: Conclusion
These are all the twins in the Bible that I know of. If you think I missed any, feel free to let me know in the comments!
More Family Bible Articles: