Over the years our Easter baskets have undergone a metemorphosis. Just a few years ago, you would have found Easter baskets that were primarily packed with Reese's peanut butter eggs, jelly beans, and other junk. Yup, junk. That's just what you put in Easter baskets, right? But the baskets our kids will find this year don't resemble those of the past.
An Easter without candy—that's crazy! What in the world do you put in a basket, if not candy? Well, you could start to look at dollar store trinkets. Umm…no. Who wants to fill a basket with junky trinkets that will end up in the garbage in a couple of days…or scattered around the house where mom steps on them while carrying a basket of laundry to put away?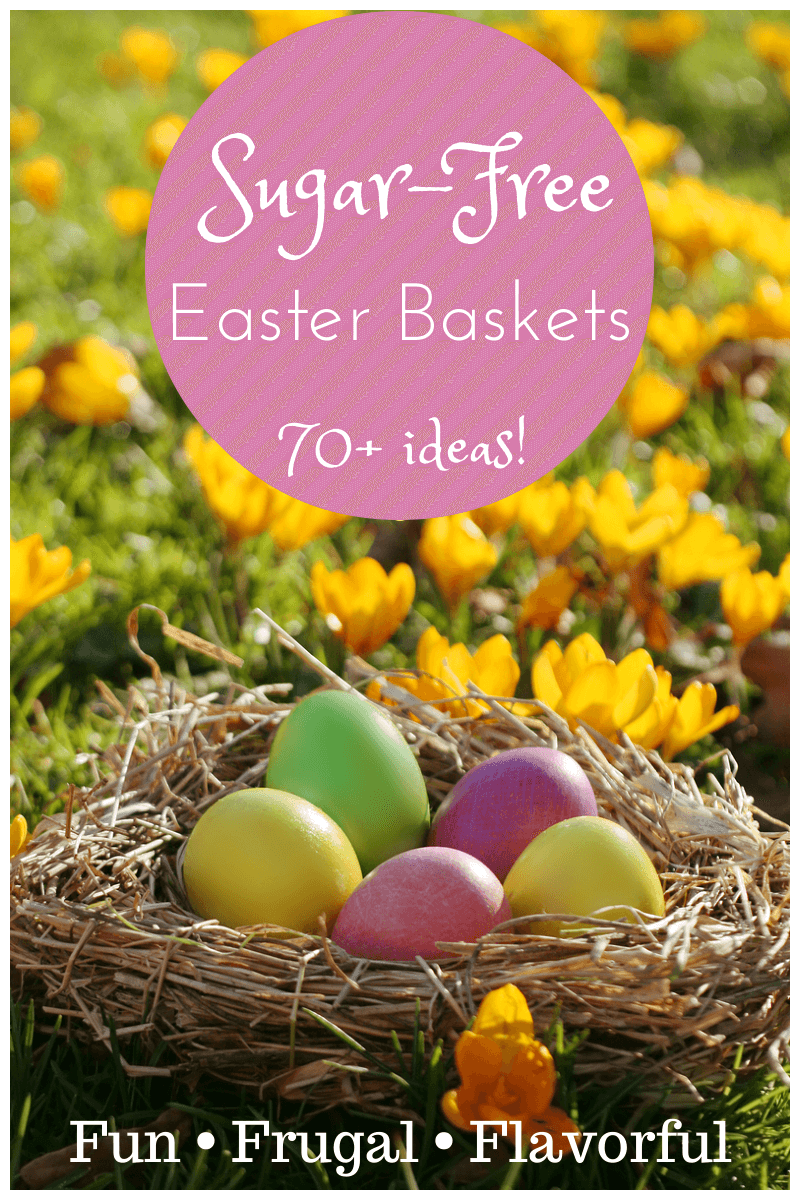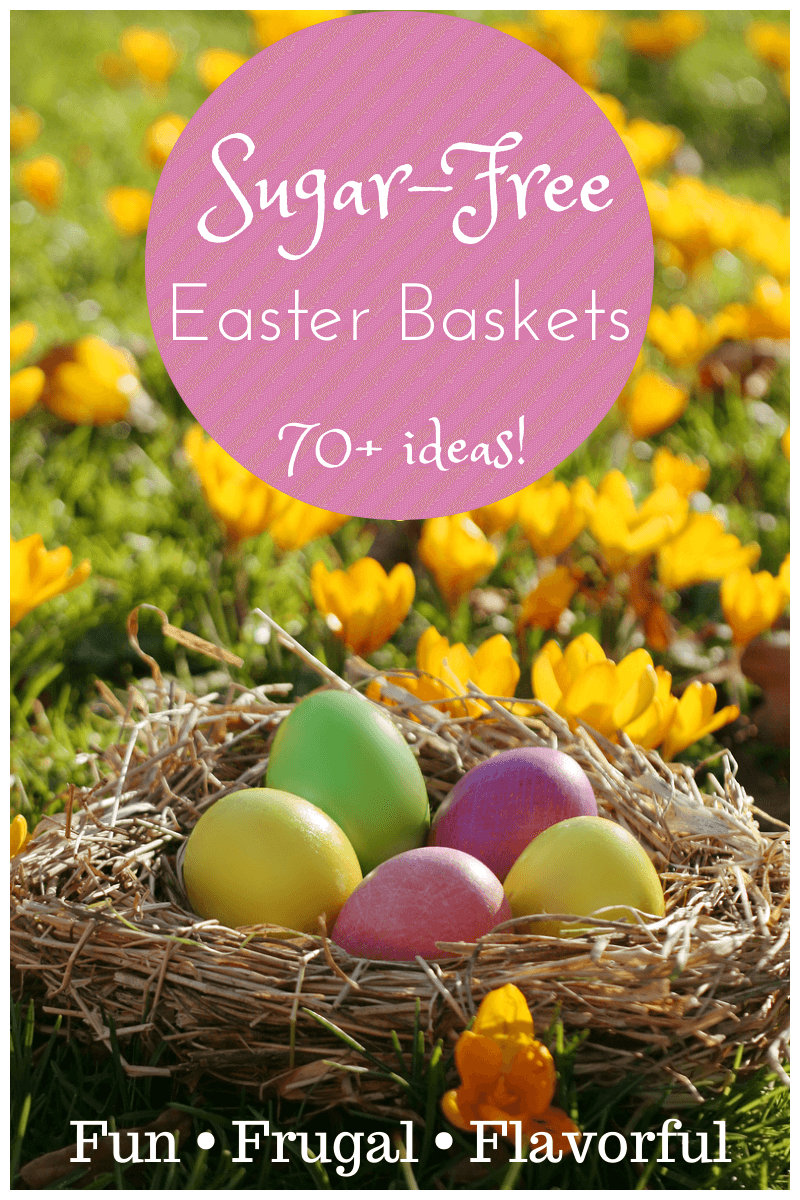 Below are some ideas to help you ditch the candy and the junk toys this year to give your kids an Easter basket they'll love. One that is fun and maybe even useful! 
Outside Games & Toys
After a long, long, long…looooong winter (you get the idea), my kids are ready to get outside and play. What about yours? You could pack their Easter baskets full of fun outside toys to help get the fun started.
• Bubbles or a Bubble Machine or a No-Spill Bubble Tumbler (just what my 2 year old twins need!)
• Kite
• Sidewalk Chalk or Sidewalk Paint
Water Fun!
It's not warm enough here for us to open the pool yet, but my kids are itching to get it open soon! In other parts of the world, it's already warm enough to be in the water. Either way, you could fill a basket with accessories to make their time at the pool or beach more fun.
• Beach towel (my kids love the ones with their favorite cartoon characters)
• Beach toys: a traditional shovel and bucket set, sand brick maker, cute sand cupcake set, or a sand ice cream set!
• Flip Flops
• Sunglasses
• Hat
• Pool Toys: Pool Bandits, Undersea Treasure Hunt, Water Bombs, Toss n' Splash
• Squirt Guns: Small Classic Squirt Guns or a Max Liquidator Eliminator
Art Supplies
Our 5-year-old is our little artist. Do you have a budding artist too? Here are some ideas to keep your kiddos hands busy and help develop those fine motor skills!
• Play Dough (or make your own!) and Dough Tools
• Paints
• Coloring Books (we can always use more of these to help replenish our stock!)
• Activity Books: I especially like the Kumon tracing, cutting, and mazes books.
• Color Wonder Markers and Books (for a nice mess-free art project!)
Gardening Supplies
Starting a garden soon? Do you have a little helper? Make them an Easter basket filled with gardening supplies! (Side note: if you're new at gardening, be sure to check out our Gardening for Better Health: For Beginners post and Herb Gardening for Beginners post to get you started.)
• Hat
• Gloves
• Seeds (you can snag these up lots of places, but would suggest checking into the heirloom seeds available through Bulk Herb Store)
• Roots, Shoots, Buckets, and Boots: Gardening Together with Children
Sports Enthusiast
If your son or daughter loves sports, then you can't go wrong with these ideas!
• Sports Cards
• Ball Cap
• Water bottle preferably a stainless steel bottle
• Sports team t-shirt
• Frisbee
For the Budding Chef
• Cookbook (there are all sorts of awesome kids cookbooks. There are even some great kids gluten-free cookbooks I referenced on this post)
• Apron – Love the kids aprons from flirty aprons, but if you have a boy a super hero apron might be a better option 🙂
For Your Girly-Girl
I'm the only girl in this house-full of boys. But if we had girls, I think these ideas would make lovely basket stuffers!
• Hair Clips
• Headbands
• Non-Toxic Nail Polish
• Jewelry
For the Boys
Boys? Why yes, we have four of them. You know what this means? It means that all varieties of these toys will be welcome in my home for quite some time. You really can't go wrong with these if you have boys!
• Matchbox Cars
• Super Hero Capes
• Action Figures
• Army Men
• Legos
Homemade Treats
Just because this Easter basket is sugar-free doesn't mean it has to be empty of all treats! Below are some homemade goodies you can put in your kiddos baskets. They'll be sure to put a grin on their face…because they'll think they are eating something they shouldn't be!
• Chocolate Peanut Butter Candy
Treats You can Buy
OK, so maybe you just don't have the time to whip up a bunch of tasty treats for your kids Easter baskets. I get that. Sometimes a mom just needs for things to be easy. Here are some easy treats you can pick up from the store to help round out their basket. (Check out 101 Grain-Free Snack Ideas for Kids for more snack ideas you could make and buy for their baskets!)
• Tea (is it just my kids or do other peoples kids like tea too?)
• Nicks Sticks (our boys love these!)
• Nuts or Seeds