If you got past the title and you're still reading, you're probably either internally fuming or cheering.
It's true. It would take an act of God for me to send my kids to public school.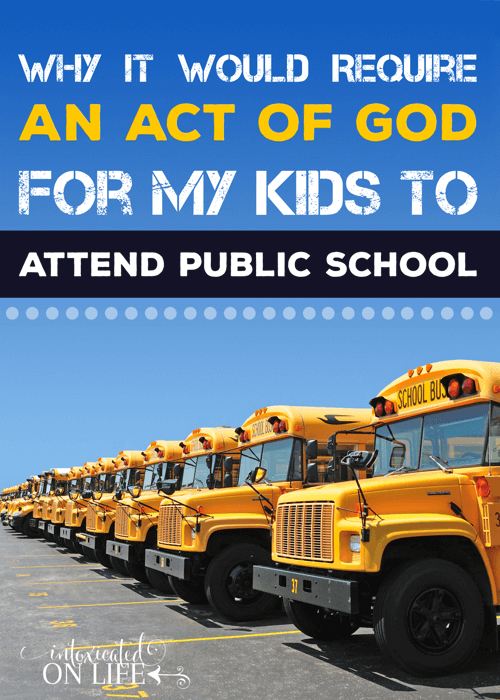 But I don't say those words as someone who chalks up modern-day "acts of God" as an impossibility. I say them as one who very much believes that God is alive and working—in numerous ways I can see and in countless ways I can't even imagine.
I say those words as one who has a personal relationship with Him, and who trusts Him to direct my paths in very real ways with very real intentions and very real ramifications.
The fact is, it would take an act of God for my kids to attend public school.
Or private school.
Or Christian school.
My kids happen to be homeschooled, but it took an act of God to get us there, and it takes ongoing acts of God to keep us there.
Your reasons matter
You see, when it comes to the decisions Christian parents must make—especially those concerning something so significant as our children's education—it's infinitely important to consider how we get there.
Because our reasons matter. 
They matter a whole lot more than we think, because our reasons reveal to our kids and to all the watching world where our trust lies.
"We can't afford Christian or private school" conveys the message that God is not trustworthy.
Regarding homeschooling, "I'm not patient enough, organized enough, or motivated enough" and on the flip side, "My kids aren't compliant enough" convey the message that God is not trustworthy.
"I'm afraid of what my kids might be taught in a public school" conveys the message that God is not trustworthy.  
We Christ-followers have claimed to trust God with our eternity, but our faith is proven and our testimony is secured when we demonstrate our faith in Him through little and not-so-little choices we make every single day.
Do we really believe that without faith, it is impossible to please Him? (Hebrews 11:6)
Do we really live by faith, and not by sight? (2 Corinthians 5:7)
If so, the only question at hand for Christ-followers considering their children's education ought to be, "What does God want?"
How to choose
How do we answer the question, "What does God want?" when it comes to our kids' education? Volumes could be written on the subject, but here are a few points to get started:
1. Endure in prayer.
This is the first step, but it should really accompany every step. Make this a serious matter of prayer, and ask others to pray with you and for you.
"In all your ways acknowledge Him, and He will direct your paths. " Proverbs 3:6
It's been my proven experience that when I ask God to guide me, He never fails to do so. He does it by giving peace or unrest. By opening doors and closing them. By bringing across my path conversations and information that either confirm or contradict.
When you ask Him with a genuine heart that just wants what He wants, He will never, ever fail to show you what that looks like.
2. Excavate the Bible.
Dig deep into God's Word, taking time to put aside your assumptions and your excuses, finding out what God has to say about questions like these:
What does God say about parenting?
What admonitions does He give to parents?
What does He say about children?
What is His goal for godly families?
What is a Christ-follower's role in the world?
What does He say about His provision?
3. Examine the options.
With the solid biblical framework you established above, think about how your family can best accomplish God's goals. With His plan in mind, consider advantages and disadvantages of each type of schooling.
A word of warning here: when we list pros and cons, it's very tempting to incorporate our circumstances, listing things like finances and schedules. Resist the urge to do that just yet. This step should solely be devoted to how each type of schooling can help us fulfill God's design for families.
By this point, you will likely begin to sense God's leading toward a particular type of schooling.
4. Evaluate the obstacles.
Now is the time to look at things like budgets, temperaments, schedules, and any other circumstantial hindrance related to the school toward which God is leading you.
God doesn't ask us to step out in blind faith. In fact, Abraham's example (Romans 4:18-22) reveals that when God promised to make him a "father of many nations," he couldn't help but look good and hard at his old, shriveled, good-as-dead body and his wife's elderly, barren womb.
God knows you want to look at the obstacles, and that you almost can't even help it. So go ahead. You might even consider listing them.
5. Esteem God greater.
Abraham contemplated his circumstances, but "no unbelief made him waver concerning the promise of God." Rather, "he grew strong in his faith as he gave glory to God, fully convinced that God was able to do what He had promised."
I love the way God grants us permission to look at the obstacles, and the way He then invites us to remember all the reasons why He is bigger and stronger and able to overcome every last one of them.
At this point, continue in prayer, confessing to God where you believe He is leading, and then tell Him about the obstacles you see. Acknowledge that He is greater than any obstacle, and let Him know that you will follow wherever He leads. Tell Him you will keep taking the next logical step where you believe He is leading, trusting Him to provide and overcome any circumstance that interferes, or to redirect your path if you're heading in the wrong direction.
6. Exercise faith.
Take the first step! Whatever that looks like for whatever option God leads you toward, take the first step. Watch and pray for how He is confirming your path or altering it.
. . . .
Every decision we make on behalf of our children should require an act of God. Will you join me in seeking the Lord's face about His desires for our families, and then by faith following where He leads?