Grain-free and missing apple crisp? Enjoy it once again with this easy and delicious almond walnut apple crisp!
Looking for gluten-free recipes and resources? This Everything Gluten Free page is a library of everything gluten free we've worked on.
Mom's special dish
Is there something your mom made when you were growing up that you always looked forward to? Something she made so perfectly, so deliciously that it was a treat? A meal or dish that you begged her to make almost weekly, but it was only for special occasions?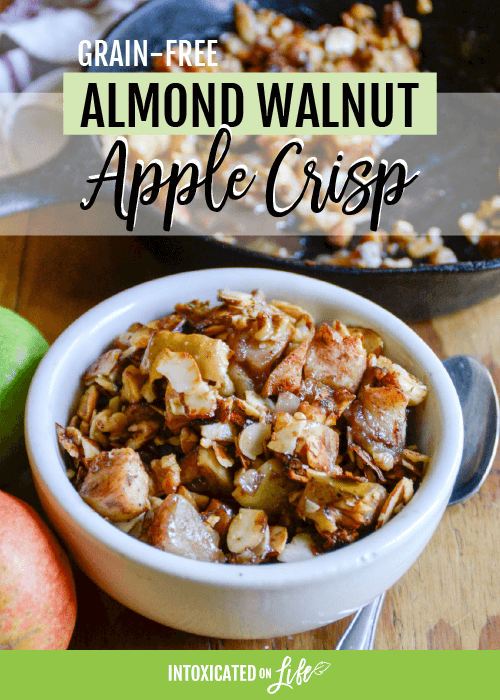 For me, one of those special "mom" dishes was homemade apple crisp. My mom would make a big panful – twice as much as our family of 4 needed, I'm sure—and it would be devoured as soon as it was cool enough to shovel into our mouths!
I loved the soft, almost creamy-centered apples, the way the butter and brown sugar melted into syrupy goodness, and of course the crispy sweet oat topping! It was heaven in a pan, I tell you!

Life can be hard
When I started a family of my own I tried valiantly to carry on my mom's delicious homemade apple crisp tradition. Unfortunately, it didn't take long for me to realize that I was allergic to one of the most important parts of apple crisp… the oats.
I tried everything I could think of to help my body tolerate them better. Soaking them overnight with something acidic to help break down the phytic acid, using 100% certified gluten-free oats… But much to my sorrow, nothing helped.
So off I set to try and figure out how to make an apple crisp I could eat and not get sick from. 'Cause when life gets tough, the tough get going, right? At least that's what my dad used to say…

Grain-free apple crisp
Thankfully apple crisp is one of those "regular" foods that is actually very easy to make grain-free! (And all the people rejoiced!) Nuts are a simple sub for the oats in the crumb topping, and just as—if not more—delicious! You don't have to use almonds and walnuts, like I did, you can just use one or the other. You could even use something different, like pecans. My oldest wanted me to try peanuts, but I'm sorta thinking those wouldn't work out as well. 😉
If you're in a nut-free house, I would think that you could use a mixture of coconut, sunflower seeds, and pumpkin seeds instead of the nuts. I haven't tried this though, so I can't tell you it'll taste the same.

As healthy as possible
To make this crisp as healthy as possible, I stayed away from any sort of refined sugars. Growing up, my mom always used brown sugar, which is totally delicious, but not very healthy. So I subbed it out for honey. It's my favorite sweetener to use and is safe for people who have trouble digesting sugars.
Since honey isn't refined or processed like granulated sugars, molasses, or agave, your body metabolizes it differently, making it easier on your system.
Of course, if you're wanting something super low-carb, you could try stevia. Just know that I haven't tried that either, so I have no idea how it will taste!
If you're a huge fan of apples, but don't really like apple crisp (whaaa???) I suggest you dig into some Grain-Free Maple Apple Cobbler, enjoy a refreshing Apple Pie Smoothie Bowl, sip on a glass of Spiced Apple Kombucha, or make some Cinnamon Maple Nut Butter Covered Apples (a mouthful, but a delicious one!) for dessert!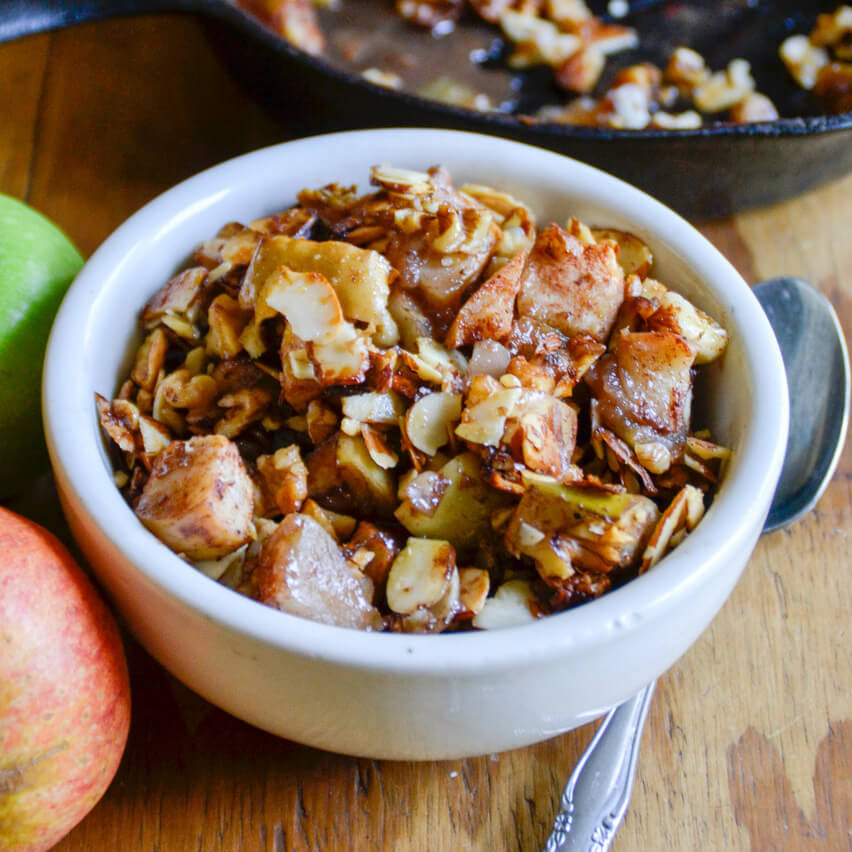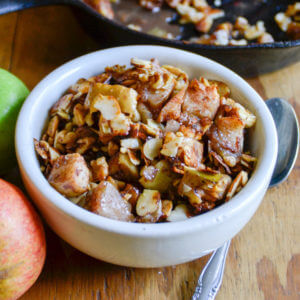 Print
Almond Walnut Apple Crisp
This flavorful apple crisp is loaded with warming spices and healthy fats-- and it's even grain- and gluten-free! It's so good you won't even miss the oats. 🙂
Ingredients
Filling:
4

apples

1 1/2

teaspoons

cinnamon

1/4

teaspoon

ginger

1/8

teaspoon

nutmeg

1/8

teaspoon

cloves

1/4

teaspoon

sea salt

2

teaspoons

honey
Topping:
3

tablespoons

honey

3

tablespoons

coconut oil

solid

3/4

cup

walnuts

chopped

3/4

cup

almonds

chopped

1/4

teaspoon

sea salt
Instructions
Preheat oven to 400° and grease a 9-inch cast iron skillet or baking dish.

Wash and chop the apples into 1/2-1 inch chunks. Place apple pieces in the skillet and sprinkle with spices and salt. Stir gently with a spoon, then drizzle with honey. Set aside.

In bowl, combine honey and coconut oil. Stir in nuts and salt. Sprinkle over apples and bake for 30-35 minutes, or until apples are fork-tender. 
Nutrition
Calories:
544
kcal
|
Carbohydrates:
50
g
|
Protein:
10
g
|
Fat:
38
g
|
Saturated Fat:
11
g
|
Sodium:
294
mg
|
Potassium:
481
mg
|
Fiber:
10
g
|
Sugar:
36
g
|
Vitamin A:
98
IU
|
Vitamin C:
9
mg
|
Calcium:
111
mg
|
Iron:
2
mg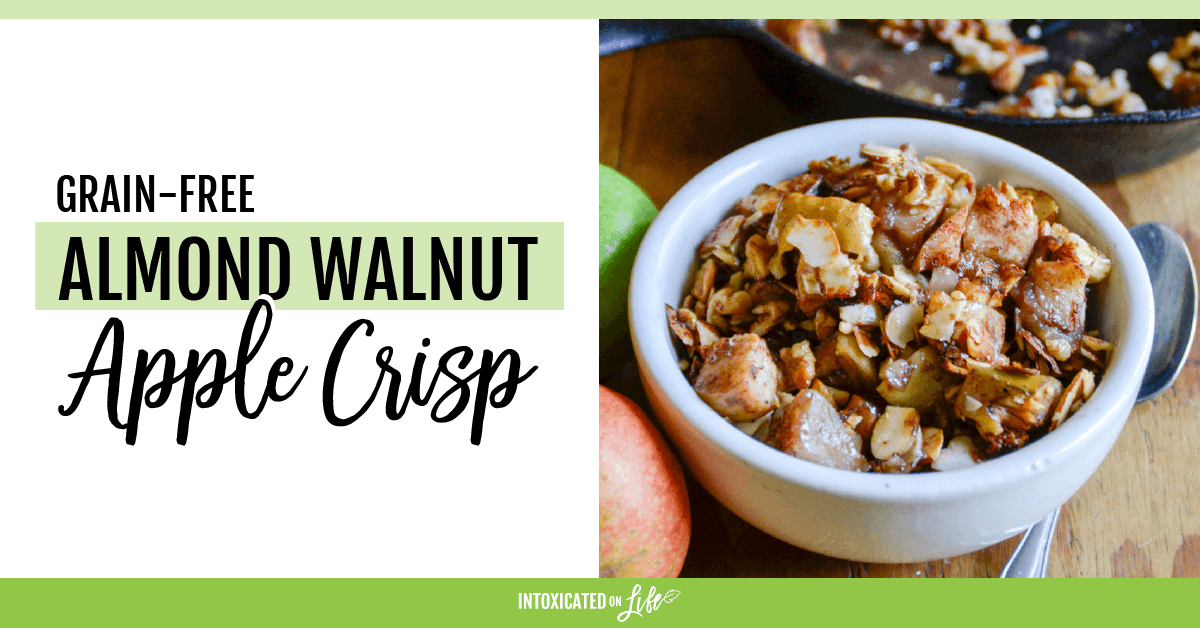 SaveSave
SaveSave
SaveSave
SaveSave
SaveSaveSaveSaveSaveSave
SaveSave