This curried sweet potato soup is more than just a delicious, creamy soup—it's packed with ingredients that contain medicinal, therapeutic compounds.
Hippocrates, the Greek physician who's known as Father of Modern Medicine is reported to have said, "Let food be thy medicine, and medicine be thy food."
Think about that for a moment.
Wouldn't it be wonderful if we had that kind of relationship with food? What if we chose the foods that healed our bodies? What if we focused on foods that nourished our families?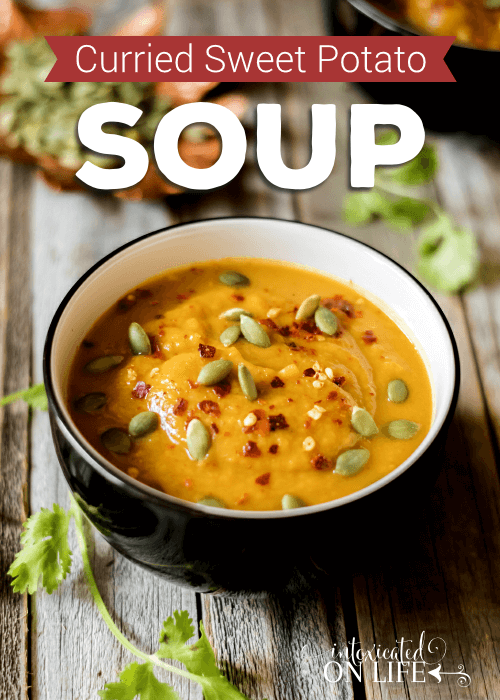 Curried sweet potato soup fits the bill.
The Healing Benefits of Curried Sweet Potato Soup
The nourishing, healing properties in this soup will benefit your entire family. While each ingredient in this curried sweet potato soup has some great qualities, there are 3 specific ingredients that you'll love about this soup.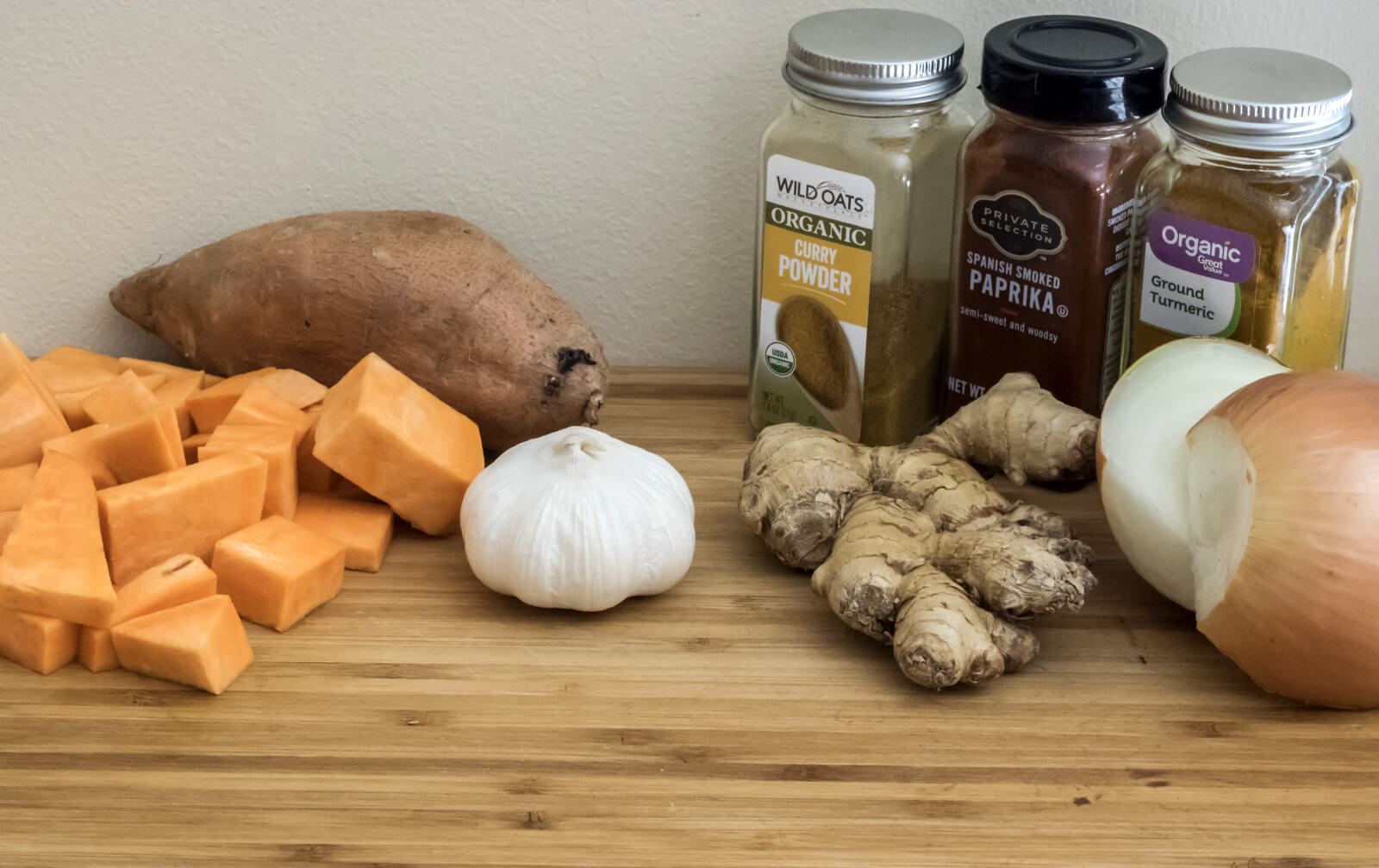 Ginger
While you may know about some of the digestive benefits of ginger—use for decreasing nausea, gas, and indigestion—there are probably some benefits of ginger you don't know so much about.
The therapeutic benefits in ginger come from bioactive compound gingerol making ginger an anti-0xidant, anti-inflammatory, anti-bacterial, anti-viral ingredient. This makes ginger an ideal component to help boost the immune system.
The Journal of Microbiology and Antimicrobials published a study in 2011 that tested just how effective ginger is in enhancing immune function. When they compared the ability of ginger to kill two different strains of bacteria with conventional antibiotics, it was discovered that ginger was more effective every time!
If you're working hard to keep your blood sugar under control, ginger could also be of benefit to you! In a recent 2015 study of 41 participants with type 2 diabetes took 2 grams of ginger powder per day. This lowered fasting blood sugar by 12% and also dramatically improved HbA1c.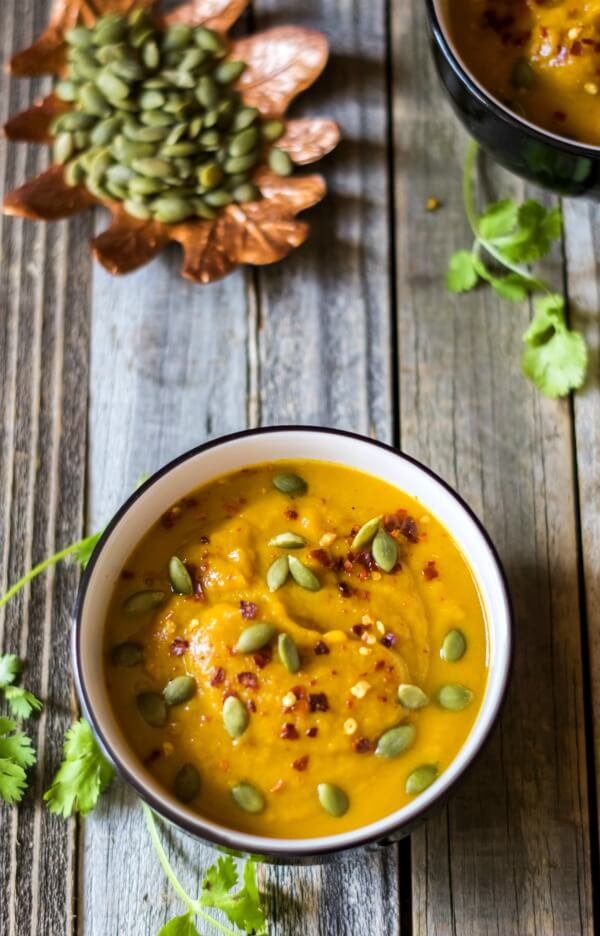 Garlic
Garlic has been used by many civilizations throughout history for it's nutritional profile and medicinal benefits.
In just 1 ounce of garlic, you'll receive many vitamins including:
Manganese: 23% of the RDA.
Vitamin B6: 17% of the RDA.
Vitamin C: 15% of the RDA.
Selenium: 6% of the RDA.
Along with some, calcium, copper, potassium, phosphorus, iron and vitamin B1
But the benefits of garlic don't stop there. My personal favorite way to use garlic is to beat infections and boost our immune system. I've personally used a combination of crushed garlic, high doses of Vitamin C, and Vitamin D to decrease the length of viruses and infections in myself and others in my family. It's worked incredibly well for our family!
But don't take my personal experience as reason to believe. There are studies that back this up too. One study, in the journal Advances in Therapy, found the use of garlic decreased the prevalence of colds by 63%. And when those in the garlic group did get a cold, the average length of cold symptoms were reduced from an average of 5 days to just 1.5 days.
Turmeric
I've saved the best for last. Some call turmeric the most beneficial nutritional supplement in existence. 
The compounds with medicinal properties in turmeric, called curcuminoids, are a powerful anti-inflammatory substance and also a fantastic anti-oxidant.
One of the supplements I took regularly as part of my lyme protocol has been curcumin. It helps reduce the incredible amount of inflammation the lyme causes in my body.
Chronic inflammation plays a major role in almost every chronic disease: heart disease, cancer, metabolic syndrome, Alzheimer's and other degenerative conditions. It's important we eat the foods that help decrease this inflammation and avoid the foods that cause more inflammation.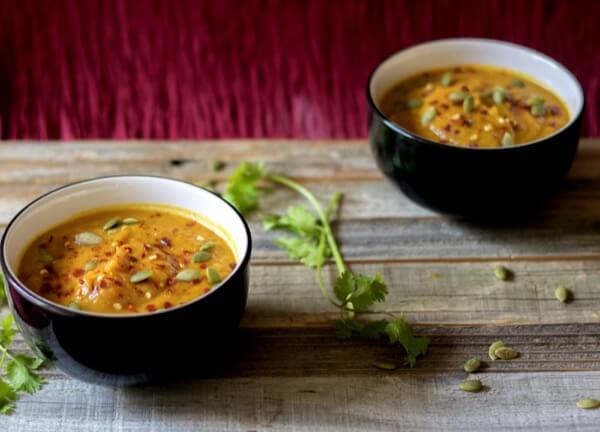 Ready to get started making this curried sweet potato soup filled with power-packed healing ingredients?
Curried Sweet Potato Soup
Ingredients
4

cups

sweet potatoes

peeled and cubed

½

cup

onion

diced

1

teaspoon

fresh ginger

grated (or ½ teaspoon ground ginger)

4

cloves

garlic minced (or ½ teaspoon garlic powder

½

teaspoon

turmeric powder

2-3

teaspoons

curry powder

½

teaspoon

cayenne pepper

optional, if you like a little heat

1

teaspoon

of smoked paprika

optional

4

cups

vegetable broth

1

Tablespoon

of olive oil

Salt and freshly cracked Pepper to taste

Fistful of Toasted Pepitas and/or Red Pepper Flakes to garnish

Splash of coconut milk

almond milk, or heavy cream (optional, if you'd like extra creaminess)
Instructions
Heat oil in a large pot over medium high heat.

Add the onions, ginger and garlic and sauté until the ginger and garlic is fragrant and the onions are translucent.

Add the cubed sweet potatoes, turmeric, curry, cayenne pepper (or paprika is you prefer less heat). Mix well.

Add salt and vegetable broth. Cook for 15 to 20 minutes on medium heat until the potatoes are soft.

Puree the soup using an immersion blender. Or puree it in batches using a regular blender or food processor.

Return the blended soup to medium heat. Add more broth, if needed, to adjust the consistency of soup. Also, check and adjust the seasoning to your taste.

Serve hot with a gentle sprinkle of red pepper flakes and a fistful of toasted pepitas.
Recipe Notes
Though curry powder contains turmeric, turmeric is added as a separate ingredient because it gives a vibrant color and adds healing property to the soup.
Smoked Paprika is an optional ingredient, but highly recommended. It imparts a lovely smokiness and beautifully compliments the curry flavor.
The inherent starch in the sweet potatoes makes the soup really creamy and velvety and does not require any thickener. You can add a splash of coconut milk or almond milk or heavy cream for an extra dose of creaminess.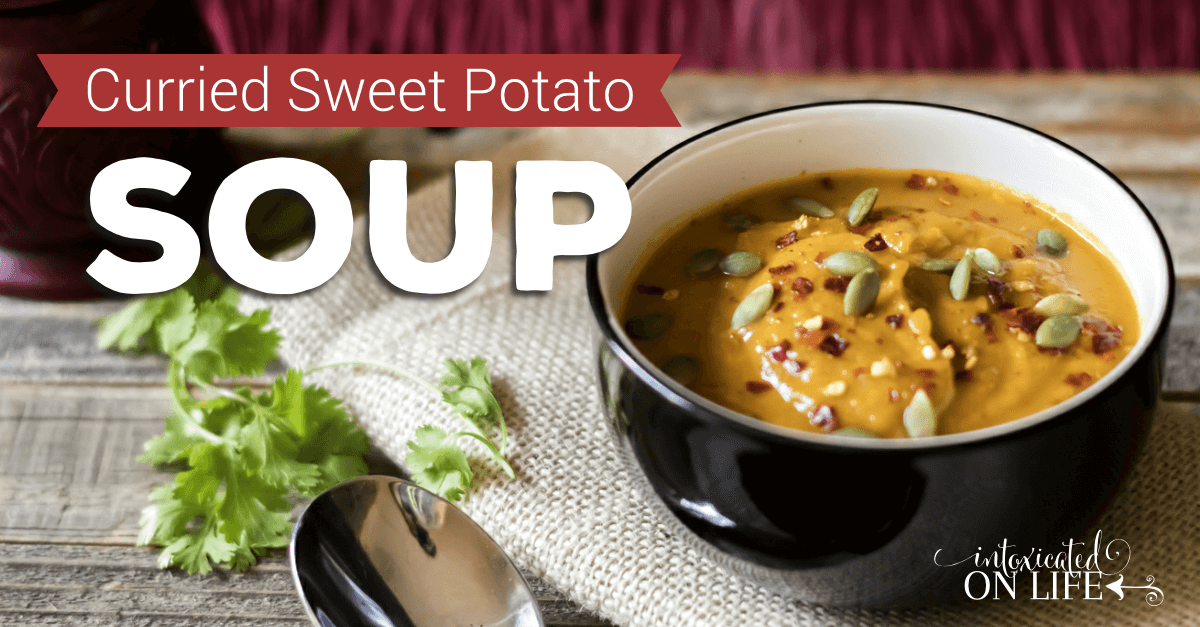 Sharing at Saving 4 Six, Juggling Real Food and Real Life, The Modest Mom Blog, Written Reality, Pam's Party & Practical Tips, and Mommy on Demand.
More Soup Recipes: