What's your favorite festive appetizer? This Cranberry Walnut Cheese Ball is a beautiful way to start any holiday meal!
Looking for gluten-free recipes and resources? This Everything Gluten Free page is a library of everything gluten free we've worked on.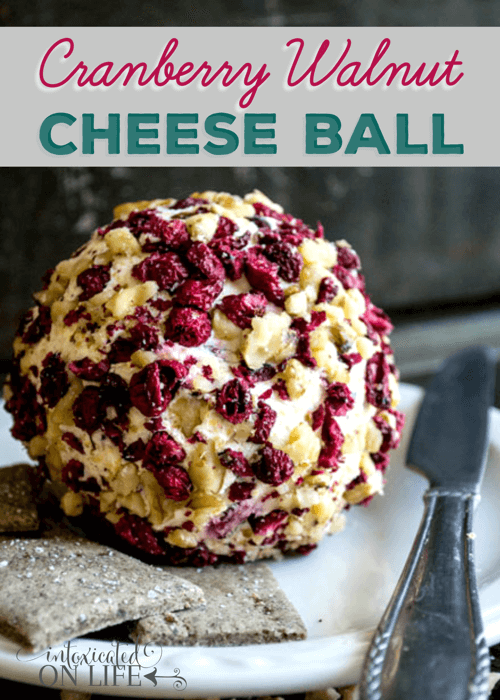 If I could eat whatever I chose for holiday get togethers, I'm pretty sure I would be fine filling up on just the appetizers. (Well, I might need to save a little room for dessert, of course.) And of all the appetizers I've had, cheese balls are probably one of my favorites. Though I'd never tried to make my own until recently, I'm happy to say that they're not only delicious, they're easy to put together!
This festive Cranberry Walnut Cheeseball combines the standard cream cheese and cheddar with a sweet tang from orange zest and dried cranberries. Rolling it in additional dried cranberries and walnuts gives the finished product a wonderful tart crunch.
Though there are endless delicious variations on cheese balls out there, I like to add as many health benefits as I can to every recipe I put together. Cranberries and walnuts are full of nutrition!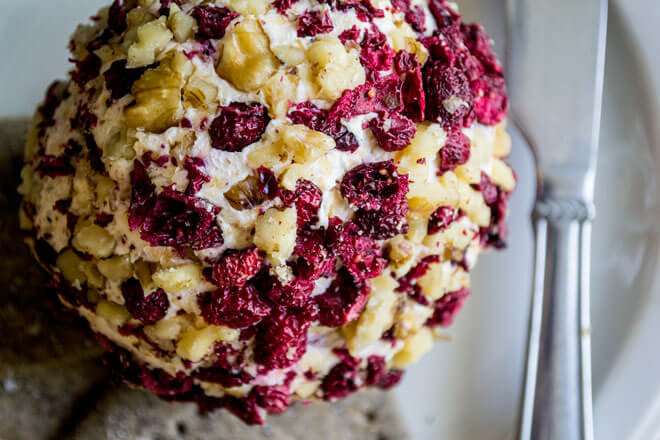 Walnuts have been shown to reduce the risk of prostate and breast cancer, support cardiovascular health, keep cholesterol levels healthy by boosting ALA (plant-based omega-3 fat alpha-linolenic acid), and have the highest antioxidant activity among other nuts. Their powerful polyphenols help scavenge almost all the disease-causing free radicals from the human body, too!
They're also full of neuroprotective compounds, including vitamin E, folate, melatonin, the B-complex vitamins riboflavin, niacin, thiamin, pantothenic acid, vitamin B-6, and folates, and minerals such as manganese, copper, potassium, calcium, iron, magnesium, zinc, and selenium.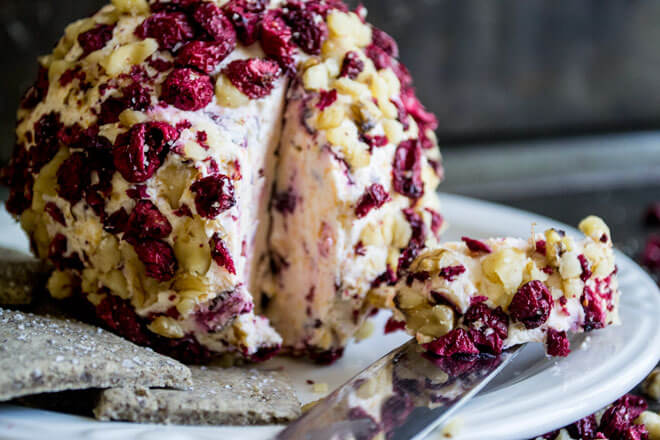 Cranberries are well known for their ability to effectively treat UTIs by inhibiting bacteria from adhering to the cells that line the bladder. They also contain vitamins like thiamin, riboflavin, niacin, vitamin B-6, E, C, and K, and the minerals magnesium, iron, phosphorus, sodium, potassium and zinc.
The tiny tart berries are also full of antioxidants and phytonutrients: cyanidin, peonidin, quercetin, and flavonoids that help inhibit the growth of H. pylori bacteria and give them their bright red color.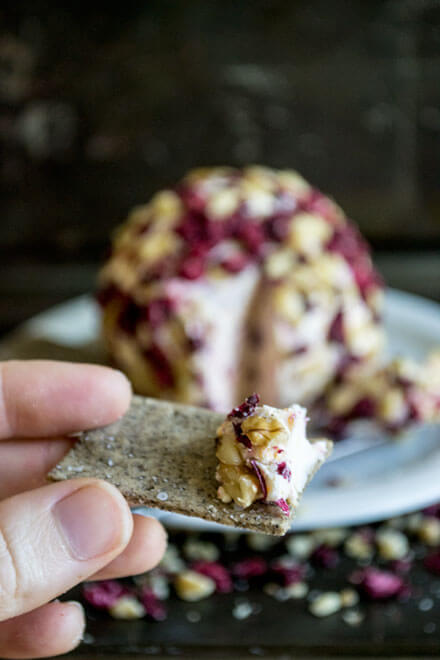 In this Cranberry Walnut Cheeseball, the cranberries and walnuts go wonderfully with the orange zest and cheese, but don't limit your cranberry/walnut pairing to only this cheese ball. Some other delicious recipes with cranberries and walnuts are my Cinnamon Apple Chutney and Cranberry Walnut Granola from Renee at Raising Generation Nourished.
Cranberry Walnut Cheese Ball
Ingredients
1 8 oz. package cream cheese, room temp
1 c. shredded sharp cheddar cheese
1 t. orange zest
1/2 c. finely chopped dried cranberries, divided
1/4 c. finely chopped walnuts
Instructions
A few hours (or the day before) you'd like to devour the cheese ball, set out the cream cheese and let it come to room temperature.
Combine cheeses, zest, and half of the chopped cranberries until smooth and well mixed.
Stir cheese mixture in a ball and place it in the center of a piece of plastic wrap.
Wrap the ball in the plastic, firming up the shape as you wrap.
Place the cheese ball in the fridge overnight or until firm.
Before serving, combine the remaining cranberries with the walnuts.
Roll the cheese ball in the cranberry/walnut mixture.
Serve with gluten-free crackers.
Notes
For my dried cranberries, I simply roughly chopped up some fresh cranberries, spread them on a parchment-lined cookie sheet, and dehydrated them at 170 degrees for about 6 hours. You could alternately use craisins, though they usually contain sugar.
I hope you love this Cranberry Walnut Cheeseball!
What's your favorite appetizer? What's your favorite dish with cranberries and walnuts?
More Appetizer Recipes: