If there ever was a time when a mom or dad could give their child "the talk" and call it good, those days are long gone.
Our oldest turned 9 this summer, and both my wife and I felt he was overdue for some formative instruction about sex. By "sex" I mean sexual intercourse—he grew up learning about gender differences, correct names for body parts (at least boy parts), and learning to respect others' privacy. But Trisha and I decided he was more than ready to get the fuller story.
Speaking to some friends about this afterward, I was met with some raised eyebrows. "Nine years old? The sex talk? Isn't that a bit young?"
Of course every child is different. Every child has their own attention span and level of inquisitiveness. We cannot have a one-size-fits-all approach to instructing our children about anything—much less sex ed.
But let's shatter the myth that sexual topics are off-limits for the middle childhood years (about age 7 to puberty).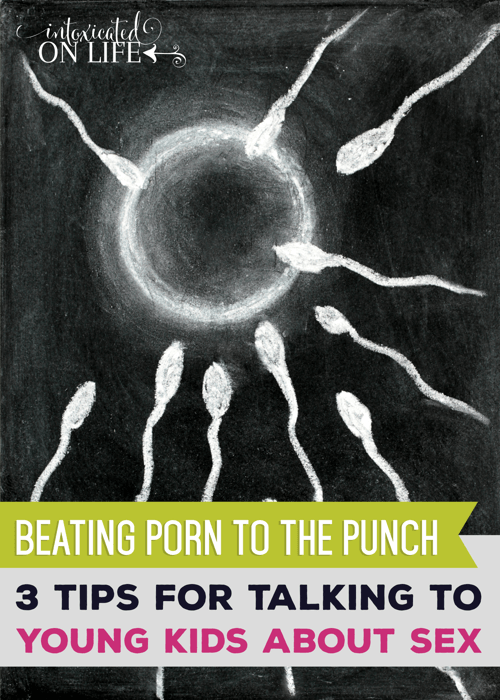 Fact: The World is Already Teaching Our Kids About Sex
We try to limit the media our sons consume. We pay close attention to movie reviews, TV programs, and video game content. Still, it's difficult to take our children out into the world without our over-sexualized culture slapping them across the face.
Want to find a child-friendly YouTube clip? Good luck not getting a litany of raunchy "related videos" appearing on the page. Want to take a trip to mall? Better avoid the wings with Victoria's Secret or Abercrombie & Fitch. Want to buy groceries? Try finding a check-out isle where Katy Perry or Kim Kardashian aren't giving your kids an eye-full of cleavage on every magazine rack.
Millions of pictures painting a thousand words. The last thing my sons need is my silence about sex.
Tip #1: Get Over the Fear of "Too Much Too Soon"
For many parents, they fear talking about sex will only awaken their child's interest in sex too early. "What if I talk about penises and vaginas and they go searching on Google afterward?"
First, buy a good filter for your computer. No harm in that.
Second, recognize that your child is a sexual being already. No, your child may not have reached a stage of raging hormones, but by the middle childhood years, they are curious about gender and intimacy.
Dr. Margaret Stager from Case Western Reserve wisely says that "too much too soon" is a rare circumstance in today's world. The opposite extreme—your children not knowing your values as they pertain to sex—is far more common and far more dangerous. "Because of the society we live in," she writes, "the consequences of avoiding these conversations far outweigh the consequences of giving too much information too soon."
Sexualized media is everywhere, and the question is not if your child will see porn someday. The question is when. You might be able to keep porn at bay longer than other parents, but in the world we live, it is nearly an inevitability. We want to be the first to talk to our kids about sex. Dr. David Currie of Doing Family Right says, "The problem is that kids as young as 8, 9, 10 are seeing way more explicit stuff than would even be shown on TV…I've been pushing parents to have this first talk about sexual issues by age 9."
As you give more detail with each progressive conversation, you not only close gaps in their understanding, you also create a kind of dynamic with your child where he or she feels comfortable listening to you talk about sex. You will become for them an expected and comfortable source of information.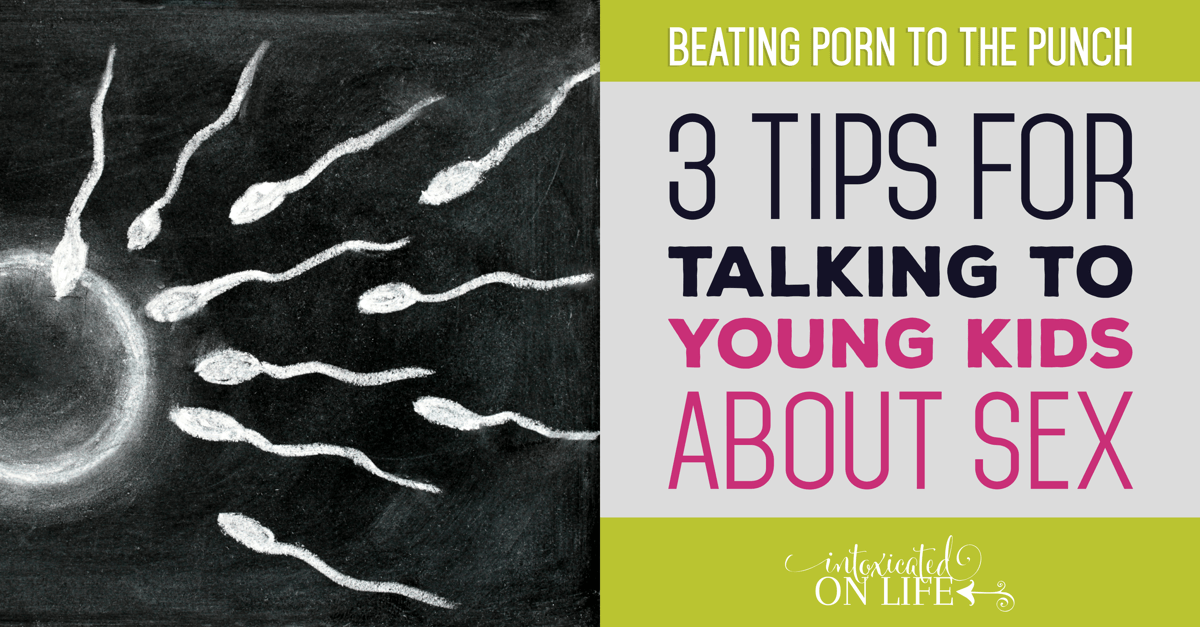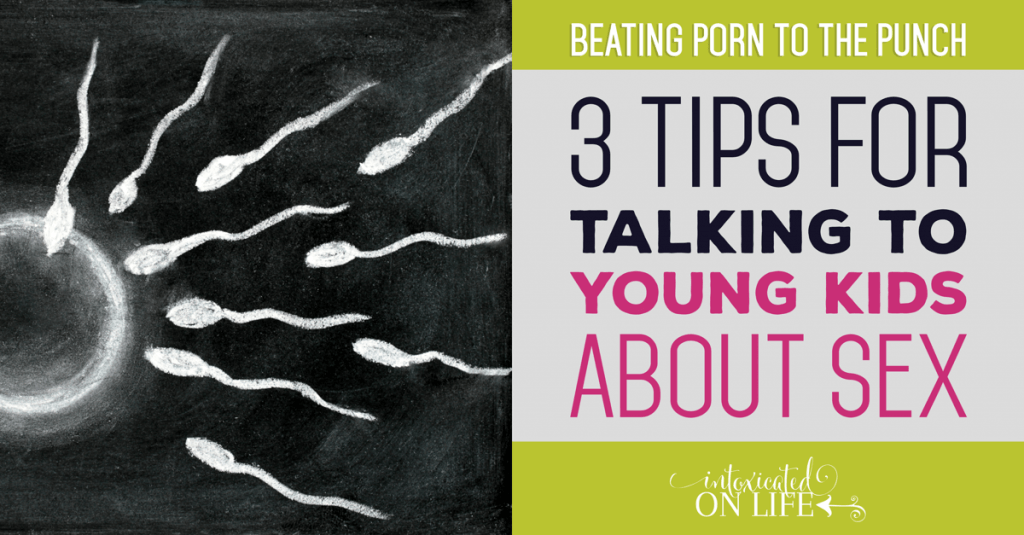 Tip #2: Use the Bible to Break the Ice
Nothing prepares you more for talking to your kids about sex than grappling God's thoughts about sex. There are many great resources available to help with this, but a good "theology of sex" should include, at a minimum, the following talking points for our kids.
God created us male and female, and together, we are an expression of the image of God (Genesis 1:26-27). In our formative instruction, this is a simple place to start. Explain to them what physically makes men and women different from each other. Use simple diagrams (my Bible study for families, The Talk, includes simple cartoon diagrams showing internal anatomy).
God commanded men and women to be fruitful and multiply, having children to fill the earth (Genesis 1:28). From this we can talk to our kids about how babies are made, discussing the role of sperm and egg and the fascinating development of a human being in the womb. Find some good online videos of this. Watch your kids become fascinated with how we are fearfully and wonderfully made (Psalm 139:14).
God created sex to bring new human life into the world and create oneness between husbands and wives (Genesis 2:18-25). This is where we get to explain to our children the activity of sexual intercourse itself. Reactions may vary in kids, but as the parent it is important to express the idea that sex is God's idea, and it is a beautiful expression of love and oneness.
Sex is pleasurable and passionate, but it should not be a passion we stir up until it is time for marriage (Song of Solomon 2:3-7). Our kids need to know that sex isn't "dirty," nor is it something to be played with.
Sex binds you to a person in a special way, so it should never be done with anyone who is not your spouse (Exodus 20:14; 1 Thessalonians 4:3). Sex is never casual. It always unites you to a person. We should never have sex unless we have also united ourselves to a person for life in marriage.
Sex should never be forced on anyone (2 Samuel 13:12-14). With the rate of child sexual abuse as high as it is, it is important all children hear from their parents about this threat. Children should know that they should tell you about anyone who touches them in a sexual manner.
For middle childhood, these are basic talking points. Later, as they approach adolescence, other talking points will be critical such as the physical and mental changes associated with adulthood (Luke 2:52), peer pressure (Proverbs 1:8-19), temptations for easy sex (Proverbs 7), guarding the eyes (Job 31:1), and guarding the heart (Proverbs 4:23).
Tip #3: Establish a Teaching Routine
Call it whatever you want. Devotions. Family worship. Bible time. God time. Prayer time. Every parent should have a routine established with their children to open the Scriptures together as a family and talk about the things of God.
Nearly every book of the Bible, especially ones that are heavy in stories, will bring up sexual topics for you. After you've laid a good foundation of understanding in your kids, let these stories bring godly sexual principles to mind.
Take Genesis for example. Abraham and Hagar. The sin of Onan. Jacob and his wives. The list goes on and on. Let the Bible bring up the topic for you.
.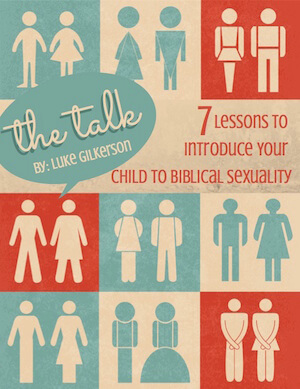 It's Bible study and biology lesson rolled into one.
Purchase our family Bible study, The Talk: 7 Lessons to Introduce Your Child to Biblical Sexuality in paperback or digital download. This series of lessons, all anchored in the Scriptures, is designed to help parents to talk meaningfully with children about sex.
Several lessons are filled with colorful, child-friendly illustrations of internal anatomy, as well as diagrams that teach children about how life begins and how babies develop in the womb.
Endorsed by…

"This publication has all the talking points you need.  The introduction for parents alone is worth the read. Using these seven lessons will provide your children with a legacy of value in their present and future relationships." – Ron DeHaas, Founder and CEO of Covenant Eyes
Get this Bible study in our store.