There are dozens of English Bible translations available, but what's the best Bible translation for kids? One major factor to consider is your child's reading level.
Recently, we were shopping for Bibles for one of our kids. Can we say, overwhelm?
There are so. many. options.
What helped us narrow down our options was considering several important factors…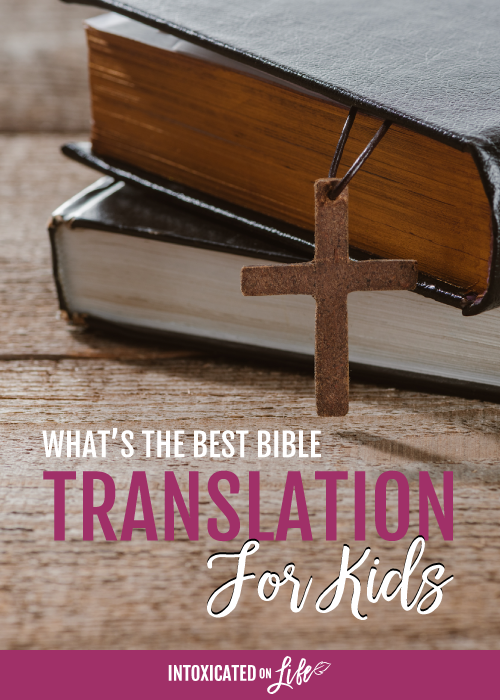 Longevity: Ideally we wanted a Bible he could read over and over for years, not just a Bible that was suitable for one or two years of his life.
Reading Level: At the same time, we didn't want to buy him a 12th-grade-reading-level Bible when he was only in 4rd grade. We wanted him to enjoy reading it and be able to understand it.
Features: Reading level aside, Bibles come with all kinds of "features" these days: references, concordances, study notes, character highlights, etc. We wanted features that would be helpful to his growth in reading the Bible on his own.
Here's how we choose the right Bible translation for our kids…
Start with Audio Bibles
Kids don't just pop out of the womb reading, so we start by using audio Bibles and of course fantastic read-aloud story Bibles with our pre-readers.
Using audio Bibles can be an engaging way to hear the Word of God read aloud, especially for kids who aren't reading or not strong readers.
It's important to note that the Bible was written in a largely oral culture, so it was written in order to be read aloud. The public reading of Scripture was a primary way God's people were expected to take the Bible into their minds.
Use a free resource like Faith Comes By Hearing or Bible.is. Bible Gateway also has a large collection of free audio Bibles to choose from.
For a well-produced dramatized Bible on CD, The Word of Promise Audio Bible (NKJV) is a good choice.
Abridged Bibles for Early Readers
As for reading the Bible themselves, we've often not started our kids on complete Bible translations but abridged Bibles. This is a great way to help them start getting in the habit of reading just a little something for their personal devotional time without being overwhelmed.
Here are some of our personal favorites…
Frolic Preschool Bible: Preschool-1st grade
Day by Day Begin-to-Read Bible: Kindergarten-2nd grade
Day by Day Kids' Bible: 2nd-4th grade
Reading Levels of Complete Bible Translations
Different Bible translations are written at different reading levels. Consider this as you pick out translations for your kids to use.
You can test your child's reading level here if you don't know it.
New Century Version (NCV): 3rd grade
International Children's Bible (ICB): 3rd grade
New International Reader's Version (NIrV): 3rd grade
Easy-to-Read Version (ERV): 4th grade
God's Word (GW): 5th grade
New Living Translation (NLT): 6th grade
New King James Version (NKJV): 7th grade
Common English Bible (CEB): 7th grade
New International Version (NIV): 7th-8th grade
Holman Christian Standard Version (HCSV): 7th-8th grade
English Standard Version (ESV): 10th grade
New Revised Standard Version (RNSV): 11th grade
New American Standard Bible (NASB): 11th grade
King James Version (KJV): 12th grade
What are Good "Features" to Look For?
As kids get older and become more comfortable reading the Bible for themselves, there are several features that can be helpful.
👍🏼👍🏼 Reference Bibles
Reference Bibles are Bibles with reference notes, usually in a separate column, that show how different parts of the Bible connect thematically. This is great for teaching kids to see connections between one book and another.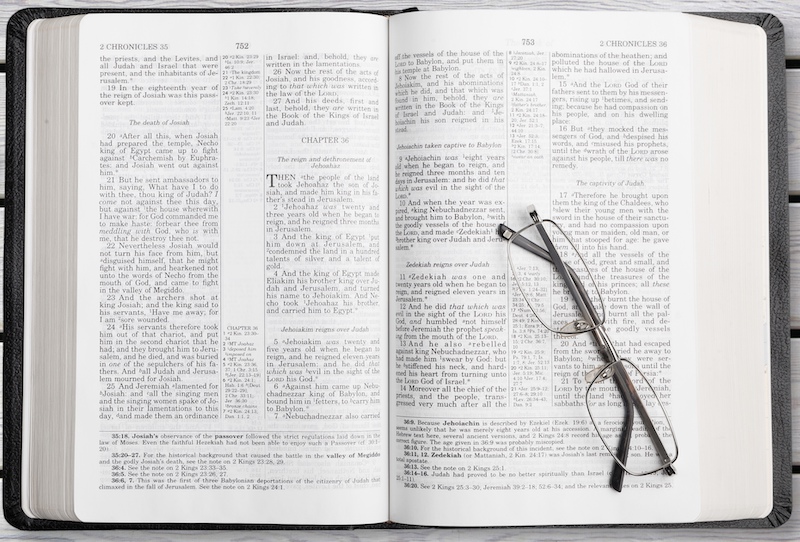 👍🏼👍🏼 Journaling Bibles
If you want your kids to be able to mark up their Bibles with notes, journaling Bibles can be very helpful. Supplied with large margins for note-taking, journaling Bibles encourage kids to engage with the text. They can write sermon notes (always good for active listening at church), notes from their own studies, or even personal dates of importance when God opened their eyes to important truths.
👍🏼👎🏼 Coloring Bibles
Coloring Bibles (sometimes called "illuminated" Bibles or "creative journaling" Bibles) offer coloring pages for teens or adults. This can be a nice gift Bible idea and can double as a good activity book for kids who have the wiggles in church.
The coloring may, however, be a distraction from the real value of the book: the inspired words they are meant to read.
👍🏼👎🏼 Study Notes
Study notes can be very helpful: just make sure you trust the authors.
Sometimes study notes are pretty bare-bone: they just help the reader to know unfamiliar names, places, dates in history, weights and measures, etc. Other times study notes act more like rich commentaries. Be sure when you get a study Bible to check who wrote the notes: are they names of Bible teachers you know and trust?
Our personal favorites are, the ESV Study Bible and the Reformation Study Bible .
👎🏼👎🏼 Red Letters
Red Letter Bibles set apart the words spoken by Jesus with red text. Using red ink in Bibles goes back to the middle ages, but wasn't until the beginning of the 20th century that the practice was used to highlight the words of Christ.
The practice became popular especially with King James Bibles because that translation doesn't supply quotation marks. This makes it easier to spot when Jesus is speaking.
While there's not necessarily anything wrong with this practice, the major drawback is that it gives the subtle impression that those words are somehow more important or even more "inspired" than the text written in black. This isn't the impression we want to give our kids.
Which Bibles have you purchased for your kids? What features do you look for?