There was a time when my husband and I were rather skilled at patting ourselves on the back.
I think it was pretty well-deserved. After all, we had given the world its very first angelic two-year-old.
We were the best parents ever.
She was compliant and sweet, cheerful and thoughtful.
Yep. Best. Kid. Ever.
"Terrible twos?" we scoffed in private. "Not our girl!"
And then she turned three.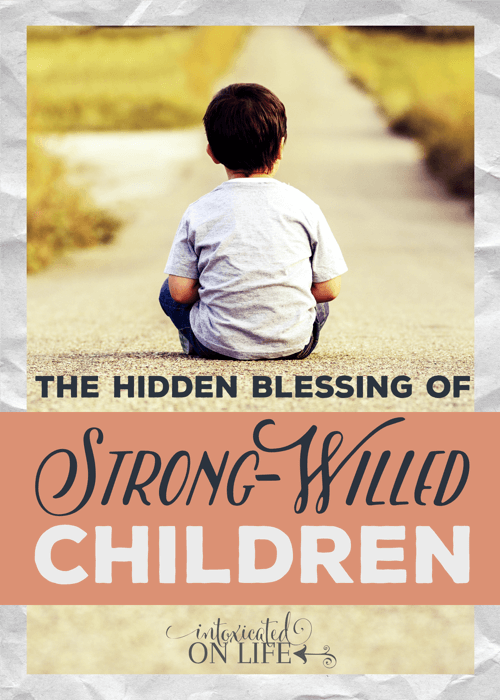 Wow.
Gone was our delightful little angel. In her place was…
well, I'll let your imagination fill in the blanks.
She was still agreeable as long as things were going her way. But when they weren't, you'd better watch out!
God carried us through those preschool and early elementary years with hefty doses of grace along with some eye-opening truths.
Truths for Parents of Strong-Willed Kids
1. Be thankful when you see sin.
This goes against our grain, doesn't it? After all, sin is undoubtedly a bad thing. But guess what? Whether or not you see sin in your child's behavior, sin is certainly present in their hearts.
One truth God has whispered to my heart over and over during these years is that sin can be dealt with when it's brought to light. I'd much rather see the sin than have it go unnoticed and unaddressed.
Many parents cite their kids' strong wills as a reason to send them to school. Perhaps this is the best choice for those families. But my daughter's strong will was one of the primary reasons my husband and I chose to keep her home. You see, she showed the worst of her stubbornness with us. She rarely gave Sunday School teachers or AWANA leaders a hard time, and I knew she would do the same in a school environment. I didn't want her to conform to external standards while harboring a sinful heart.
2. Use their sin as a springboard to the gospel. 
It's not easy to share the gospel with a child who's practically perfect, because the prerequisite step to receiving a Savior is acknowledging that you need one. A strong-willed child will give you plenty of opportunities to lovingly point out their sin and their need for a Savior. It also allows you to remind them over and over of God's love for them in spite of their sin – to the extent that while they were still sinners, Christ died for them (Romans 5:8).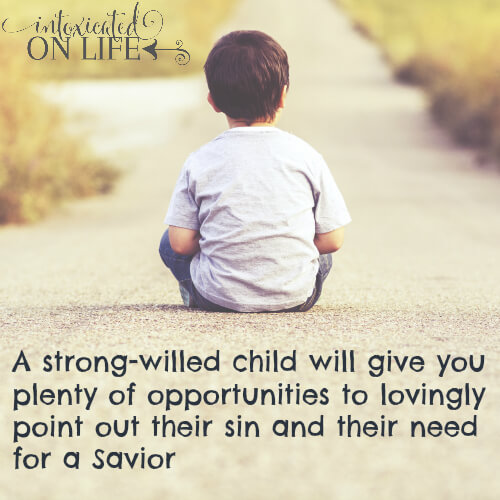 3.Pray. 
So often we can be so focused on the basic requirements of day-to-day life that we forget our calling to raise up Christ-followers. But that is, in fact, God's intention for families (Malachi 2:15, Deuteronomy 6:4-9) – and Satan doesn't like it one bit. Parenting means wrestling demons, and spiritual warfare requires spiritual weaponry.
We need to be praying parents! Pray for wisdom for yourself and your spouse. Pray for God to soften your child's heart to the gospel. Pray for Him to grant her a heart that's submissive to you, and ultimately, to Him. Ask Him to conform that strong will to His, and to use it to advance the Kingdom of God. Knock on heaven's door, and keep knocking!
4. Be a good example. 
Are you teachable? Do you yield to others, preferring them over yourself? How do you handle criticism? Do you gripe about someone who dared to disagree with you?
It's impossible to parent effectively from a place of hypocrisy. "Do as I say, not as I do" is a surefire way to foster disrespect and anger in your child's heart (Ephesians 6:4). Examine your own heart before God, and ask Him to show you areas in which you're teaching stubbornness by your example.
5. Don't be quick to accept blame. 
Remember how eager my husband and I were to take the credit for our angelic two-year-old? It was only logical, then, that we blamed ourselves when her behavior suddenly took a turn for the worse.
The truth is, we cannot control our children's hearts. If your child has a strong will, it is good to prayerfully consider whether you're being a godly example. It's also wise to evaluate your parenting style and disciplinary methods, strategizing about how to disciple your little firecracker and world-changer.
But once you've dealt with sin the Holy Spirit reveals to you through conviction, it's not beneficial to beat yourself up about sins and struggles in the past, or to take full responsibility for your child's behavior.
6. Press on.
I'll be honest and let you know that for years our school days included tears (hers, mine, or both) more often than not. But she's now eleven years old, and for several years now we've enjoyed a close relationship built on mutual respect and kindness toward one another.
We haven't broached the teen years yet, but I'm so thankful for the way I've seen God work in her life thus far. There will no doubt be more rough patches ahead as she forges toward independence, but as I look back on God's past faithfulness, I can only conclude that He'll continue to mold her into the strong woman He wants her to be.
Have you been blessed with a strong-willed child? What parenting strategies have been helpful (or not-so-helpful) for you?