You are enough. 
This syrupy-sweet statement haunts me.
When my son innocently inquires for umpteenth time, "Mama, when you get rid of Lyme disease and feel better, do you think we can…"
I feel like an errant mother not able to keep up with my kids. Not able to participate in so much of life that I want to because of my physical limitations and illness.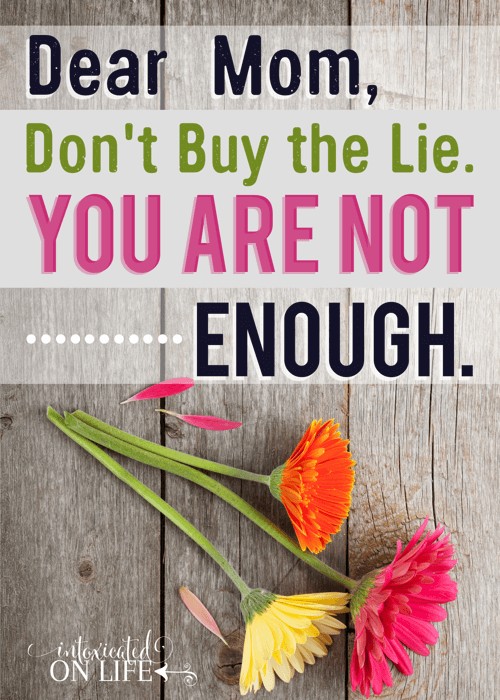 You are enough.
This statement condescendingly mocks me.
I get frustrated with kids who don't obey and send them to the other room, or I put them in front of the TV instead of correcting them and dealing with the matters of their hearts. I don't instruct when I should. I don't spend the time teaching them when I should.
You are enough. 
It's a patronizing statement.
Why? Because I know I'm not enough.
I fail. Time and time again, I fail. I don't want to fail. I plan to do good by my children, but I fail them. I fail my husband. I fail my church. I fail my neighbors. I fail.
And yet I still hear the mantra, "You are enough."
Don't get me wrong: I get why people think they need to hear those words. We all need to be reminded we are God's special creations. We are unique. We are God's image-bearers. We are daughters of the King. This gives us a dignity we cannot possibly overstate.
But this hardly means we are enough. If I was "enough," it would mean I was equal to what is needed, fully meeting the needs or expectations of others (or even myself).
But I don't. I never have been enough. Never will be.
Cheer Up, Wretched Woman
Really, the mantra should be: I am not enough, but that's okay.
I identify all too well with Paul when he says:
For I know that nothing good dwells in me, that is, in my flesh. For I have the desire to do what is right, but not the ability to carry it out. For I do not do the good I want, but the evil I do not want is what I keep on doing. Now if I do what I do not want, it is no longer I who do it, but sin that dwells within me.

So I find it to be a law that when I want to do right, evil lies close at hand. For I delight in the law of God, in my inner being, but I see in my members another law waging war against the law of my mind and making me captive to the law of sin that dwells in my members. Wretched man that I am! Who will deliver me from this body of death? 

– Romans 7:19-24
Can you identify with this? Deep down, don't you realize that as much as you want to be enough, as much as you want to never fail your family, you will. You will fail because of the sin that dwells within you.
Can you picture Paul (after writing this) staring at a cheesy inspirational poster of a man climbing a mountain, silhouetted against a sunset, consoling himself as he whispers "I am enough"? Not even close.
How did Paul find his consolation? Instead of finding consolation in his own enough-ness, in his very next breath Paul said, "There is therefore now no condemnation for those who are in Christ Jesus" (Romans 8:1). No, mom, you aren't enough, but Christ is, and you belong to Him.
It is only when we realize how not enough we are that we can really celebrate how amazing Christ is.
The late Presbyterian minister Jack Miller used to sum up the gospel in the most fitting way:
Cheer up! You're a worse sinner than you ever dared imagine, and you're more loved than you ever dared hope.
I am not enough, and that's okay.
I see the I-am-enough mantra fly around on social media all the time. I see it on blog posts. I see moms speak this phrase to other moms. I watch videos of Trace Adkins telling Sarah Drew in Moms Night Out she is enough.
And I get it. I get that it's meant to be an encouragement—and maybe on a superficial level, it is. But I think most of us know we're not enough for our families. We know it's just a self-serving lie—a lie to make us feel better about ourselves.
Maybe me saying this will make you angry, but hear me out, moms. When you come to the realization that you're not enough—that you never can be enough—it's so freeing. Knowing we are not enough, we can point our families to the One who is.
I'm glad my boys aren't solely dependent on me, because I'm sorely lacking and I'll fail them. I'm glad they have someone bigger in their life that I know will not fail them.
Inevitably, I will fail my family. You will fail yours.
But not only do you not have to be enough, you also don't have to tell yourself you are just so you can feel better about it.
In my better moments, at best, I am a window to the One who's love is perfect. In my worst moments, I am a reminder to my family of how Christ must be their first love, their true Father.
Dear mothers, be encouraged. Be encouraged in knowing the God of the universe is in control and His love is never-ending. Direct your sons and daughters to Him and He will not fail them. He will be enough.
Be encouraged. 
Christ is enough.