It's possible that cookies are the best dessert. Perfectly portioned, portable, sweet delights that are difficult to resist and beyond fun to bake with your family. And out of all of the cookies I make classic, gluten-free snickerdoodles might be my favorite!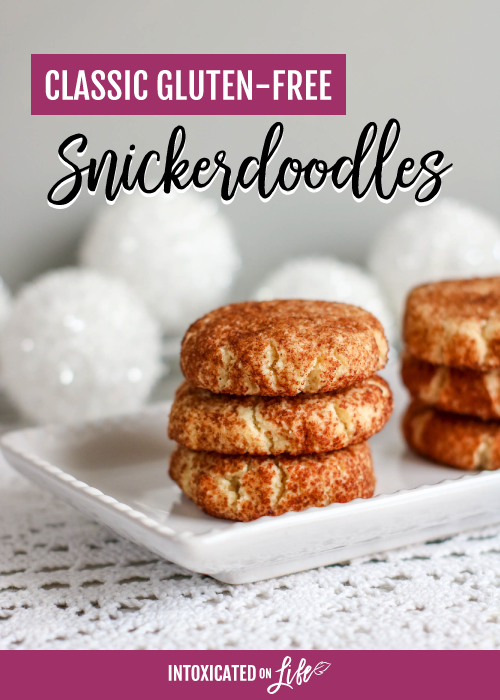 (Looking for gluten-free recipes and resources? This Everything Gluten Free page is a library of everything gluten free we've worked on.)
Some of my favorite memories growing up, and memories I make with my family now, are all in the kitchen baking our favorite cookie recipes. It's an activity that everyone can participate in … and everyone gets a reward at the end! 😉 
Just like the recipes that you grew up with, these chewy, cinnamon coated cookies have proven that they are definitely fan favorites. This recipe elevates the cookie with a base that is gluten-free – Perfect for those with gluten allergies or sensitivities. 
These classic, gluten-free snickerdoodles are the perfect sweet treat to bake and serve anytime!
Monk Fruit Sweetener in your Gluten-Free Snickerdoodles?
This recipe uses monk fruit sweetener as a substituted for sugar. You might be scratching your head and wondering what monk fruit sweetener is? Up until about a year ago, I really hadn't had any experience with it, myself!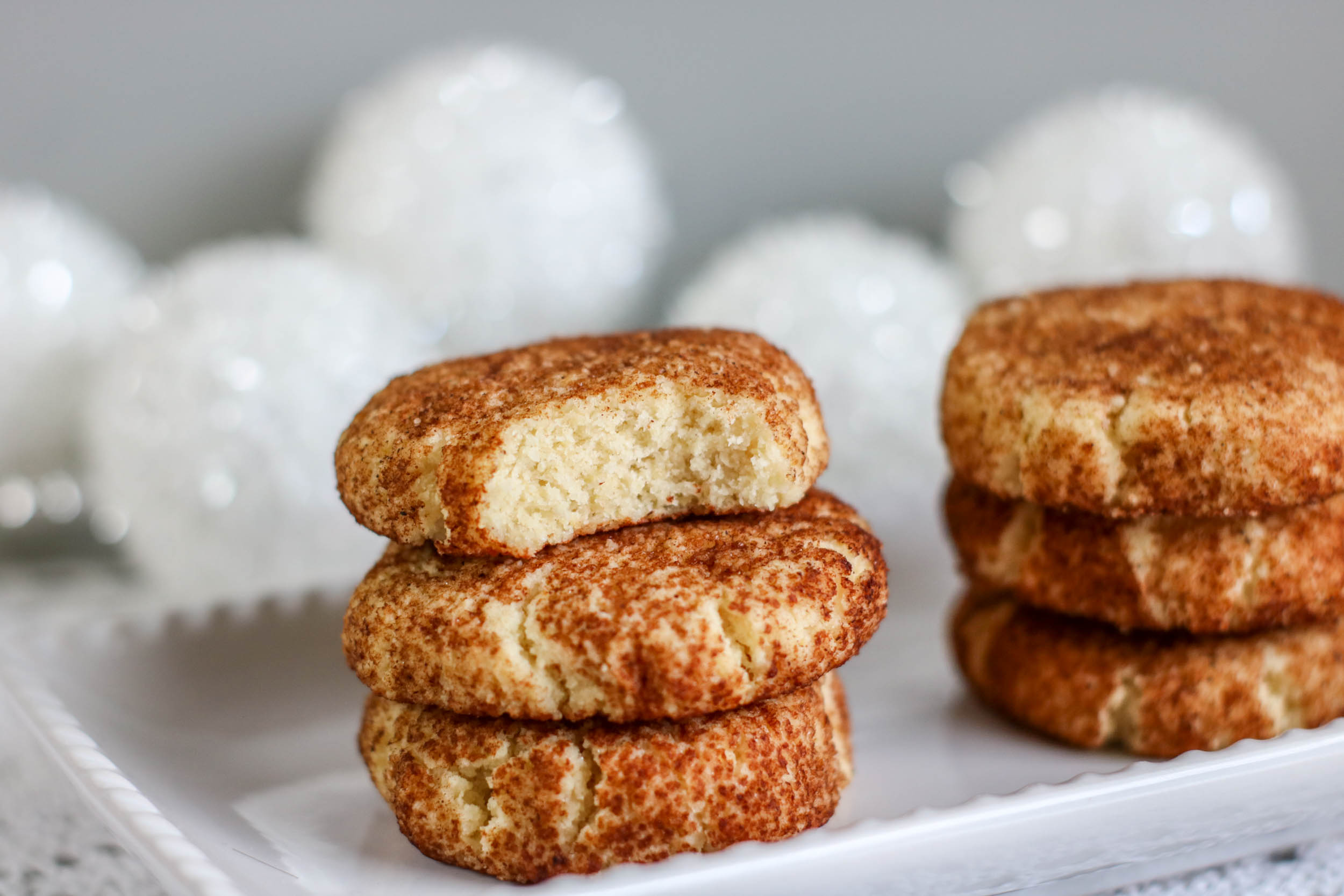 Monk fruit is a natural sweetener made from the Siraitia Grosvenorii fruit (also known as monk fruit  or Luo Han Guo). This fruit is native to Southern China and Northern Thailand and is part of the gourd family. 
Believe it or not, monk fruit sweetener is actually sweeter than sugar  — by a lot! It's around 250 times sweeter than sucrose. 
Besides packing a deliciously sweet punch, this sweetener offers several other unexpected health benefits. 
Because monk fruit sweetener does not actually contain any sucrose or sugar, just mogrosides, which are compounds produced by the fruit, it's typically considered safe for those with diabetes.
Monk fruit sweetener also has zero calories, and zero carbohydrates, making this and an all-around great choice for a natural sweetener if you're trying to lose weight!
In 2011 there was a study done using Monk Fruit and it was discovered that the mogrosides have anti-inflammatory properties. This is good news for many people who struggle with chronic inflammation leading to pain, heart disease, cancer, and many other diseases!
Keep in mind, not all monk fruit sweetener is created the same. Most manufacturers mix monk fruit with other sweeteners and fillers because on it's own it would be too sweet to use. I've linked to my favorite brand in the recipe below.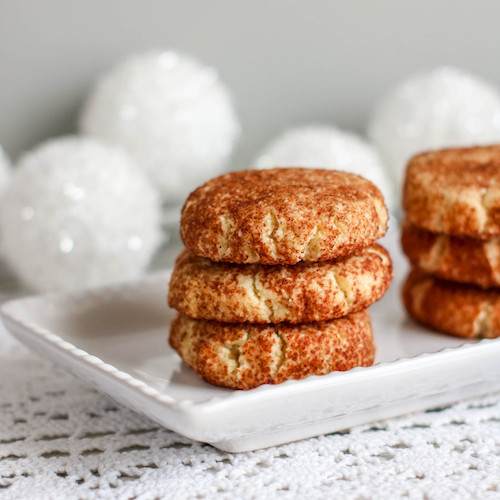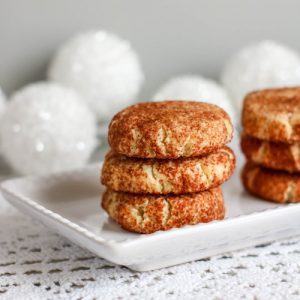 Print
Classic Gluten-Free Snickerdoodles
These classic, gluten-free snickerdoodles will be a crowd-pleaser from your kitchen!
Instructions
Preheat oven to 375 degrees. Prepare a baking sheet with parchment paper or use a baking stone or silpat.

Whisk together almond flour, coconut flour, xanthan gum, baking soda, cream of tartar, and salt until well combined.

In an electric mixer, beat the butter for 1 to 2 minutes.

Add monkfruit to the butter and continue to mix for 7 to 8 minutes until fluffy, scraping down the sides periodically. Mixing for this amount of time is essential as the texture of the butter will change.

Add the vanilla and egg to the butter and mix until blended slightly. The mixture will not be even.

Slowly add dry ingredients, mixing until just incorporated.

In a small bowl, whisk together cinnamon and xylitol until blended.

Using a cookie scoop (about 2 tablespoons), divide dough into equal portions. Roll dough in cinnamon mixture until coated evenly.

Place cookie on baking sheet and press down to about ½ inch thickness. These cookies will not spread.

Bake for 8 to 10 minutes until the cookies are set. Remove from oven but rest on cookie sheet for 5 to 7 minutes. Transfer cookies to cooling rack and cool completely before storing in an airtight container.
Notes
Nutrition information includes total carbohydrates. Many people are able to deduct the fiber and sugar alcohol carbohydrates from the recipes to determine the net carbs which will impact their blood glucose levels. 
Nutrition
Calories:
85
kcal
|
Carbohydrates:
3
g
|
Protein:
2
g
|
Fat:
8
g
|
Saturated Fat:
3
g
|
Cholesterol:
16
mg
|
Sodium:
55
mg
|
Potassium:
12
mg
|
Fiber:
2
g
|
Sugar:
1
g
|
Vitamin A:
123
IU
|
Calcium:
18
mg
|
Iron:
1
mg