Have you used coconut flour in the kitchen yet?
When we started our gluten-free adventure, I was very intimidated by the many gluten-free flours and baking mixes on the market. We chose to give up gluten (and grains) for a month for nutritional reasons, so I want to be sure the new food items in our diet are as healthy as possible.
Coconut flour has quickly become one of my favorites.
Are you looking for more tips for going gluten free? I've gathered them all together in this Everything Gluten Free page.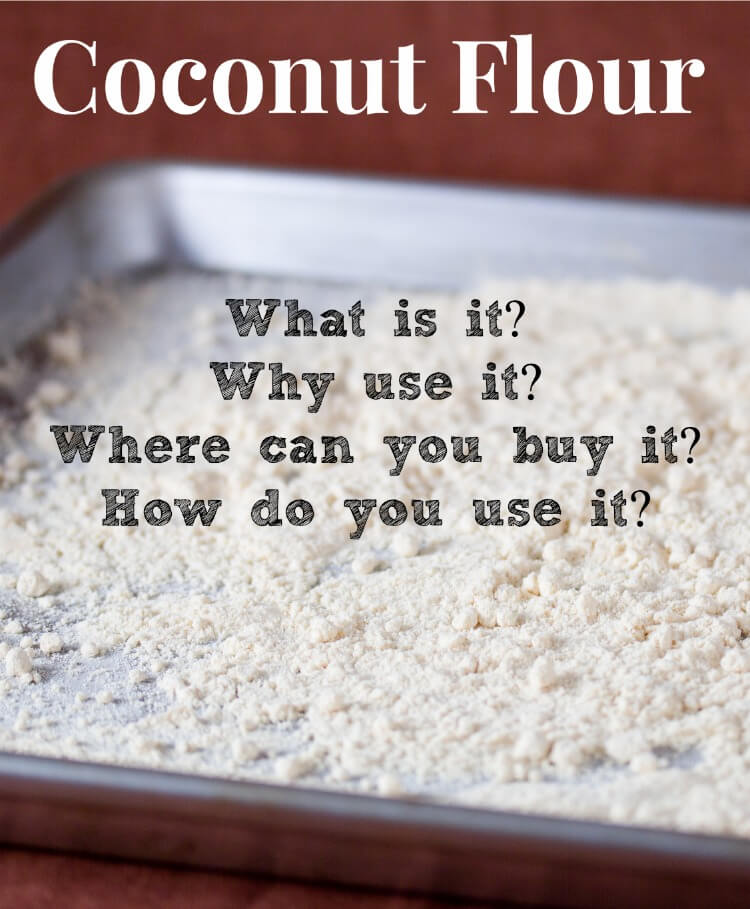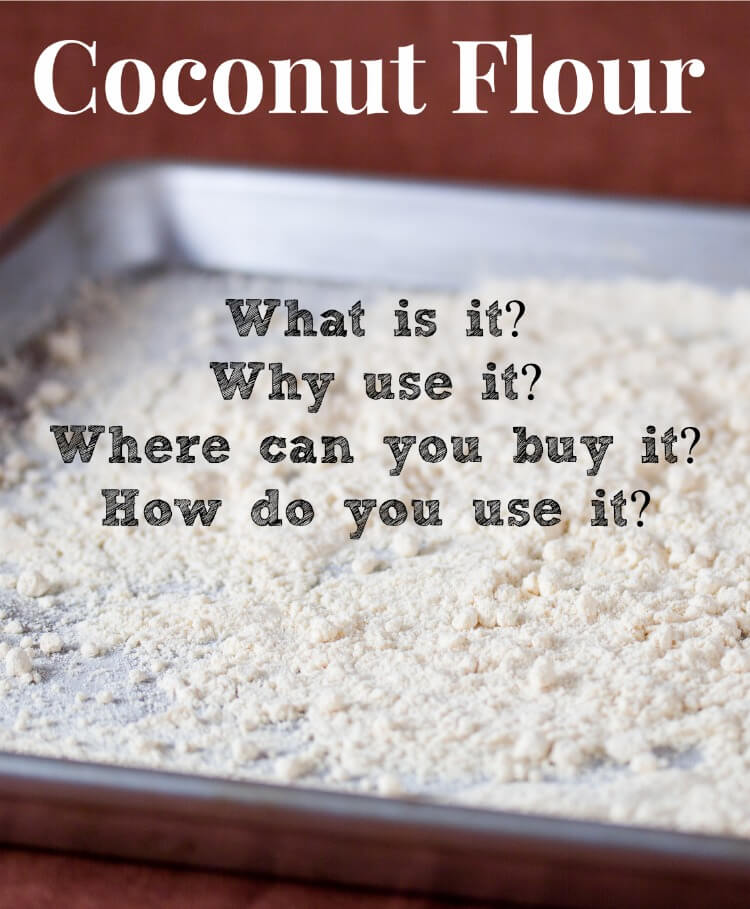 What is coconut flour?
Coconut flour is an off-white powder made from dehydrated and ground coconut meat, often a by-product of making coconut milk. The coconut flour has a slight coconut smell and imparts a coconut flavor when used in cooking and baking. 
Why use coconut flour?
Coconut is not a grain and does not contain any gluten. It is not considered a common allergen and is generally safe even for people with tree nut allergies.  It is a great staple to have on hand in an allergy friendly kitchen.
Coconut flour has a low glycemic index while being high in fiber and protein.  The high fiber reduces the absorption of sugar into the blood stream which will help avoid blood sugar spikes associated with traditional wheat products.
The December 2006 journal of Innovative Food Science and Emerging Technologies states adding coconut flour to your diet can significantly reduce cholesterol levels as well as reduce chronic diseases like diabetes and cardiovascular disease.  It is also shown to reduce the risk of colon cancer.
Where can you buy coconut flour?
I was very surprised to find coconut flour at WalMart. Since we started a gluten-free diet, I have noticed gluten-free products in all the stores we shop at. I have been very pleased to find coconut flour easily in our three major grocery stores.
Some stores will have a separate health food or organic section where gluten-free (and other allergy-friendly) products are located. In other stores, coconut flour is on the baking isle.
Buying coconut flour locally may or may not be the cheapest option. Currently, on Amazon, a one pound package of coconut flour starts at $10, and buying in bulk lowers the price. That is the same price as full price coconut flour in my local stores.
I have only found Bob's Red Mill brand available locally, and occasionally find it on sale for around $6 a pound. We do not yet use coconut flour enough to look into bulk options that will lower the price further, but know others have found great deals in bulk.
How to use coconut flour?
Coconut flour is tricky. It is an extremely dry and dense flour. Most cooking guidelines recommend using ¼ to 1/3 cup coconut flour for every 1 cup of wheat flour in a recipe. Additional moisture is also needed, usually by doubling or tripling the number of eggs.
Coconut flour does give a slight coconut flavor to your finished dish. Our family really likes sweet dishes like cookies, quick breads, and pancakes, but the kids especially do not like savory dishes made with coconut flour.
I highly recommend starting with established recipes until you get used to the quirks of cooking with coconut flour. I have spent the better part of 4 months trying to create gluten-free recipes from my favorite using coconut flour and have only had one success so far.
Here are a few favorite recipes to get you started:
Reference: Innovative Food Science & Emerging Technologies, Volume 7, Issue 4, December 2006
More Gluten-Free Tips: