It's time to get some gardening done! You read that right. Even in the middle of winter.
This is actually a great time to do gardening tasks without all the crazy rush of spring. Why not get a head start on an amazing garden in the coming year by working on these 10 important gardening tasks for the winter.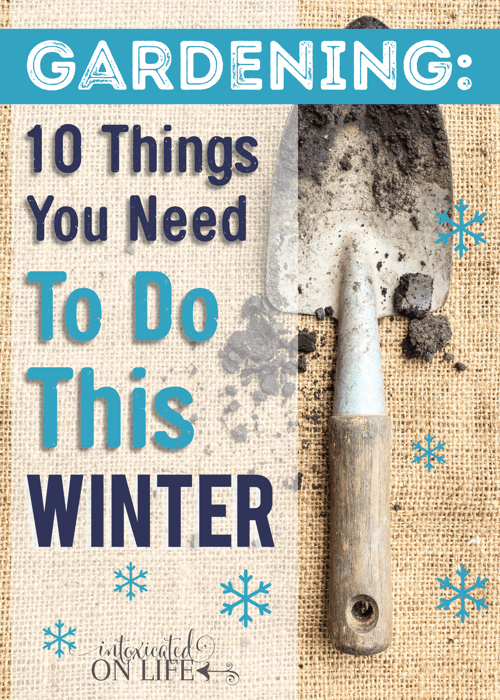 10 Important Gardening Tasks for the Winter
1. Plan Your Garden Space
The cold winter months make for great planning sessions as you cozy up next to the fire. Take this opportunity to map out your gardening spaces and decide what to plant in the coming year.
Consider planning a front yard garden, filling up your small spaces, trying companion planting, or rotating crops in your main gardens. Jot down what you remember about obstacles and pest problems you dealt with during the year, and formulate a plan of attack for the coming season. You will be much better prepared as you head into spring.
2. Sign Up for Garden Catalogs and Newsletters
Sign up now for seed and garden catalogs and online newsletters, and you'll start getting them in late winter and early spring. They're a fun way to look forward to the main gardening season and fill in your detailed gardening plans or try some new things.
My personal favorites are Territorial Seed Company, Rose Mountain Herbs, Seeds of Change, and Botanical Interests. This is also a perfect time to create a seed storage binder to keep all those seed packets and catalogs organized. Just slip the catalogs in the back and keep the seeds tidy and easy to use with clear pocket pages.
3. Research, Read, and Get Connected
If you aren't yet familiar with your local gardening resources, spend some time researching them this winter. The US/Canada Master Gardeners program is offered in state universities and you can usually find a web site of a university in your zone with great information and tips.
Also consider searching online for gardening calendars in your state or the nearest large city. The American Horticultural Society also has listings of gardening societies, organizations, and clubs worth checking into.
Of course, this is a great time to snuggle up on the couch and educate yourself with some great gardening books!
4. Winter Sowing
Another of the important gardening tasks for the winter includes some things you can grow right in your garden beds during the winter, with a bit of care and planning. However, winter sowing is also a fantastic option.
This is my favorite way to spread out the growing season so all our planting efforts aren't a mad dash in the spring. You can start winter sowing now and it's easy to do. Just get some containers (milk jugs are ideal), sow seeds in them, and set them outside until it's time to transplant. Find out more about winter sowing and get started today.
5. Grow Herbs Indoors
There are many plants that do well indoors but herbs are a great place to start. If you have a sunny spot or a kitchen window you can put small pots in, you're good to go. Be sure they get 4-6 hours of sunlight and keep the soil moist but not overwatered.
Chives are a perfect beginner herb. Oregano, thyme, and parsley also make great indoor herbs and they look beautiful as well!
6. Collect Supplies and Special Items
If you have room to grow starts indoors get going with those preparations. Start collecting starter pots and trays, lights, heating pads, or other indoor systems.
If you have a holiday or birthday coming up and someone asks you what you want, put a bookshelf greenhouse on your list! They're great for growing all year round if you have room indoors or on a covered porch. Other items to consider are drip hoses, hose timers, compost bins, and soil thermometers.
7. Light Garden Cleanup
Here's another of the important gardening tasks for the winter: get any cleanup or other tasks done that you may have missed in your fall gardening efforts, such as clearing away debris (which is important to prevent pests and mold), tidying garden boxes, laying out gravel on paths, etc.
In milder climates you can even slip in some spring bulbs while you're at it, and they'll do fine.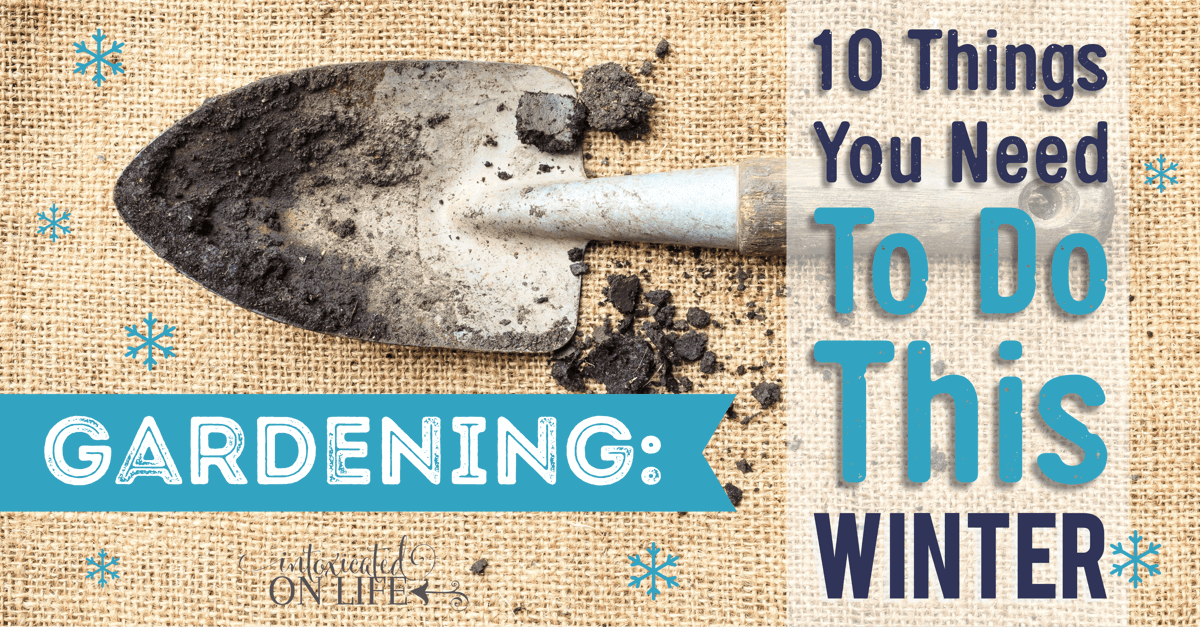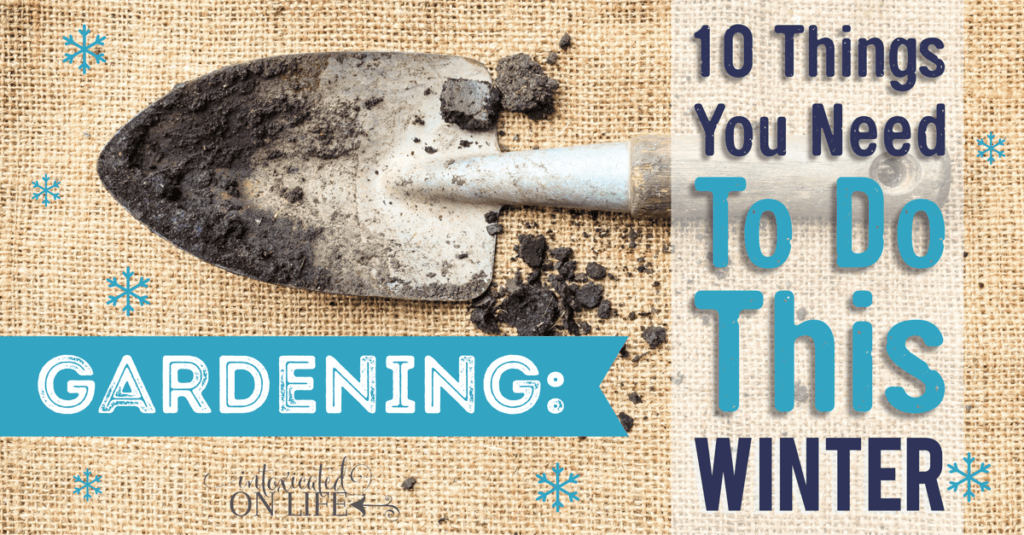 8. Build Support and Cover Structures
If you want to kick up your gardening efforts a notch or two, consider building some supports and covers for your garden! A simple PVC pipe frame with row cover fabric can provide protection from early or late frosts, cabbage moths and other pests, and bigger pests like (ahem) cats and toddlers.
You can turn your raised bed into a cold frame by building up the sides and adding glass or plastic covers, or get ready for vertical gardening by building some trellises in them.
9. Maintain Your Gardening Tools
Gather your gardening gloves and give them a good wash and dry. Collect your gardening tools like spades and lawnmowers and take them in now for maintenance and sharpening. You can also take this time to wipe down your buckets, tidy up gardening storage spaces, or build a potting table!
10. Continue/Start Composting
Spend an afternoon researching basic composting and begin to create a compost bin. It is a frugal and healthy way to add to your garden! You can buy a composter or make your own. Begin composting today with leaves and dry grasses, or appropriate scraps from the kitchen!
Which of these important gardening tasks for the winter are you going to try first?
More Gardening Tips: