Skip the sugar-filled and processed cranberry sauce this holiday season. Start a new tradition and make your own easy homemade cranberry sauce!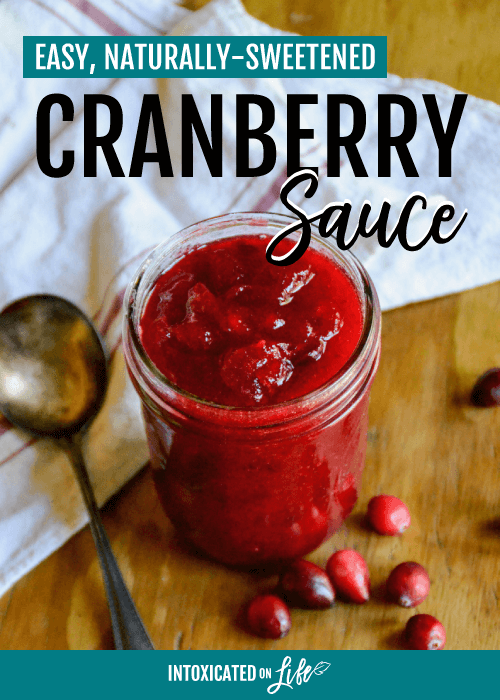 Holiday memories.
Recently I asked my husband what he thought the quintessential Thanksgiving dishes were. Without a pause he answered, "Turkey, stuffing, and cranberry sauce. That way after the holiday you can make a killer sandwich."
When I think back to my first experiences with cranberry sauce, it's not too pleasant. Like most with American family, cranberry sauce was a must-have during the holiday season – especially during Thanksgiving. But even though my mom was one of those moms who made most everything from scratch, cranberry sauce was not one of those things.
Each year, when the holidays rolled around, my family's table was graced with cans of gellified cranberry sauce. Bouncy, tart, and gross (at least to me!). In fact, it wasn't until last year that I finally got up the gumption to try making cranberry sauce from scratch to see if I liked it. And that was really only because I had a whole bunch of cranberries that I needed to use up…
Homemade is better.
Waste not want not worked out well for me! It turns out cranberry sauce is SUPER easy to make, and so much more delicious when you make it from scratch!
And beside those plusses, it's so much healthier to make your own cranberry sauce, as opposed to buying it from the grocery store! Check out the ingredient list in a can of popular cranberry sauce:
"Cranberries, Corn Syrup High Fructose, Water, Corn Syrup."
Yeah… corn. Lots of corn. While I guess corn is a Thanksgiving tradition too, it's usually in it's whole form, not it a highly processed, unnatural form. Plus, all that grain and sugar makes store-bought cranberry sauce a no-go for anyone on a grain-free, refined sugar-free diet! 
Looking for more gluten-free resources? This Everything Gluten Free page is a library of everything gluten free we've worked on.
Easy peasy.
In order to make cranberry sauce as healthy as possible, and completely grain-free, it's best to make it from scratch. You really only need three ingredients (if you count water) a small saucepan, and that's it!
If you can't find fresh cranberries to use, no worries, frozen will work just fine. Usually around the holidays, fresh cranberries aren't that hard to find, though, since it happens to be cranberry season!
Other than the cranberries and water, honey is all you need!
Why cranberries?
If you're not a cranberry sauce lover, you should be. Though they are probably best known for their ability to effectively treat urinary tract infections by keeping bacteria from attaching to the cells that line the bladder, cranberries are good for so much more!
Cranberries are a great source of vitamins C, E, A, ß-carotene, lutein, zea-xanthin, and folate. Plus they're full of minerals like potassium and manganese. Cranberries can help lower bad cholesterol levels and increase good ones, and they even have more antioxidants than other superfoods berries, like blueberries and strawberries!

Easy Homemade Cranberry Sauce
Try out this delicious naturally-sweetened cranberry sauce this Thanksgiving!
Ingredients
2 1/2

c.

fresh or frozen cranberries

3/4

c.

honey

or a little less, if you like your sauce really tart!

3/4

c.

water
Instructions
Combine everything in a small saucepan. Bring to a boil over medium heat, stirring frequently to prevent burning.

Reduce heat to low and allow the mixture to simmer until thickened - about 15-25 minutes.

Cool for about 15 minutes, then chill.
More cranberry goodness.
All in all, they're a great little berry to have on hand any time of year, not just during the holidays. If you're looking for more healthy and delicious ways to incorporate them in your diet, give these recipes a try!
What's your favorite way to use cranberries?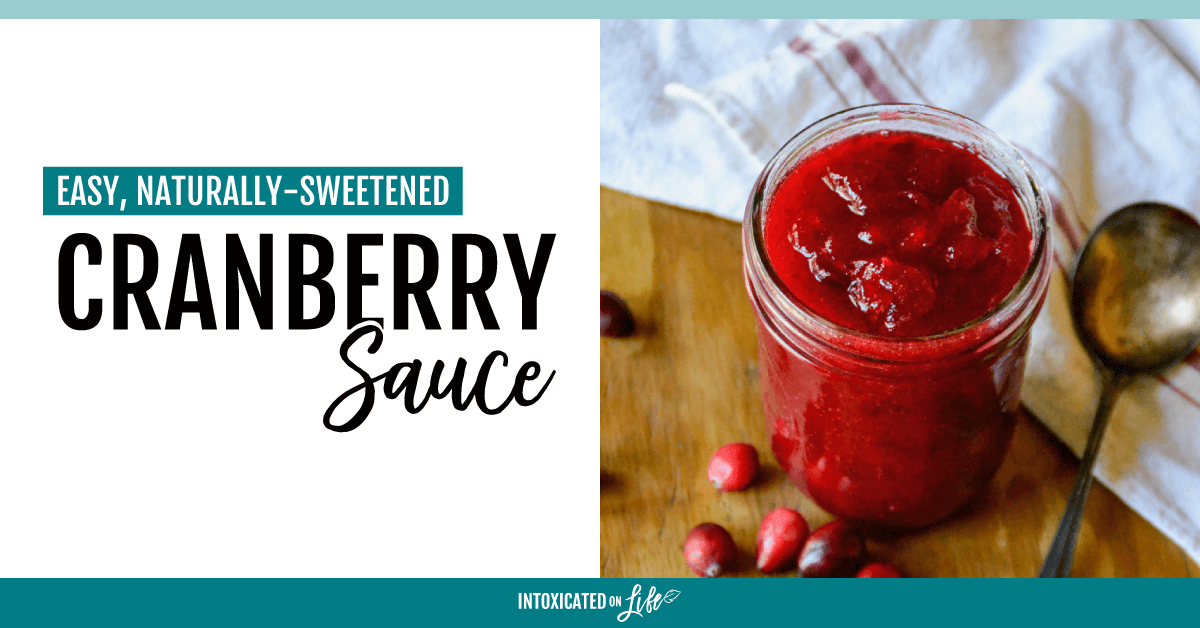 Sharing at The DIY Mommy, The Modest Mom Blog, Create with Joy, Dear Creatives, and Crafty Moms Share.
SaveSave
SaveSave
SaveSave